Bottega Veneta
Wed 04.16
Here is a perfect example of a bag that illustrates the pillars of Bottega Veneta: impeccable craftsmanship, contemporary functionality, and timeless design topped with quality materials. And like every Bottega piece, it effectively grabs attention without resorting to the vulgarity of in-your-face logos or cheap tricks like tacky dangling fur balls.
Tue 03.25
Carven's quirky prints always have me coming back for more, and the latest fanciful piece comes with a serving of oversized kiwis. The magic of the French house is that it can take a look like this that seems as if it would be perfect for tots, and give it a surprising taste of understated sophistication.
Mon 03.24
The age-old expression, "If it ain't broke, don't fix it," has never rang truer than when it comes to the iconic and famed Bottega Veneta weave. The beauty lies in the brand's unique magic: their signature intrecciato technique is instantly recognizable, no second guessing required, without a logo or nameplate to be found. Who needs it?
Tue 03.18
Have you ever fallen in love with a piece seasons after it came gliding down the runway? Somehow it fell through the cracks, and now you have little to no chance of finding it…
Mon 03.17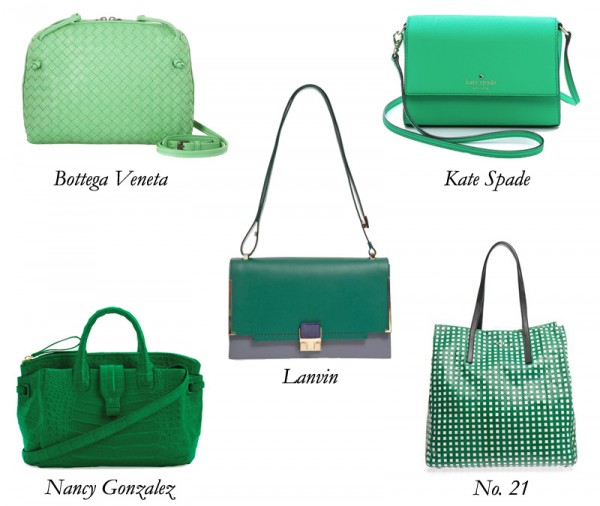 According to legend dating back to Boston in the 1700s, if leprechauns (or your prankster friends) see that you're not wearing green on March 17th, they'll pinch you! To avoid unsightly little bruises, I recommend one of the Emerald Isle-hued options below. My husband's maternal grandfather was 100% happy go lucky Irish, and his spirit has me in the mood to celebrate.
Thu 03.13
Satchel or life organizer? What about a Bottega Veneta bag that's both?! While on the outside, this has the look of a quintessential day bag, it opens up to reveal a supremely innovative interior with compartments as detailed as those of a steamer trunk.
Mon 02.24
Milan Fashion Week: land of luscious leathers, sophisticated street style with an ever-outlandish twist, and where the avant-garde is sure to merge with the classic. Fall 2014 was no exception. While it was hard to narrow the list down to just three, here are my favorites from the Milan runways…
Wed 02.12
Meet Blythe, a Hasbro doll who's recently gone life-size for a modeling gig. The job? Debuting the Bottega Veneta Spring/Summer 2014 collection in the windows of their flagship 5th Ave. store!