Bottega Veneta
The term "trendy classic" may seem like an oxymoron, but investment pieces worthy of this designation truly do exist – and one of its main purveyors is Bottega Veneta. The Intrecciato weave is a timeless signature for the Italian house, and in miniaturized, bright blue crossbody form, it also somehow manages to be completely of the times. To really play up the trendiness, style it with a contrasting shoe like Saint Laurent's violet Candy platform.
Featured Items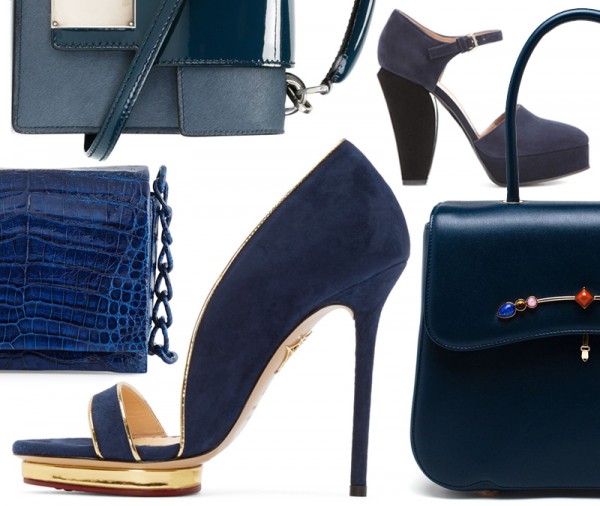 The word "blue" has gotten a bad rap in modern times, particularly in American culture. Blue Christmas, the Monday blues, singing the blues, heck, blue balls…I could go on until I'm blue in the face! In reality, blue is the most uplifting color of all. Just look to the sky on a bright, sunny day. It's an instant mood-enhancer, just like crystal-clear blue water.
Featured Items
'Tis the season that brings out the Santa in all of us. To play the part, a bag big enough to stash all your gifts is definitely in order. And when you're done granting everyone's wishes, the impending temperature dip certainly makes for the time of year that requires plenty of room for toting extra cold weather gear.
Featured Items
As we head towards the holiday season, extravagance and fantasy begin to occupy our minds. For fun, as research, or for the sole sake of ogling, here are the most expensive bags money can buy, that are, indeed, worthy of their staggering prices.
Featured Items
At first glance, you may not look at these bags and think that they're all tribal-inspired, but there are many kinds of tribes; and by the looks of these, I want to join every last one! Which do you belong to?
Can't keep up with who's designing for which brand? In the high fashion world's ongoing game of musical chairs, it can be overwhelming to keep track of the creative minds behind the brands.
We are seeing a lot of boxy bags recently, but here is more of an approachable and softer hybrid. This Bottega Veneta has the look of a box, but it functions like a typical shoulder bag with an easy-access zipper-top opening.
The simplest shoulder bag shape gets a major kick with some unexpected stylistic details, courtesy of Bottega Veneta. As a brand especially known for their unyielding attention to fine detail, that's no surprise.