Chanel
While some like heart-shaped candy or a dozen roses come Valentine's Day, what I truly long for is Chanel…a searing hot pink Chanel. To show our love for you, we've teamed up FASHIONPHILE, the leading online reseller of pristine luxury bags, to bring you what every Snob dreams of…
A full pout is undeniably alluring (see: Angelina Jolie), but we weren't all born with one and as we age, a loss of volume thins out the lips that we do have. No matter! With this set of products, you can fake the look and it's all possible in just three short minutes…
Though 2015 may have just begun, Vogue is already preparing to crown the year's "it" bag – and they're letting you make the call!
We may want every new bag that hits the market, but the fact of the matter is that we couldn't (or at least shouldn't) actually buy every single one. It's all about picking and choosing. While the occasional trendy piece is a justified indulgence, what you really want to invest in are the classics.
Not sure what to get the Zooey Deschanel in your life? Whimsy-infused clutches make cute gifts for girls with the personalities to match, and some are even marked down right now (no real surprise there)! On the other hand, there are bags that require investments so steep they take the fun out of it…
The closing of fashion month doesn't just mean the chance to take a moment to look away from the runway (whether it be front-row or online). It's time to reflect on the best bags of the Spring '15 season, courtesy of the grand finale in the City of Lights.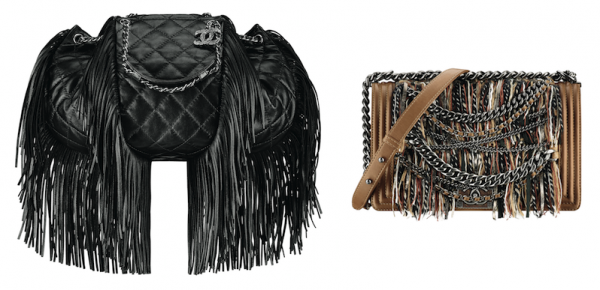 Still on the fence about fringe? Linger in limbo no more. Chanel's gutsy riff on the fashion world's latest love interest should tip you right over. You'll be walking with a lot more spring in your step, or at least zeal in your movements, thanks to their breeze-catching, precision-cut fringes.
Where would we Bag Snobs be without the French? Not only did they give us Champagne and the word chic; they have blessed us with many of the most vital and beloved designers in the world.