Chanel
Fri 10.04
Now that we've seen all of the gorgeous new creations come down Paris' runways, let's take a look at what the chic attendees were toting. Because as magical as a show is, the way a bag translates into our real lives is far more important. A recurring character on the scene was Charlotte Olympia's Time Piece clutch (at Neiman Marcus for $1,276).
Fri 10.04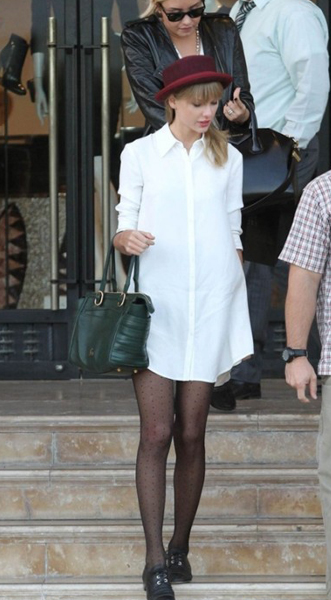 Now I love a good shirt dress, especially this time of year. They are comfortable, versatile, and look great with flats or heels which is a plus when the weather starts to turn. However, there's something about this particular dress that's a bit too man-ish? I get that's the idea of the look, but this one is a bit too bulky.
Mon 08.26
When you think of frosted nail polishes, you probably think back to those scary '80s shades, yet thanks to new technology, you can get your shine with shimmer and depth. Trust me, I never thought I'd recommend frosty green polish, but there you have it – I'm sporting Chanel's Alchimie (at Chanel for $27) as I type this.
Thu 08.15
Crop tops have been a celebrity favorite this summer. Steal their styles for these last few weeks of sunshine while you still can!
Tue 08.13
When it comes to fashion, the '80s was all over the place. There were power suit-sporting businesswomen, New Romantics, polo-popping prepsters, and Madonna (a fashion movement in herself). The decade brought us a slew of trends that ranged from shoulder pads to leg warmers to M.C. Hammer-style parachute pants…