Charlotte Olympia
Tue 01.07
There is color-blocking as a trend, and then there is color-blocking as a concept. While the former has been done to death, a geometric combination of shades inspired by artist Piet Mondrian are feeling right at the moment.
Wed 12.25
Merry Christmas! I hope Santa brought you everything you wanted (and everything you didn't even know you needed).
Tue 12.03
Don't get bogged down by all the red velvet and emerald sparkle that abounds this time of year. There's no need to get dressed up like a Christmas tree for the season's cocktail fetes! Instead, make a statement courtesy of eye-catching (not eye-assaulting) pieces with subtle yet strong details.
Tue 11.19
Whether your family and friends have been naughty or nice this year, the season of giving compels you to get them something special, and I have just the thing for Shoe Snobs! Since Charlotte Olympia's Kitty craze seems to grow with each season, the designer will be releasing a holiday gift set that all the cat ladies out there (and even the dog people) are sure to covet – the Cat Nap.
Fri 10.25
It's always nice to keep a smile on your face, but what about one on your clutch? Faces seem to be surfacing all over bags, some barely visible and others plain as day like on Acne's Akoya clutch (ivory on shopbazaar.com for $850, marbled blueicon on My Theresa for $850).
Fri 10.11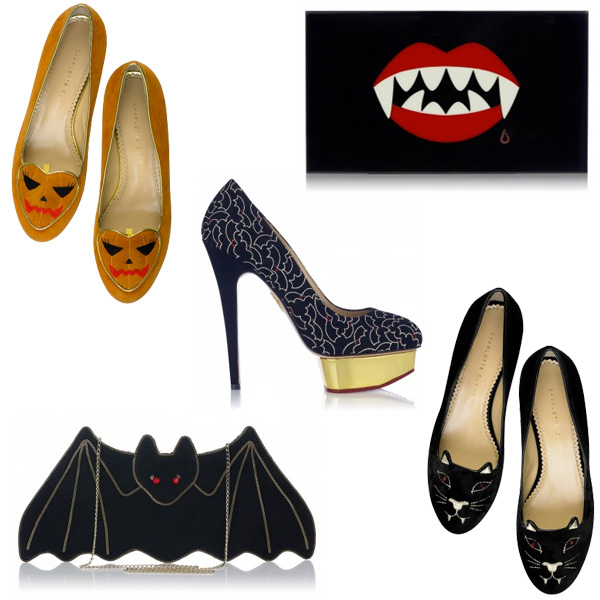 Halloween gives you the opportunity to dress up as someone (or something) else, but does that right extend into everyday style? Charlotte Olympia certainly thinks so! The Queen of Kitsch leads the pumpkin pack with her love 'em or hate 'em holiday accessories. Naturally, her Kitty flats made their way into the collection, updated with red crystal eyes and sharp fangs.
Fri 10.04
Now that we've seen all of the gorgeous new creations come down Paris' runways, let's take a look at what the chic attendees were toting. Because as magical as a show is, the way a bag translates into our real lives is far more important. A recurring character on the scene was Charlotte Olympia's Time Piece clutch (at Neiman Marcus for $1,276).