Chloe
There's always a place in my heart for rainbows. Maybe it's the fact they seem a bit magical and represent our dreams coming true. Or maybe it's that there's no visual delight quite like a union of every bright, happy color in the spectrum. For example, Stella McCartney's famed Falabella tote now comes in seven boldly saturated hues, and the bag has never looked better.
Featured Items
You might find this hard to believe, but I've walked around all day with nothing but my phone and survived, thanks to Apple Pay. Not only did I just survive, I was surprised by how fabulously liberating it felt. Sometimes it's nice to take a load off and travel light. Not long ago, the idea of carrying nothing but a slender pouch seemed crazy. This is the new normal.
Featured Items
It might sound crazy, but you can go on a long weekend trip with everything comfortably packed in a small 22" carryon and still look perfectly cute every day – with only 10 things. Packing smart is different from packing light. You can pack light by wearing the same things every day and looking like you badly need a shower as a result. But packing smart means looking amazing at every single moment and making it seem like you have your entire wardrobe with you.
Featured Items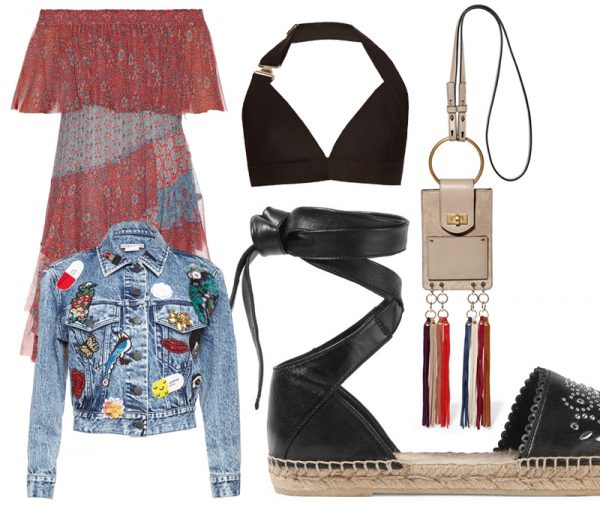 Off the grass and onto the sidewalk! Or into the office, for that matter. As we go into Weekend two of Coachella, where even more fringe-coated, cutoff-heavy, midriff-baring looks will be released upon us, I've been thinking about how to convert our festival favorites into real-life staples to wear again and again.
Featured Items
From the updated tote to the most striking statement clutch to the game-changing Diorever bag that goes with anything and everything…Good Morning Texas invited me on to talk my favorite spring bag trends, and it's only natural they go hand in hand with my coveted new bags, running the gamut from the high-level investments to fabulous frugal finds.
Featured Items
New, now, and not to be missed: You don't want to jump on every trend the Spring '16 collections have to offer – because in the age of social media saturation, trends are a dime a dozen. You've got to be selective. That's why I'm stopping just short of a dozen…
Featured Items
The run-of-the-mill bomber had its time in the spotlight, but the trendiest jacket of the moment is the wannabe souvenir jacket. My friend Seth Weisser, owner of What Goes Around Comes Around, has been collecting them for over 25 years. Actually, I scored mine from his cooler-than-thou store in SoHo, frequented by the likes of Katy Perry and Rihanna. You can now pick up a not inaccurate though admittedly knockoff version of its vintage counterparts at Topshop; Olivia Palermo already did and she styled it right. As for the originals, I decided to ask Seth to decipher the root of this East-meets-West trend…
Featured Items
Anne Hathaway's been out of the limelight lately, as she prepares for the arrival of her first baby, but all it takes is one stellar red carpet appearance to remind the world of just how chic and fabulous you really are – especially when pregnant. There's nothing wrong with plain old maternity wear for these occasions, but I love when women make non-maternity clothes work in spite of their growing bellies…
Featured Items