DKNY
Fri 08.08
The leather legging has reigned supreme for many a season. It's time for something new!
Thu 07.10
No other brand is more connected to the center of the fashion universe (good old New York!) than DKNY.
Thu 04.24
We love when a designer donates a portion of proceeds to charity, but when a campaign like Born Free Africa rounds up 22 major designers to collaborate on a collection that promises to give 100% of its profits, that's nothing short of a movement.
Wed 04.23
Now that spring has finally arrived and we can enjoy some real life blooms, my son has been in our garden picking them for me everyday (how can I bring myself to tell his beaming little face that they're planted there for a reason?)! And while nothing beats those flowers, they have inspired me to make even more room for florals in my closet…
Mon 02.10
See how Thakoon, DKNY, Derek Lam, and Victoria Beckham styled their models' hair and makeup…
Sun 02.09
Brand name aside, Donna Karan is a designer who has always used her native city to inspire and guide her work. It's intrinsic; it's the DNA, and with her DKNY Fall 2014 runway show, she paid homage to the most densely populated city in the country with more zeal than ever.
Tue 02.04
I wore DKNY everywhere during my '90s college years. While friends donned Gap sweats, I rollerbladed around Santa Monica in a full DKNY bodysuit – racing stripes included (the colors matched my blades!). They laughed at my sense of commitment, but as it turns out, I was ahead of my time. For Spring 2014, DKNY has reissued iconic '90s RTW and accessories with Opening Ceremony.
Thu 12.05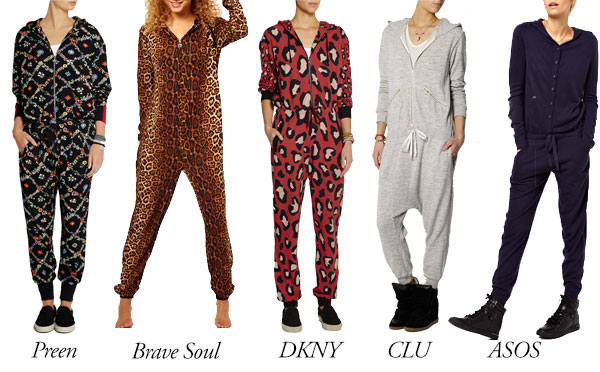 When I was in grade school, I wore red and white striped onesie pajamas. This was standard issue for nerdy Chinese kids who wanted to fit in – and fit cozily into their clothes.
Fri 11.15
TGIF! It's the hardest day of the week to get through, so take your 15-minute break now and have a little fun, courtesy of DKNY. They want to get you in the spirit of the season with their latest project – the Not Your Ordinary holiday story. Basically, it's Mad Libs, DKNY-style (yes, it's just as awesome as it sounds), guaranteeing that it will top any true anecdote you've ever told.