DKNY
Mon 02.10
See how Thakoon, DKNY, Derek Lam, and Victoria Beckham styled their models' hair and makeup…
Sun 02.09
Brand name aside, Donna Karan is a designer who has always used her native city to inspire and guide her work. It's intrinsic; it's the DNA, and with her DKNY Fall 2014 runway show, she paid homage to the most densely populated city in the country with more zeal than ever.
Tue 02.04
I wore DKNY everywhere during my '90s college years. While friends donned Gap sweats, I rollerbladed around Santa Monica in a full DKNY bodysuit – racing stripes included (the colors matched my blades!). They laughed at my sense of commitment, but as it turns out, I was ahead of my time. For Spring 2014, DKNY has reissued iconic '90s RTW and accessories with Opening Ceremony.
Thu 12.05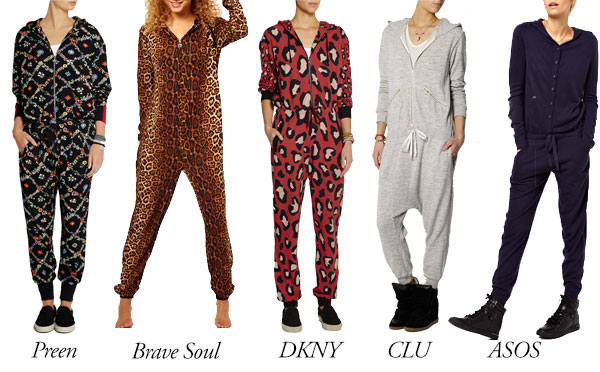 When I was in grade school, I wore red and white striped onesie pajamas. This was standard issue for nerdy Chinese kids who wanted to fit in – and fit cozily into their clothes.
Fri 11.15
TGIF! It's the hardest day of the week to get through, so take your 15-minute break now and have a little fun, courtesy of DKNY. They want to get you in the spirit of the season with their latest project – the Not Your Ordinary holiday story. Basically, it's Mad Libs, DKNY-style (yes, it's just as awesome as it sounds), guaranteeing that it will top any true anecdote you've ever told.
Mon 09.16
After a whirlwind week in NYC, I finally have some time to sit down and collect my thoughts. First I prepared a mental checklist of everything on my wish list, but now it's on to the trends! Which ones stuck out to you? Here are the styles I expect to see hitting the streets come spring…
Mon 09.09
This year marks the 25th anniversary of DKNY. It's the perfect excuse for a party and the Spring 2014 runway show? The perfect venue! Things got off to a bang with the Beastie Boys' "No Sleep Till Brooklyn" blasting as Joan Smalls walked out in a pair of jean overalls, a trench, and a baseball cap. It was street style in way that only DKNY can do.
Fri 07.26
Working a great, big pop of fuchsia into your wardrobe is essential this fall. The hot color is an on-trend must and its unabashed brightness begs you to have fun.