Dolce & Gabbana
Thanks to street style and social media, fashion trends change with such rapid speed nowadays, it means they come back around as fast as they go. Who can keep track? That's why you shouldn't ever rid of anything you love. If it's feeling tired, just put it in the back of your closet store it for another day.
Yellow is perky and red is hot, but if you ask me, no color energizes my spirits and warms my mood like pink. Which makes it the perfect way to kick off a busy week, as well as Breast Cancer Awareness Month. It's also rapidly becoming the unofficial color of the season.
Lately, I've been carrying around my wallets-on-chains more than any other bags, especially while traveling. It's so liberating to know you require nothing more on your shoulder than your cell, ID, a bit of cash, and a credit card or two.
We love the Anya Hindmarch and Moschino bags with fun characters, and we really love the Fendi monsters, but the line has been crossed. You can only take this cute-bag stuff so far. Pushing the envelope ever so much fills you with feelings of whimsical joy.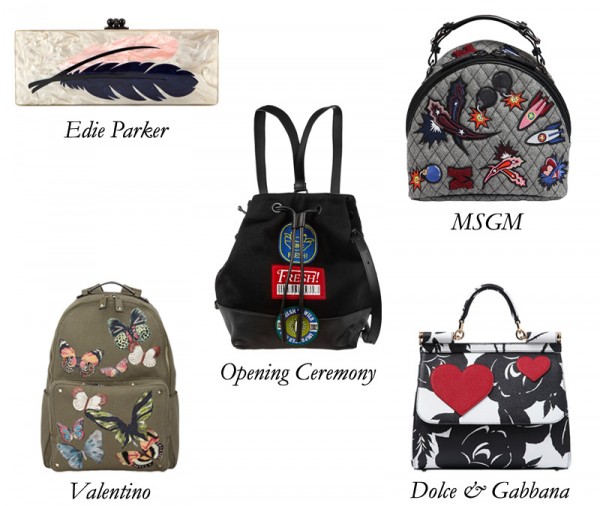 They don't have to make sense (Butterflies! Feathers! Fruit stickers! Rocket ships!). Actually, the more irreverent the embellishment, the better. Here are my favorite of-the-moment bags that just want to have a good time and aren't afraid to say so.
We all have pairs of cork or canvas wedges for summer, so why not do one better and indulge in shoes with a little something extra? Embroidery is by no means a new fad in fashion, but on sandals? Well, the style seems to be having a moment! And no one's gotten it better than Jimmy Choo.
When it comes to days of the week, each one receives some kind of love: Sunday Funday, Hump Day, "Thursday's the new Friday," TGIF…Except Monday. Odds are Monday is your least favorite day because, well, it's kind of a drag.
I'm on a quick vacation this weekend, but even when I'm away, I can always make time for online sale shopping – especially when the bags are as gorgeous as these!
We are kicking off wedding season with must-haves for the blushing bride. Whether you're packing for your honeymoon or just want to soften up your summer wardrobe, blush is the color to enhance your natural beauty.