Dolce & Gabbana
We love the Anya Hindmarch and Moschino bags with fun characters, and we really love the Fendi monsters, but the line has been crossed. You can only take this cute-bag stuff so far. Pushing the envelope ever so much fills you with feelings of whimsical joy.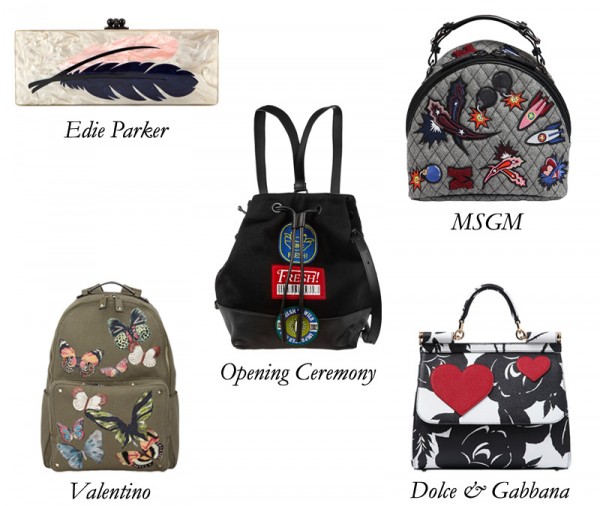 They don't have to make sense (Butterflies! Feathers! Fruit stickers! Rocket ships!). Actually, the more irreverent the embellishment, the better. Here are my favorite of-the-moment bags that just want to have a good time and aren't afraid to say so.
We all have pairs of cork or canvas wedges for summer, so why not do one better and indulge in shoes with a little something extra? Embroidery is by no means a new fad in fashion, but on sandals? Well, the style seems to be having a moment! And no one's gotten it better than Jimmy Choo.
When it comes to days of the week, each one receives some kind of love: Sunday Funday, Hump Day, "Thursday's the new Friday," TGIF…Except Monday. Odds are Monday is your least favorite day because, well, it's kind of a drag.
I'm on a quick vacation this weekend, but even when I'm away, I can always make time for online sale shopping – especially when the bags are as gorgeous as these!
We are kicking off wedding season with must-haves for the blushing bride. Whether you're packing for your honeymoon or just want to soften up your summer wardrobe, blush is the color to enhance your natural beauty.
Now if I'd really wanted to trick you, I would have made this a post on how fabulously chic these five bags are. While I love a good prank, I just can't let it come in the form of my bag. As for you Snobs who are brave enough to take a fashion-themed joke and run with it…
Trust the Italians to bring a sense of magic to the runway. While the level of craftsmanship is always elevated, it's their flair for the nonchalantly fantastical that makes the Milan runways a standout.
These Dolce & Gabbana box bags are so insanely cute for spring, I already can't get enough of them. This is the side of Domenico and Stefano I enjoy: when they blend their deeply rooted Italian pride with dreamy whimsy and a bit of humor.