Fendi
Fri 10.25
It's always nice to keep a smile on your face, but what about one on your clutch? Faces seem to be surfacing all over bags, some barely visible and others plain as day like on Acne's Akoya clutch (ivory on shopbazaar.com for $850, marbled blueicon on My Theresa for $850).
Thu 10.24
What do you think: luxurious ice cube tray or cool-as-ice clutch? While part of me is fighting the urge to place Fendi's box clutch in the freezer, that wouldn't a wise move for such an expensive little piece of hand candy.
Thu 10.24
Normally being two-faced is not such a great thing, but when we're talking shoes, it most certainly is!
Wed 10.23
Here's an homage to the most quintessential bag, the open, structured black tote that we all should have. Boring? Maybe. But useful? Very. I often find myself going for this most basic style, even though I choose to complicate my life by filling every storage space with such a variety of bags that I don't ever need the black tote.
Tue 10.22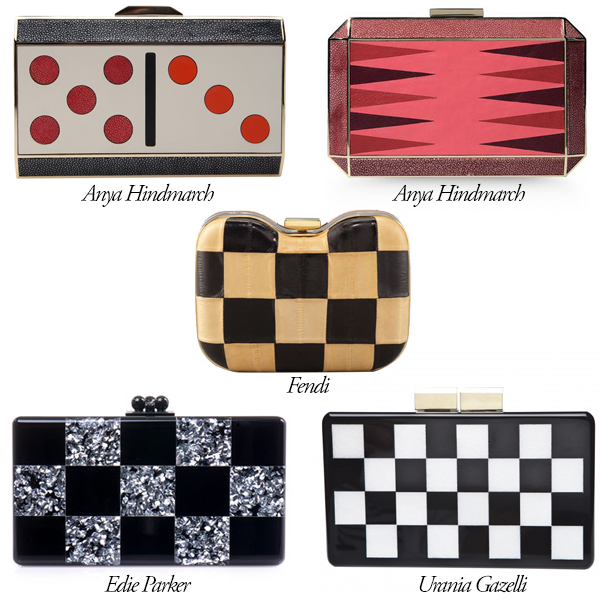 Backgammon, dominos, and chess: these are all games I am looking forward to introducing the boy to when the time is right. Not that I don't love playing with Transformers, Star Wars, and Legos. But board games are so much safer and more forgiving on my tired old bones.
Mon 10.21
Before we get too caught up with the Fall/Winter season's tweeds, wools, knits, dark leathers, and heavy textures, let's take a minute to appreciate the unconventional. There's something to be said for the element of surprise (got to keep 'em on their toes!), and nothing will catch onlookers off-guard like a bright, perky bag right about now.
Tue 10.15
We're on the fence about fur bags. Your wallet doesn't get cold, so what purpose do they really serve? Feet, on the other hand, need as much help staying warm as they can get, which is why I say bring on the (tasteful) fur shoes! Tasteful is an important modifier here because fur can go wrong so quickly.
Fri 09.20
The Italians always know how to please, and by the time New York has set the tone with the street-smart and easy-on-the-eyes and London has injected its unique sense of quirk, the Milan shows are always a powerhouse explosion of savvy ideas and grand visions.
Thu 08.29
This was the decade of the it bag. I don't mean to say that there weren't iconic bags before – the term "it bag" was coined in the '90s! And there were many (yes, Dior is on this list twice – no, I won't apologize). Which of these styles did you carry?