Fendi
Tue 08.27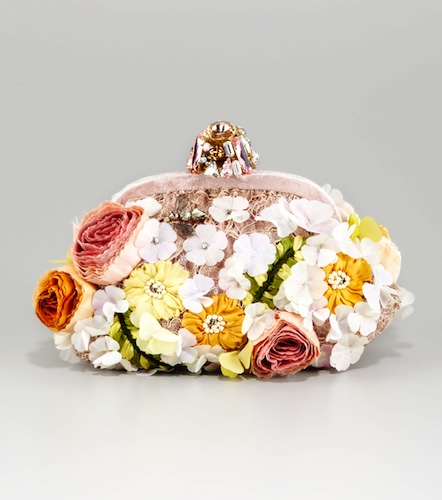 It was my birthday last week, and one of my friends sent me a most decadent bouquet of vintage pink roses (over 100 of them!). I stop and smell them daily and now have florals on my mind. My mother-in-law hated getting flowers – she said all flowers inevitably die and that depressed her. Me? I love flowers! The more, the better.
Fri 08.23
It's all about balance. A colorful fall wardrobe dictates a neutral bag wardrobe, and the best way to achieve hue harmony comes by way of baby bags in winter white. Don't fear the white accessory! When your bag is this petite, your odds of getting it dirty are minimal.
Tue 08.20
Just because I don't like long and fuzzy fur on my bag, that doesn't mean I'm opposed to the whole concept. I've warmed up slightly after seeing the latest crop of shearling bags.
Thu 08.15
The Fendi Baguette: the nineties' It-bag (Silvia Venturini Fendi designed it in 1997) has come a long way since its original incarnation. Not to mention a long way since it achieved Sex and the City fame.
Wed 08.07
What better way to get kids interested in fashion than with a catalogue modeled on a child's picture book? The creative campaign mixes photos of Fendi-wearing tots with wintery illustrations of cute little animals. In a collection inspired by the great outdoors, fur naturally takes center stage, appearing on hats (only tots can pull off the Davy Crockett look), boots, coats, and even collars.
Tue 08.06
Sad news – summer's coming to a close (although you wouldn't know it from the sweltering heat I'm in). Now is the time to fill your closet with a new season's worth of accessories, and what better way to transition into fall than with ombré? Choose a subtle barely-there illusion or go dramatic à la the neon degrade on Proenza's dot clutch.