Gucci
Wed 07.31
You know you need it, and you know the one you probably already own is worn to bits. Despite what many designers seem to think, most of us just want an easy daily bag to throw on our shoulders without a moment of thought.
Wed 07.31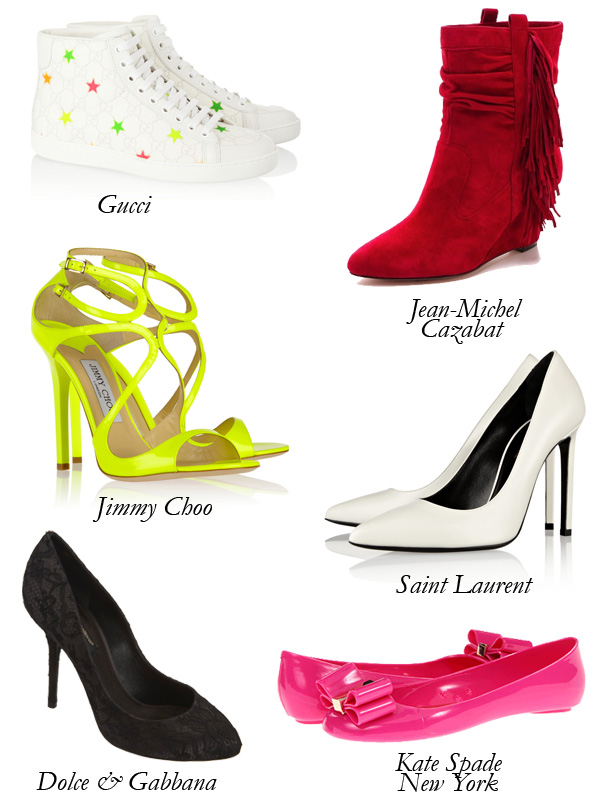 When it came to 1980s fashion, bigger was always better. Head banger bands like White Snake and Skid Row fueled this trend with video after video of girls rocking huge hair and writhing on cars in nothing but skimpy bikinis and white stilettos. As a high schooler, I wasn't allowed to have pumps (I couldn't even wear my high-tops or jellies except on the weekends).
Fri 07.19
The LBD is a year-round staple, that much we know, but getting the summertime LBD just right isn't always the most effortless feat.
Fri 07.12
When you're rushing around NYC like Miranda Kerr, a mini bag is the only way to go. I love Louis Vuitton's toned down Monceau BB (at Louis Vuitton for $1,720). Okay, bright pink patent isn't exactly toned down – I'm talking monogram-wise. And remember, Loeffler Randall has a Frugal option!
Mon 07.08
As much as I love cobalt, it's one of those colors that you only need a little of to make a statement. Anything more than that would cause serious shock and awe (and not the good kind). You pack a bigger punch with a jolt of electric color rather than a full-on current, so choose just one piece to layer with…
Tue 04.30
This style is a little confusing to me. The awkward mix of masculine and feminine seems incongruous, but I guess that's the appeal. I would stick with ladylike pairings to add a sense of delicacy to these chunky heels. While they're seen most often in the office, try to have fun with them when you're […]
Tue 04.09
I love a candy-colored patent leather bag, especially when it's been miniaturized! This is arm candy in the truest sense. The iconic horse bit closure reveals its designer without having to emblazon GUCCI on the front, making this perfect for the Snob who prefers not to flash labels. You want a bag to be chic […]
Mon 03.18
Yes, believe it or not, old lady wallpaper can make for some pretty awesome shoes – in the right hands of course. It's spring, so we're seeing lots of florals, but don't go with the first bright bouquet that catches your eye. We're so excited to jump into the flowers that we don't always stop […]