Gucci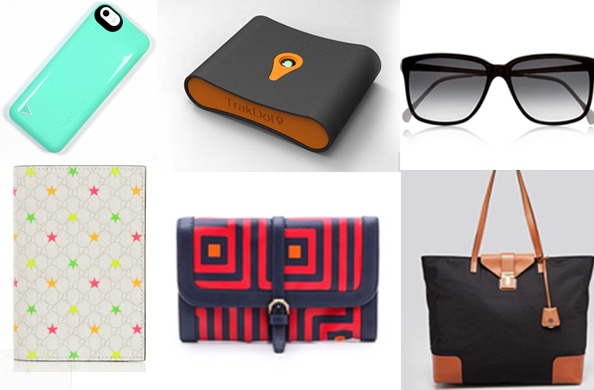 Travel trends may come and go, but necessities are necessities. You don't just want to look good at the airport, you want to be prepared and comfortable for a no-fuss flying experience. Check out these Snob Essentials for your next jet-set!
While it's not unusual for tots to play dress up, these celeb kids take the game to a whole new level. Suri Cruise leads the pack in a navy bow-embellished dress from Oscar de la Renta (at Oscar de la Renta for $295). She's the picture of a classic schoolgirl, save for her furry bright pink coat, a touch that ODLR probably wouldn't have added, but that any little girl would love.
Despite the fact that Frida Giannini was inspired by sportswear for her collection this season, it wouldn't be Gucci without serious sex appeal. To complement the designer's mesh tops and sheer bras, Pat McGrath opted for a shimmery golden-brown shadow with V-corners for a dewy take on the cat eye.
The Italians always know how to please, and by the time New York has set the tone with the street-smart and easy-on-the-eyes and London has injected its unique sense of quirk, the Milan shows are always a powerhouse explosion of savvy ideas and grand visions.
Gucci's fall shoes are gorgeous, so much so that this could be one-stop shopping for the season's essentials. They're very well made, and while not Frugal Snob friendly, the shoes are priced better than those from other established brands (except for the python booties – they also come in leathericon for only $895, though!).
One trend that seemed ubiquitous on the runways at NYFW was athletic wear, and what better to top that with than a chic baseball hat? I know, it felt as weird to write that as it is for you to read it, but hear me out! I got a black leather cap at Barneys last year, and it's now the most versatile hat I own.
Lately I've been taking my couture with a twist. Your must-have LBDs shouldn't be basic and neither should black skirts. And it's all about the skirt this season, so choose wisely. Start with a pencil shape – this is an essential that will serve you well for years and years. Just make sure it's not the same one every other woman in the office is wearing!
This was the decade of the it bag. I don't mean to say that there weren't iconic bags before – the term "it bag" was coined in the '90s! And there were many (yes, Dior is on this list twice – no, I won't apologize). Which of these styles did you carry?
When it comes to hats, more is never, ever enough, so I've found extra fall options guaranteed to enhance any collection. Best of all, they keep you chic and warm, transitioning your look perfectly into winter. Some will go with just about everything in your wardrobe, while others are meant to be the central component of an outfit.