Lanvin
Fri 11.07
When you think feathers, you think formalwear. Such decadent accents have long been reserved for special nights out when evening gowns and glittering minaudières take the place of your comfy sweats and relaxed tees…but that's all changing.
Wed 11.05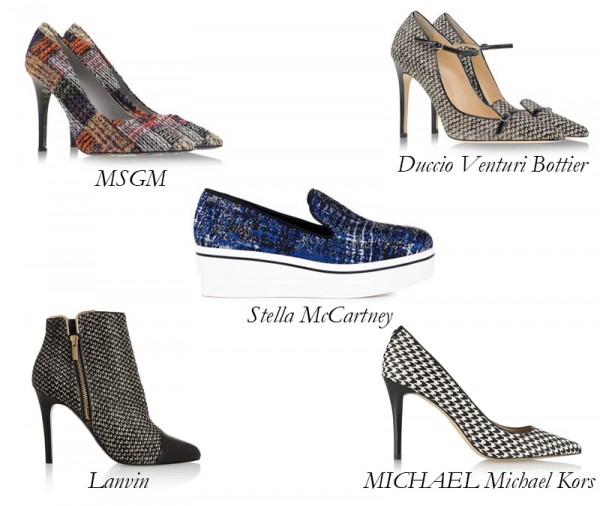 At the start of every winter, I find myself excited for my favorite cold weather-ready fabrics to re-enter my wardrobe. Tweed, herringbone, and houndstooth: it's all so cozy, and there's an instant sense of sophistication that come with these textures.
Fri 10.24
My nude obsession continues. Actually, it's only gaining steam. After a streak of blindingly bright neon trends, all things washed out have never looked chicer.
Wed 10.15
Designers have made it easier to go from yoga to brunch and beyond. Check out some "street-friendly" styles that will have you looking and feeling pumped up. Workouts never looked so good!
Tue 10.14
Scrunchies may be a thing of the past (for now…), but if you trust the Fashion Month runways, hair accessories are about to be bigger and brighter than ever!
Wed 10.08
The sensible wedge gets a stylish update for fall. Sure, these aren't all that attention-grabbing, but they're flattering, easy for any occasion, and best of all, incredibly comfortable. As in, house slippers comfortable. As much as I'd love to wear my most seductive stiletto from sunup to sundown, it's just not feasible…
Thu 10.02
Yes, you read that right! I got us an additional 20% off already reduced items on Luisa via Roma. They really love us Bag Snobs there! Some of these are pieces you've been pining over all year, waiting for them to go on sale, so here's your chance to snatch them up at an even bigger discount.