Loewe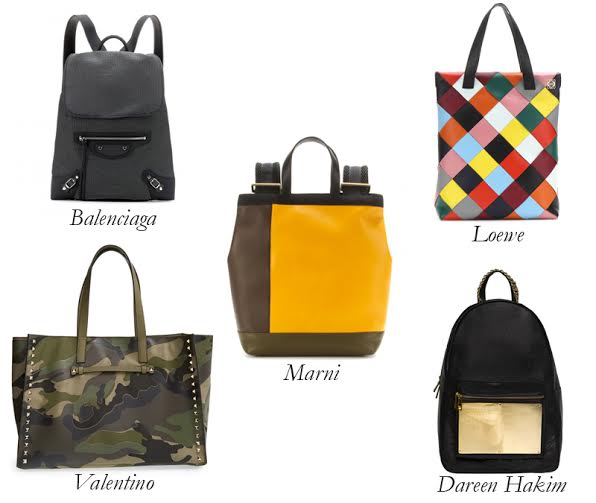 Memorial Day marks the unofficial start of summer, and it welcomes the official start of the travel season. And that means we need the perfect travel companion: the right bags! This time, it's on the outside that counts.
There are girls who get dressed and then just toss a bag over their shoulder as an afterthought. (Clearly, I am not one of those girls.) And then there's kind of girl who lives – and dresses – vicariously through her bags.
Loewe's much-lauded Puzzle bag, the one that's a favorite of Julianne Moore, is an inspired design that's about as original as bags come. The pieces are attached in such a way that creates a 3D effect, and the front panel (with the zipper pocket) is like a pyramid.
This little bag is so freaking adorable! I've already been on a round bag kick to begin with, but this one is special to me. I always love Loewe's buttery-soft nappa leather and such a shape, lightly scrunched and all mush-able, really relishes the suppleness.
The Loewe Puzzle may have lost the title of Vogue's It Bag of the Year to a micro-sized Fendi (by only 3%!), but it's still large on my radar and I'm not the only one lusting after its perfect pieces…
Though 2015 may have just begun, Vogue is already preparing to crown the year's "it" bag – and they're letting you make the call!
Take a hint from the latest runways and dive into color! But there's no need to perform an all-out wardrobe overhaul. Hold onto your favorite neutral colors for the main part of your ensemble because a boldly colored bag is the simplest way to ease into color and test which searing new hue really speaks to you.
The fact that Spanish label Loewe is now being sold at cult-favorite and kooky-collaboration mecca Opening Ceremony says a lot. The lush leather brand has come a long way in the last few years. Now that Stuart Vevers has moved on to Coach and young Brit Jonathan Anderson is in, with his first collection for the house now hitting stores, it represents an even more contemporary era for them.
Nothing puts me in the mood for spring-cleaning more than a new bag. It's motivation to put your older ones up for sale to make a little money for other must-haves! These are so fresh they have me wanting to pack away all my winter sweaters and coats, and break out the delicate colors and fabrics. Which of the white bags has you excited for this next season?