Marc Jacobs
Now for a certain breed of spring bags, under the sea is where it's at. Here, my pick of the best earthly beauties a mermaid would give up her flippers for, running the gamut from deep-diving shimmery texture to leathers the color of Caribbean water.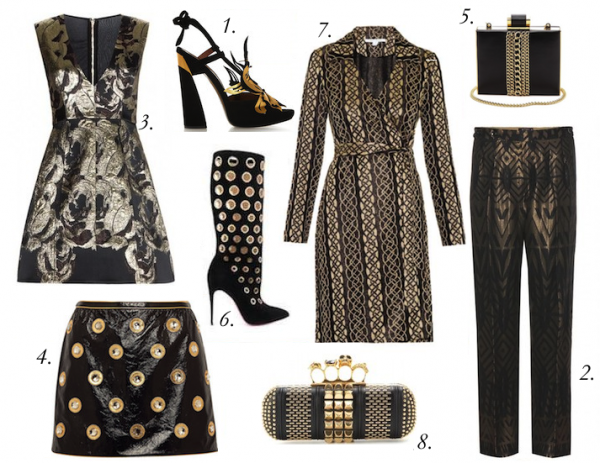 In the words of Wiz Khalifa, "Yeah, uh huh, you what it is." While he's referring to the combination of black and yellow, I say close enough! Black and gold is what's up. There's just something about this eternally cool, classy combination that feels right for ringing in the New Year.
Ah, the age-old quest for a perfect pair of thigh-high boots. As we know, perfection can be a tall order (pun intended). A number of boxes need to be checked off…
My nude obsession continues. Actually, it's only gaining steam. After a streak of blindingly bright neon trends, all things washed out have never looked chicer.
Animal prints not your thing? More of an all-black, all day, every day kind of girl? Take a break from fashion's easiest go-to shade, and try the season's most colorfully chic prints.
I knew I was in for a real treat when I walked into the Park Avenue Armory, the long-time site of Marc Jacobs shows, and surveyed the scene: glowing pink gravel, a Pepto-Bismol tornado-dropped pink house inspired by The Wizard of Oz (a film Marc happens to love), shocking pink, pink, pink!
This is a prime example of everything a Frugal Snob bag should be: flirty, fun, noncommittal, and lighthearted (no pun intended). If something like this cheekily romantic bag happened to veer off into the quadruple-digit price range, you would surely hear me exclaim that such a novelty purchase isn't worth a big investment. But that's not the case!
The grunge-glam princess is all grown up! I'm obsessed with the upbeat razzle-dazzle of Marc Jacobs' Resort 2015 collection…
The power of the top-handle bag is more potent than ever, and channeling the classic elegance of Grace Kelly has never been easier to achieve.