Marc Jacobs
Tue 10.07
Animal prints not your thing? More of an all-black, all day, every day kind of girl? Take a break from fashion's easiest go-to shade, and try the season's most colorfully chic prints.
Fri 09.12
I knew I was in for a real treat when I walked into the Park Avenue Armory, the long-time site of Marc Jacobs shows, and surveyed the scene: glowing pink gravel, a Pepto-Bismol tornado-dropped pink house inspired by The Wizard of Oz (a film Marc happens to love), shocking pink, pink, pink!
Fri 08.15
This is a prime example of everything a Frugal Snob bag should be: flirty, fun, noncommittal, and lighthearted (no pun intended). If something like this cheekily romantic bag happened to veer off into the quadruple-digit price range, you would surely hear me exclaim that such a novelty purchase isn't worth a big investment. But that's not the case!
Fri 07.18
The grunge-glam princess is all grown up! I'm obsessed with the upbeat razzle-dazzle of Marc Jacobs' Resort 2015 collection…
Fri 06.13
The power of the top-handle bag is more potent than ever, and channeling the classic elegance of Grace Kelly has never been easier to achieve.
Fri 04.11
I've started writing a monthly column for HarpersBazaar.com that I hope you'll all be tuning in for! My first subject was spring cleaning, or rather, spring organizing (it's a lot easier to organize than to give away beloved bags!). At the start of a new season, I store the pieces I won't be wearing in boxes, and bring out all the others I've been waiting to carry.
Fri 04.04
We've maybe finally left the snow behind, but that just means that it's time for April showers. No worries! With these boots, you'll be singing in the rain. I woke up to a downpour in NYC this morning, and honestly, I'm kind of excited about it. See? Shopping really does make things better. Here are the best boots at every price point…
Mon 02.24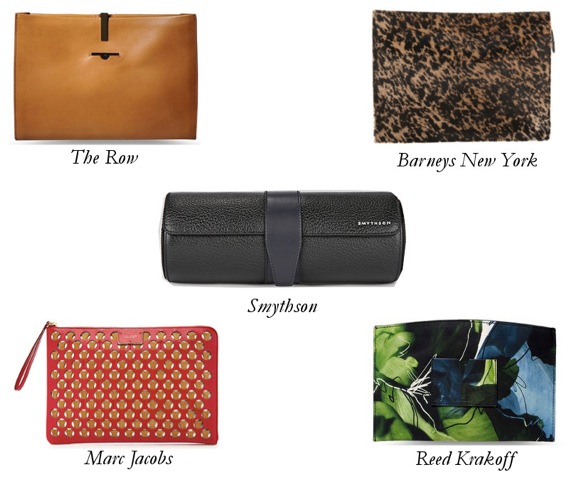 Bags are the only accessories that can truly multitask (other than shoes, which make for pretty handy bug exterminators when the occasion arises). The oversize pouch is the "it" clutch if there was ever such a thing, which is exciting because that allows you to justify investing in a luxe laptop case (finally!).