Marni
You might remember a similar variation of this new Marni bag that I fell for back in the spring. I loved the red trim, but I know red can get old. Now this, this is the must-have bag that won't get boring. No coincidence it's called the Every Day tote.
Forget the little black dress for a moment. Just as elemental to your wardrobe is the little black top. In fact, I devote an entire section of my closet to just that!
STOP what you're doing! If your bosses ask why you've abandoned ship, just send them the sale link (but only if you've already made your purchases – you don't want someone else to snap up your lust-haves).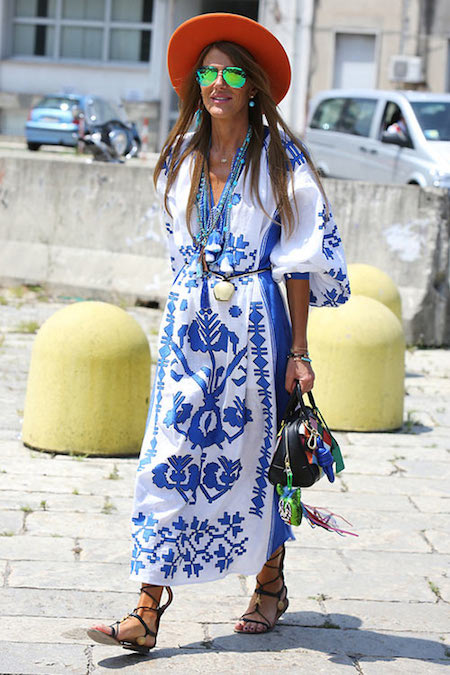 From fringe to hobo bags to exaggerated hoop earrings, the boho look is a fashion favorite at the moment, and none are doing it as well as Ukranian brand Vita Kinicon. For one thing, the style – vyshyvanka, the nation's traditional embroidered clothing – is a different take on boho than we're used to seeing.
Some like Grace Coddington treat the hoop earring as a style staple, but the classic gold design has gone bohemian this year thanks to the resurgence of '70s trends – and these are just a few of its boldly embellished, strikingly oversized, and brightly decorated ranks…
Going bold is always something we should all strive to do. Pushing out of your comfort zone, even just when it comes to getting dressed, almost always pays off. If you're squeamish about getting a little too adventurous with your outfit, look to an out-there bag with brash graphics. Wearing a standout bag is much easier for more timid snobs to handle, since there's more of a physical disconnect (read: you're not say, zipped into it).
Why should the term "gender fluid" apply only to people? It's high time we have bag equality for all! Menswear is a huge trend for the girls. Just look at style-chameleon Anna Dello Russo, whose menswear is par for the course.
Summer opens up a whole other side of our shoe closets, but when it comes time to pick out a flat sandal for a beach rendezvous, you don't want to always be grabbing for hum-drum flip flops. These thongs come with serious style – and still all the ease you need.