Marni
Yellow is perky and red is hot, but if you ask me, no color energizes my spirits and warms my mood like pink. Which makes it the perfect way to kick off a busy week, as well as Breast Cancer Awareness Month. It's also rapidly becoming the unofficial color of the season.
I prefer structure over schloppy, floppy bags. But sharply boxy bags are not always functional. They can be unforgiving at your side, difficult to get in and out of, and hard-edged to the touch. Not the latest bunch!
Here's the bottom line: No matter what occurs, this has to be mine. This is the kind of desire at first sight that doesn't dissipate with time, so I ought to just go for it now before I go crazy with longing.
As you're lounging this Labor Day weekend, you're sure to be clicking through the sales.
You might remember a similar variation of this new Marni bag that I fell for back in the spring. I loved the red trim, but I know red can get old. Now this, this is the must-have bag that won't get boring. No coincidence it's called the Every Day tote.
Forget the little black dress for a moment. Just as elemental to your wardrobe is the little black top. In fact, I devote an entire section of my closet to just that!
STOP what you're doing! If your bosses ask why you've abandoned ship, just send them the sale link (but only if you've already made your purchases – you don't want someone else to snap up your lust-haves).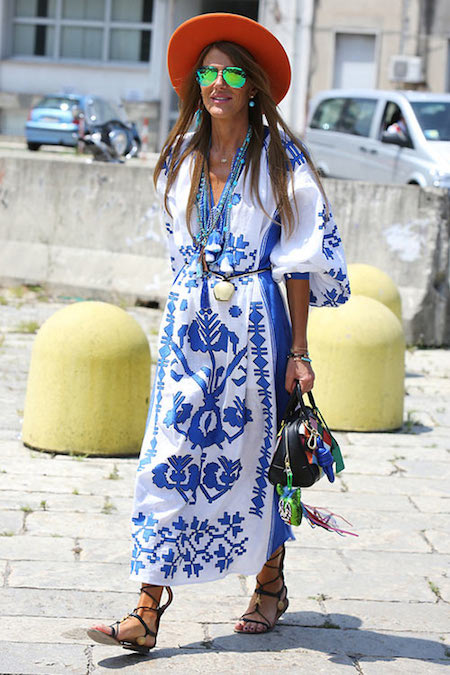 From fringe to hobo bags to exaggerated hoop earrings, the boho look is a fashion favorite at the moment, and none are doing it as well as Ukranian brand Vita Kinicon. For one thing, the style – vyshyvanka, the nation's traditional embroidered clothing – is a different take on boho than we're used to seeing.
Some like Grace Coddington treat the hoop earring as a style staple, but the classic gold design has gone bohemian this year thanks to the resurgence of '70s trends – and these are just a few of its boldly embellished, strikingly oversized, and brightly decorated ranks…