Marni
Happy Fat Tuesday! I don't know about you, but any holiday that encourages you to indulge in decadent foods (Did you know Mardi Gras was originally a binging festival so people could stock up, so to speak, on fatty foods ahead of giving up their favorite treats for Lent?), wear anything and everything flashy, and let loose in the streets gets my support. Maybe you're storming the French Quarter as we speak or maybe you didn't even realize beads were being tossed around with reckless abandon today.
Featured Items
Every online retailer from NET-A-PORTER to Farfetch is offering an extra discount on their sale inventory right now, but it's worth noting that Shopbop is applying its 25% off to items in the high-end Designer Boutique.
Featured Items
The sales just keep on coming! And I am more than ready to continue shopping, especially when the discounts are on pieces as unique as these…
Featured Items
This spring is all about projecting an innocent spirit. I'm loving the sense of optimism and joyful attitude that's already in full effect. It's the perfect way to start off the new year, one that, by the look of things, is guaranteed to be a good one. It also looks like it will be nothing but picnics all season, and I am definitely okay with that! Come prepared to soak up the sun with the right bag…
Featured Items
The word "blue" has gotten a bad rap in modern times, particularly in American culture. Blue Christmas, the Monday blues, singing the blues, heck, blue balls…I could go on until I'm blue in the face! In reality, blue is the most uplifting color of all. Just look to the sky on a bright, sunny day. It's an instant mood-enhancer, just like crystal-clear blue water.
Featured Items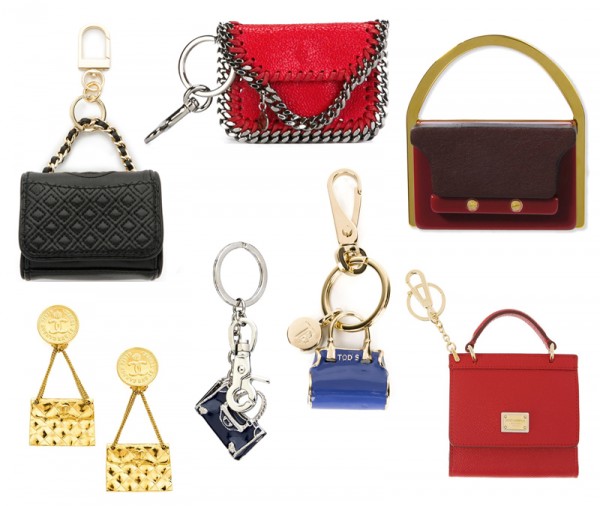 Dangling bag-themed decorations feel perfect for this time of year. They're like tiny ornaments. I mean, how amazing would it be to have an entire tree trimmed with these cuties? Each one of these, from bag charms and key chains to brooches and earrings, is great as a gift, but I've already got my Christmas gifts covered. Which means I'm getting these for myself! Good things do come in small, bag-shaped packages.
Featured Items
I'm off to Art Basel Miami today, so needless to say, I'm in an especially visual state of mind. What to wear while you're checking out new of-the-moment artists, exhibit hopping, and hitting parties with the nouveau gallery crowd? A colorful bag that can contend with the pieces on the wall, of course.
Featured Items
Yellow is perky and red is hot, but if you ask me, no color energizes my spirits and warms my mood like pink. Which makes it the perfect way to kick off a busy week, as well as Breast Cancer Awareness Month. It's also rapidly becoming the unofficial color of the season.