Marni
Wed 09.25
A basic black bag? It's never that simple with Marni. Designer Consuelo Castiglioni takes one of the season's biggest trends – houndstooth – and gives it a whole new look. We liked it on Marni's printed clutch, but this style is so much more creative. The cut-outs look like enlarged pixels!
Thu 09.05
We know it's not really a man's world (it's a Snob's world), but the way fashion's looking this fall, it's certainly a menswear moment. From prints like trendy houndstooth and checks to tuxedo-inspired pieces, we just can't seem to get enough. And while it's always fun to borrow your boyfriend's sweater, there's something about getting the look tailored for a woman that's even better…
Mon 08.26
It happens every year. The temps drop and the hemlines quickly follow. Make covering up exciting with a bold print. Pair your skirt with a crop top until it starts to really get cold, then transition into a fitted button-up. Just avoid baggy tops at all costs.
Wed 08.21
My new perfect bag: done and done, with no hesitation required. When Marni nails it, you can bet I jump all over it. And this fierce yet neutral tote has everything I'm looking for this fall.
Tue 08.13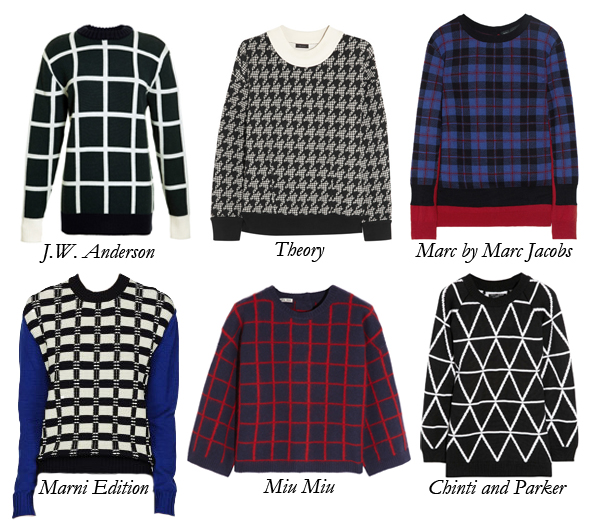 Thinking about what to buy to update your fall wardrobe? All it takes is a single sweater! Just make sure it's not too basic – checks and other patterns will add a touch of thoughtful sophistication to your look. And considering Chanel just acquired Barrie knitwear, there's no better time to rock off a sweater than now.
Tue 08.06
The '70s were coined as the "Me Decade," and this emphasis on individuality brought about a wide range of styles from that of groovy hippies to DVF's iconic wrap dress to glam rock David Bowie. One movement defined bag design more than any other, though – feminism.