Matthew Williamson
Tue 09.24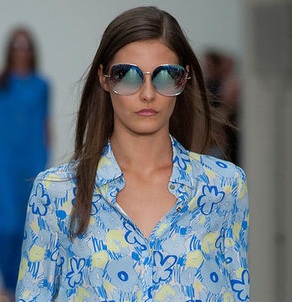 The 70s are back at Matthew Williamson… down to the sunglasses – I'm obsessed! I mean seriously…how amazing are those sunglasses and that sleek, side-parted hair? Skin was kept dewy with Benefit's Hello Flawlessicon, while cheeks were heavily contoured (eye shadow was even used to amp them up), and brows were made heavy.
Mon 08.26
It happens every year. The temps drop and the hemlines quickly follow. Make covering up exciting with a bold print. Pair your skirt with a crop top until it starts to really get cold, then transition into a fitted button-up. Just avoid baggy tops at all costs.
Thu 07.25
Some people love candy, others fashion, and frankly, most love both! Satisfy your sweet tooth and your Bag/Jewel Snobbery all at the same time with Rauwolf's gemstone bag (at Barneys New York for $1,470). It's like an Astro pop, only it will never melt!
Fri 04.05
When spending most of the day out in the sun, it's nice to have a light kaftan that'll keep the rays at bay without overheating you. Sure, sunglasses, a wide-brimmed hat, and SPF are helpful allies, but when it comes to full-body protection, nothing beats covering up. Then again, maybe you want to show off […]
Fri 03.29
Thanks to throngs of models and It-girls, Coachella has become known as well for its fashion sense as musical acts. You know the look when you see it. Shredded cutoffs, gauzy see-through dresses, fringed '70s-era vests, and hats in every form, from fitted baseball to floppy fedora: this pretty much sums up the must-have festival […]
Thu 12.27
Belts are often forgotten accessories. So why not wear one that no one can forget? Matthew Williamson's metal belt (on Net-a-Porter for $825) is a sexy standout piece that's sure to make you the silver belle of the ball. It's pricey for a piece of metal, but you're paying for the name. Since it's more […]