Missoni
Tue 02.25
Milan Fashion Week Fall 2014 has officially wrapped, and while most designers opted for natural looks both for hair and makeup, there were still plenty of out-of-the-box and inspiring styles. Here's a peek at the four beauty looks we can't get out of our heads!
Fri 09.27
I love this look. It's so wearable yet artistic, especially when paired with a nude lip as it was at Missoni's show this season. At the show, eyes were rimmed in MAC's Blacktrack Fluidline ($15), and the brand's Silver Glitter eyeliner was applied with the finger over the lid and brow bone.
Tue 07.02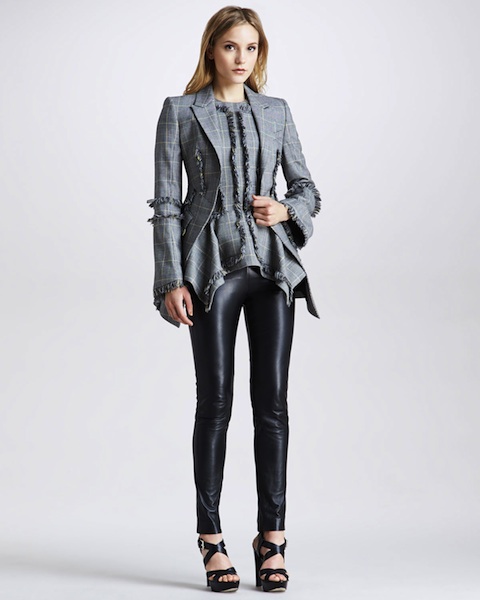 I'm lusting after these McQ leather pants, and considering I'm in the middle of a 110-degree heat wave in California, that's saying something. Right now is clearly not the time to break them out, but a girl's to plan and nothing will be more versatile for fall and winter than leather leggings.
Thu 06.28
For Spring/Summer 13, Milan sure felt like a breath of fresh air. The collections came across as pure, organic, and more…It was refreshing, and dare I say it, simple. Etro screamed exotic at me this season. An exotic rooted in beauty and serenity, and after the show I was dreaming of camels and the middle east. […]
Wed 06.27
Gypsy-chic. On-trend earth-mama. Bohemian glamour. Whatever the caftan brings to mind, it wouldn't have a place in your closet without faraway vacations and moments of true leisure. I'm off to Phuket, in southwest Thailand, and an array of caftans, from the beach-ready to cocktail-appropriate, is at the top of my packing list. The breezy, airy, […]
Wed 04.18
It's that time of year again! When all creatures young and wild get down and dirty in the fields of Indio, California. Coachella is more popular than ever, going for two full weekends this year. Which means it's especially no occasion to play it safe or serious. Find your muse, whether she's the retro rocker […]
Thu 03.15
In case you didn't know, I'm a huge fan of headgear. Hats, tiaras (I collect them, making me very popular with girls under 10) and yes, even turbans. From Mommy Dearest to Kate Moss to Axl Rose: all can be scene rocking this head accessory. Turbans are always fresh and modern, no matter the era. […]
Tue 01.31
Let's have some fun this spring! Clothes shouldn't be so no-nonsense, even when it comes to a special investment buy. As much as I love neutrals, I'm getting charmed by funky patchwork, wacky lettering, and crazy print-and-color combinations. Show that you don't take yourself too seriously with a curious statement piece that can have a […]