Miu Miu
Tue 03.24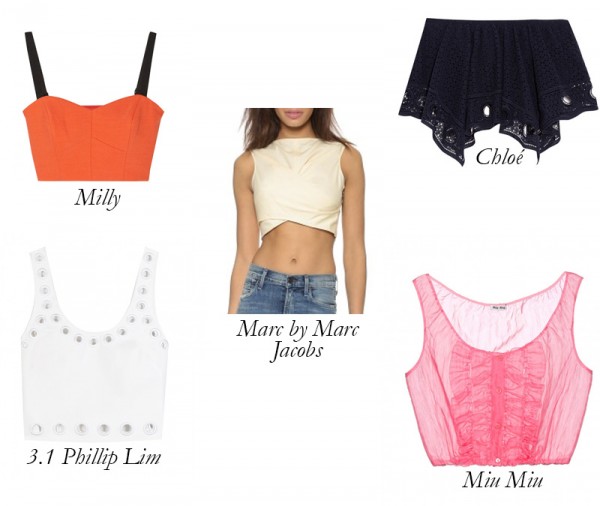 I'm here to say don't dismiss the crop top just yet! It's a trend no more, having evolved into a contemporary staple, especially as trouser and jean waists stay high.
Wed 03.18
It's not easy to execute a great appliquéd bag. A single misstep, and you've entered Slob territory. Maybe those who've taken those wrong steps should look to Miuccia and a few of her latest spring releases. This appliquéd leather Miu Miu bag is done beautifully.
Thu 01.15
We are FAR from shorts weather (unless you've booked a fabulous vacation, in which case, take me with you!), but don't get stuck in a skinny jean rut. Switch up your pant game with some high-waisted, well tailored, slacks.
Fri 12.19
Do you have New Year's Eve plans yet? If not, it's time to make some! These dancing shoes deserve a night on the town, and you'll be able to splurge on the rest of your outfit because all of these pretty pumps are discounted on NET-A-PORTER.
Wed 12.17
This one's for all the mall warriors and department store troopers braving the last-minute holiday crowds.
Fri 12.05
This time around, the denim skirt trend doesn't consist of the kind made exclusively for groupies and hippies. Instead, these latest runway looks come as close to couture as denim can go. Naturally, the relaxed feel is still here in spirit, but the way to wear them now is luxe all the way.
Thu 12.04
Maybe it's just the holiday mood speaking, but I'm currently really into oversized crystal embellishments. Lately, it's the bigger, the better – which isn't always the case! A bag like Miu Miu's drawstring leather bag serves as a winning example of that mantra.
Thu 11.20
With a sporty feel enhanced by a coolly polished chunky chain strap, Miu Miu's slick, winter-white shoulder bag has all the elements I'm craving at the moment. It's ready to be dressed up or down in equal measures, so be prepared to wear this one with a variety of different outfits.