Miu Miu
Tue 12.03
At just shy of 6″, Brian Atwood's sexy rendition (at Saks Fifth Avenue for $1,256) of the classic hiking boot will turn heads and heels. Find more options below – just don't expect to do much hiking in them!
Thu 11.14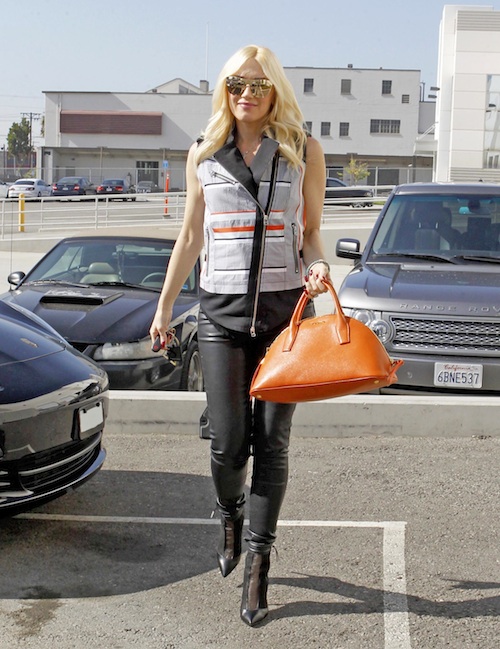 Gwen Stefani has a way of taking pieces and styling them in the most unexpected ways. When Miu Miu rolled out its newest accessory on the Fall/Winter '13 catwalk, it was hailed as an elegant update on the classic bowling bag style, yet the "Rock Steady" beauty has incorporated it into a moto-chic look – complete with black leather pants.
Tue 11.05
My love of the biker jacket is no secret, but this season it's gone full throttle with equally sharp biker bags. Quilting, hardcore hardware, zippers, studs – everything you expect from your favorite leather jacket compacted conveniently onto a tough girl carryall.
Wed 10.02
Miuccia isn't one to go halfway with her ideas. In case the shag carpeting wasn't an indication, the brilliant designer plunged into the swinging American sixties (with a splash of freewheeling '70s vibes) for her Spring 2014 collection – and came out far into the retro-mod future. In terms of pop-culture characters, think Marcia Brady meets the Jetsons.
Mon 09.23
This Miu Miu was one of my favorite outfits of Fall 2013. I saw it glide down the Parisian runway in February and have been waiting for the precious pink bag to materialize ever since. Well, good things come to those who wait, and at last it's arrived! No blurred lines here – I immediately picked the striped beauty for Cosmopolitan's bag guide in the September issue.
Mon 09.23
With a New York City upbringing and a first bag style called the Trigger, you can count on Monika Botkier to pump some streetwise grit into your functional daily bag. I love Monika for her rock 'n' roll aesthetic and refined biker sensibility, and this bag has both in spades.