Miu Miu
There is no other color as polarizing as pink. While many women love it (Barbie, Elle Woods, and myself included!), others prefer more neutral hues. Even the women who wear LBDs every day, never thinking of slipping on frilly pink dresses, find themselves longing for a flash of the tint here and there, though. And whether in pastel patent, fuchsia PVC, or blush glitter, these girly shoes are just the right amount of pink to feed that craving.
Featured Items
Sometimes it's more entertaining to watch the show on the street than it is to watch the show on the runway. That's how I felt during Paris Fashion Week, especially any time I spotted a well-heeled attendee who hadn't been dressed by a brand (a trend that has gotten more and more common over the years). On the runways, we saw bags on chains at Nina Ricci and Valentino, oversized clutches at Balenciaga, and scarf-wrapped handles at Louis Vuitton…
Featured Items
Anne Hathaway's been out of the limelight lately, as she prepares for the arrival of her first baby, but all it takes is one stellar red carpet appearance to remind the world of just how chic and fabulous you really are – especially when pregnant. There's nothing wrong with plain old maternity wear for these occasions, but I love when women make non-maternity clothes work in spite of their growing bellies…
Featured Items
There's something so exciting about waiting to buy an item until it's as discounted as it gets. Sure, this is not a game you can play with just any piece. Things could sell out at any time, and the retail season is long. Good news, though; now is finally the time to buy!
Featured Items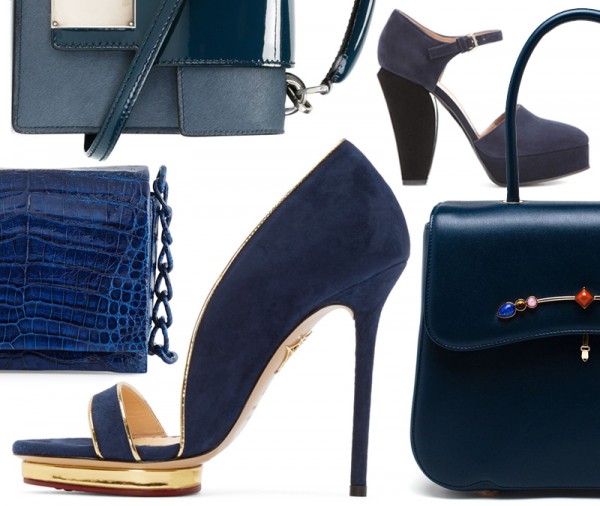 The word "blue" has gotten a bad rap in modern times, particularly in American culture. Blue Christmas, the Monday blues, singing the blues, heck, blue balls…I could go on until I'm blue in the face! In reality, blue is the most uplifting color of all. Just look to the sky on a bright, sunny day. It's an instant mood-enhancer, just like crystal-clear blue water.
Featured Items
Dallas, Texas might not come to mind when you're thinking of the world's most fashionable cities, but think again. My adopted home served as the inspiration for this post, part of my weekly column, "Bag Chat with Tina" on the Vogue China Vogue Mini app.
Show me a bag that's quintessentially Miu Miu and I'll show you a bag that exudes quirk and glamour in equal measure, thanks to an unfailing way with wacky combinations that somehow work. Like this well-balanced masterpiece of leopard-print calf hair, deep jade python, and aqua-blue suede (on the interior). It should add up to overkill on the eyes. Instead, it's total eye candy!
I've always said that ankle straps are like seat belts for your feet (and we could certainly use those – safety first!), but with these shoes, designers are taking that functional feature and tying it up in a pretty bow.
Texture is a word that comes up a lot when talking bags. Smooth, grainy, rough, pebbled, furry, plush, soft, rugged…there are endless varieties and almost as many ways to describe them. But some bags out-texture the rest, so to speak.