Miu Miu
Thu 11.20
With a sporty feel enhanced by a coolly polished chunky chain strap, Miu Miu's slick, winter-white shoulder bag has all the elements I'm craving at the moment. It's ready to be dressed up or down in equal measures, so be prepared to wear this one with a variety of different outfits.
Thu 11.13
Prada's little sister is all grown-up! Just don't think her any less playful. The essence of Miu Miu has always been that of a woman who's old enough to know better but is too spirited to care, and the polished New Madras collection perfectly embodies that effervescence.
Wed 10.22
Sometimes, pumps are just too much; especially when you want to relax in something warm and casual for the fall season. If boots are too heavy for a look, try on a pair of sneakers for size!
Wed 10.22
So why would you wear head-to-toe leopard?! Pick one of these great pieces, the staples I'm choosing to invest in myself, to wear at a time, and you will have them begging for more.
Tue 09.02
Today my dear friend Nicky Hilton's book 365 Style hits shelves, and in honor of its release, I've asked her to share her must-have accessories – as well as a giveaway!
Fri 08.29
Only a couple of days left to enter the giveaway! With the help of sponsors Edie Parker and Spring, we have not one, but two customized Flavia #Hashtag clutches – one in pearlescent white and another in navy!
Thu 08.28
The latest films from Miu Miu's series Women's Tales are out today, and to mark the occasion, the brand has released a special app that ties in with Miranda July's hilarious short "Somebody." I'll let you watch the movie to find out exactly what it does, but trust that it's quirky and good for a laugh!
Mon 08.11
Circles, squares, pentagons, hexagons…there's a shape to flatter every face in Miu Miu's lighthearted sunglasses collection.
Mon 07.28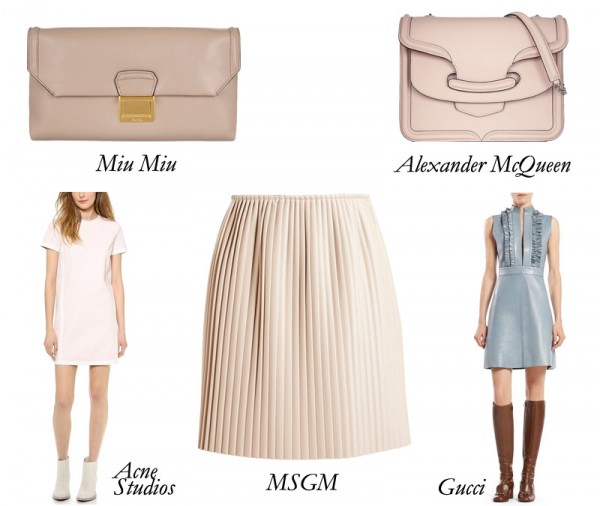 Pastels are for spring, you say? Not anymore! Or at least, not only for spring. Sooner or later, we must accept that fall will be here soon. I know, I know…the summer just started! It's okay, though, because we can keep the color palette going through autumn…