Miu Miu
Thu 03.06
Our fashion news roundup today features the front row at Miu Miu, Chanel bag prices, and shrink wrapped models.
Wed 03.05
This season, Miu Miu had me at hello. Or was it Lupita Nyong'o who had me at hello? I have to admit I was distracted by her presence as we settled into the show; she is such a flawless, chic, and modern beauty! Speaking of muses and modernity, Miuccia had to have been inspired by the new Oscar winner and Miu Miu model…
Thu 01.30
If yesterday's Snowpocalypse in Atlanta is any indication, the season's inclement winter weather is here to stay for a while longer. The best thing to do is to arm yourself for its next attack.
Mon 01.13
Did you watch the Golden Globes? Nominee (and fashion's freshly-minted it-girl) Lupita Nyong'o impressed in Ralph Lauren on the red carpet, but she doesn't just reserve her great looks for big events. Here she is on an ordinary day carrying Miu Miu's Spring 2014 Biker bag. It turns out Balenciaga and Belstaff aren't the only moto-obsessed brands out there.
Fri 01.10
The concept of "less is more" has never been more obvious than in Miu Miu's new biker-inspired collection. When it comes to quilting, padding, and topstitching, just a little is Snob…and a lot is a whole big mess of Slob.
Fri 01.10
The Polar Vortex has us all feeling a little under the weather. Fight the gloom with some shoeshine! From classic cap toes to angular slices of silver to the thinnest gold rims, there's a tip for every taste, whether it's cold, hard metal or simply metallic leather.
Tue 01.07
There is color-blocking as a trend, and then there is color-blocking as a concept. While the former has been done to death, a geometric combination of shades inspired by artist Piet Mondrian are feeling right at the moment.
Tue 12.03
At just shy of 6″, Brian Atwood's sexy rendition (at Saks Fifth Avenue for $1,256) of the classic hiking boot will turn heads and heels. Find more options below – just don't expect to do much hiking in them!
Thu 11.14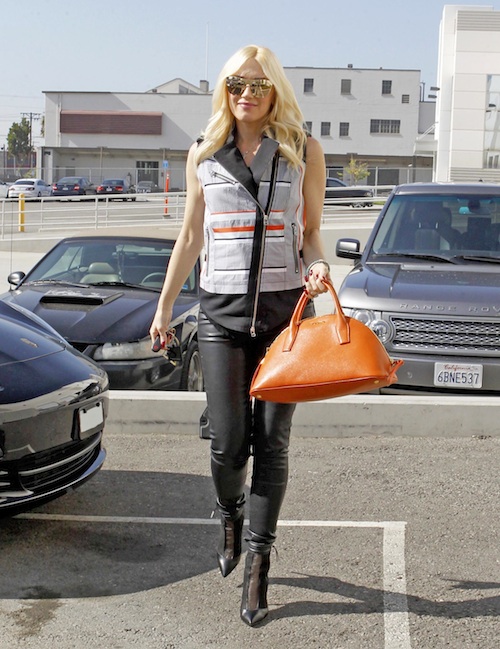 Gwen Stefani has a way of taking pieces and styling them in the most unexpected ways. When Miu Miu rolled out its newest accessory on the Fall/Winter '13 catwalk, it was hailed as an elegant update on the classic bowling bag style, yet the "Rock Steady" beauty has incorporated it into a moto-chic look – complete with black leather pants.