Nancy Gonzalez
Leopards and tigers and prints…oh my! My animalia obsession has just reached an all-time high. There was a time, not even too long ago, when animal print was considered downright outlandish and at times, tacky. Especially leopard (which I, for one, love). Blame sitcoms and their over-the-top stars, like Fran Drescher of The Nanny and Peggy Bundy of Married With Children!
Have you met Nancy Gonzalez yet? She'll be stopping in Bergdorf Goodmanicon this Thursday and Friday to debut a selection of Resort 2014 bags exclusive to the luxe NYC store, and you're invited! The Colombian designer is celebrating 15 years at Bergdorf's, where my love affair with her croc creations first began.
They say one is the loneliest number, but one of a kind? Well, that's the best kind of loneliness there is. When you're a snob who has everything, utterly unique pieces are the only way to go.
Nancy Gonzalez's Fall 2013 ad campaign is one of the most breathtaking I've ever seen! The sumptuous textures and colors of her bags pop out beautifully against the minimalist background. When I spoke with Santiago about the gorgeous look, he told me, "I am inspired by the dark, rich splendor and the highly refined execution and symbolism in Flemish still life paintings."
There's not a bit of logo or lettering to be found, but this clutch has my name written all over it. The color palette! The exotic skin! The roomy size that's perfect for day and the sleek shape that translates right into night!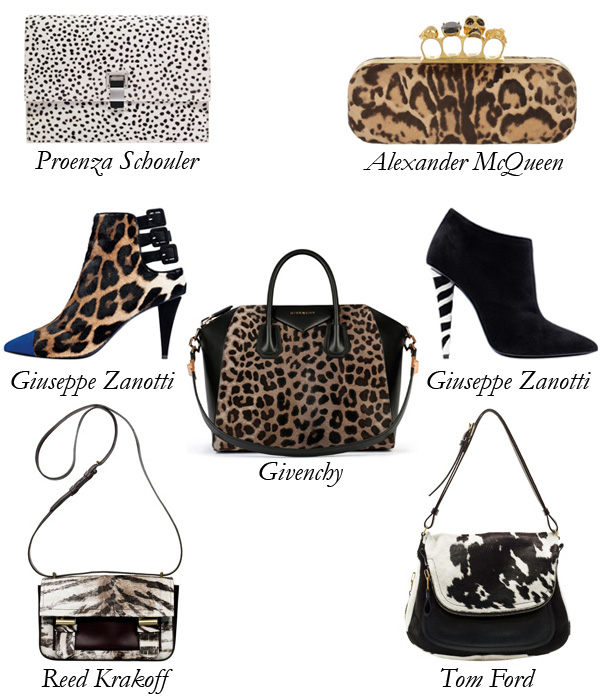 Fall 2013 is the season for big game. Whether it's leopard, tiger, or zebra, you have to get in on the animalia action. Obviously, my adventure into the wild begins with bags. Kelly loves Givenchy's cow-printed Antigona, but I'm all about the leopard ($3,440). For cow, I would have to go with Tom Ford's Jennifer ($4,350) – the addition of solid color relaxes the print.
As much as I love cobalt, it's one of those colors that you only need a little of to make a statement. Anything more than that would cause serious shock and awe (and not the good kind). You pack a bigger punch with a jolt of electric color rather than a full-on current, so choose just one piece to layer with…
Bursting with a vast palette of colors, skins, and motifs, Nancy Gonzalez's latest Resort collection puts most others to shame. But what makes most excited is the prospect of hopping on her mini-bag train, a la the Cristina and two new bag shapes. Beautiful as they are, never forget that when it comes to Nancy, function and form unite.