Nina Ricci
Thu 09.25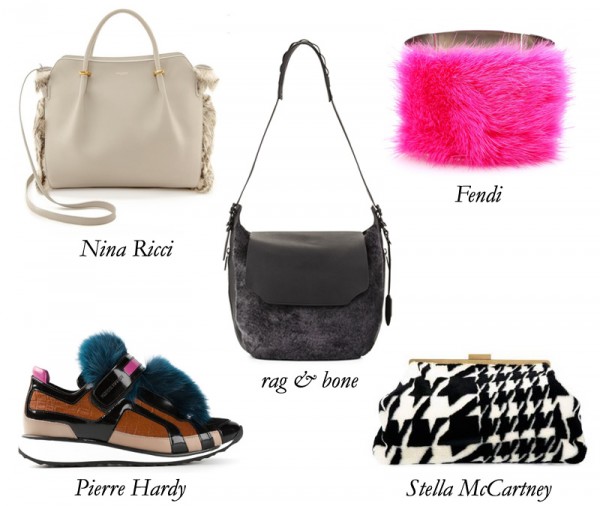 At the end of September, we're finally starting to feel a fall chill coming, but it's hardly time to break out the full-length fur. I'm not willing to wait any longer, though, so I've found a few smaller pieces to tide us over (faux-enthusiasts, included!).
Wed 09.03
I love it when all parts on a bag are in perfect harmony, varied elements synthesized into one seamless entity. Designing a bag is not unlike conducting a symphony: an overly heavy-handed cellist will overshadow the violinist, and similarly an overly heavy chunky zipper will overtake a streamlined silhouette.
Thu 08.07
An exotic bag is one of the most luxurious accessories you can collect, but that kind of luxury comes at a steep cost. With feathers, you get the exotic look without the accompanying price tag! They also add instant glitz and glam to even the most mundane of outfits…
Tue 07.15
I'm always on the lookout for a clutch I can carry to parties. I don't want to spend the evening worrying about dropping it, or getting so annoyed with the inconvenience that I leave it on a table. That will take you right out of the celebratory spirit of the occasion!
Fri 07.11
When it comes to gray, the rule goes the paler the better for successfully speaking to the season's neutral trend.
Wed 07.02
Nina Ricci is on a roll, and as for their latest, I am loving this easy-to-incorporate-into-your-life satchel!
Mon 04.07
Well, hello, Monday! Nothing beats the blues (and this never-ending winter) like a beautiful bag, and this Nina Ricci clutch trumps all the other cobalt, indigo, azure, navy, and true blue pick-me-ups I've seen in some time. From the shape to the shade, Nina Ricci hits all the right notes with their oversized clutch in the perfect hue of French blue.
Wed 03.19
Here's a pairing that would have likely never happened were Olivier Theyskens still at the helm of Nina Ricci (I so miss him there!). The brand has collaborated with Ladurée for a new scent, La Tentation de Nina. Well, it could have happened with Theyskens, but I feel like it would have resulted in a caviar macaron-inspired perfume or something!