Nina Ricci
There is nothing like a crisp white bag for summer. But I tend to like my bags with some kind of twist, and black trim doesn't just make for a high sense of contrast. Done right, it adds the right amount of urban edge to classic, polished white.
I'm not usually one to go gaga over a minaudière, but Nina Ricci's Ecrin has caught my eye before and in black and white woven grosgrain, it's truly gone in for the kill.
I am so loving Nina Ricci's current bag renaissance. My little baby Marche is so cute and perfect for day and night, and it's quite liberating to being able to pack more than just the basics when going out at night. This shoulder style, which easily converts into an oversized clutch, happens to be just as good.
Yes….more winter white. Or more likely, summer white! Call it whatever you want. All I know is that as soon as I spotted this topstitched woven leather tote, I knew I wanted it. I'm not even sure I can wait for the holidays, so instead of my wish list, this is going straight onto my must-have-right-now list.
Classic elegance never goes out of style, and Nina Ricci's Ecrin clutch exudes just that. But this piece isn't as typically timeless as it might seem at first glance. On the contrary, its brand of classicism is modern and distinctive. Best of all, it feels new, so you won't want to wait on it.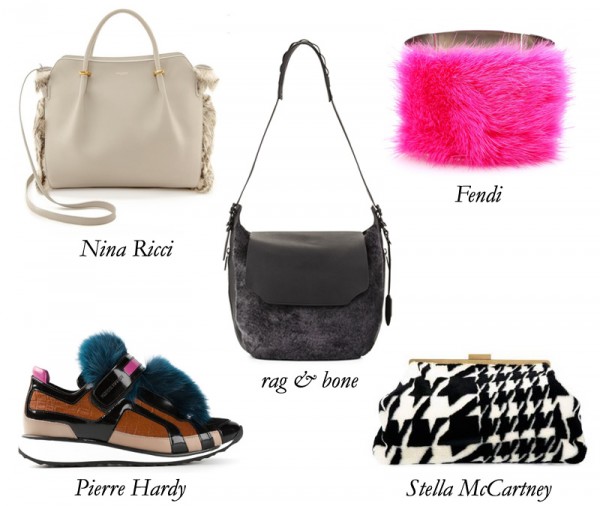 At the end of September, we're finally starting to feel a fall chill coming, but it's hardly time to break out the full-length fur. I'm not willing to wait any longer, though, so I've found a few smaller pieces to tide us over (faux-enthusiasts, included!).
I love it when all parts on a bag are in perfect harmony, varied elements synthesized into one seamless entity. Designing a bag is not unlike conducting a symphony: an overly heavy-handed cellist will overshadow the violinist, and similarly an overly heavy chunky zipper will overtake a streamlined silhouette.
An exotic bag is one of the most luxurious accessories you can collect, but that kind of luxury comes at a steep cost. With feathers, you get the exotic look without the accompanying price tag! They also add instant glitz and glam to even the most mundane of outfits…
I'm always on the lookout for a clutch I can carry to parties. I don't want to spend the evening worrying about dropping it, or getting so annoyed with the inconvenience that I leave it on a table. That will take you right out of the celebratory spirit of the occasion!