Nina Ricci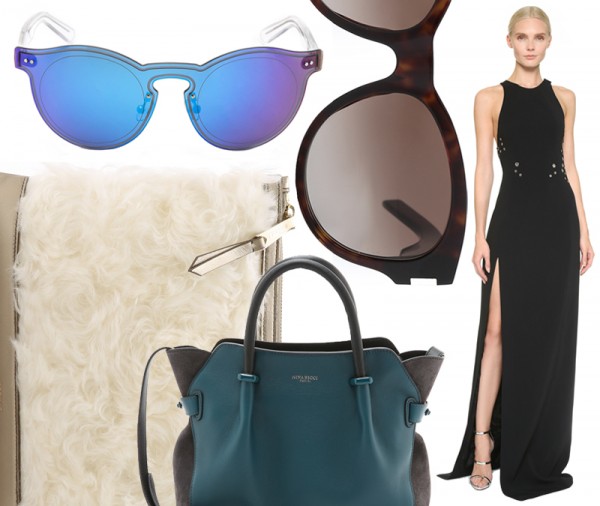 This week, Paris is my office (love my job!), and while there's a lot to see and do, I'll always make time for a good Shopbop sale. There are roughly 2,500 items discounted up to 40% off for the next three days, but in honor of my visit to the City of Light, I've picked out the best of French designers…
Featured Items
If you're looking for that bag to carry now and wear more later, I've found it for you. Distinctly feminine and discreetly multi-hued, Nina Ricci's Le Marché shoulder style is the one to act as your great segue into fall.
Get an extra 30% off already-discounted items on The Outneticon now through Tuesday, May 5th!
A new Creative Director means a fresh, new vision for Nina Ricci. Guillaume Henry, the man who revitalized Carven into the covetable brand we now know, was appointed to the French house this past autumn. I, for one, am quite excited for his transformative vision.
There is nothing like a crisp white bag for summer. But I tend to like my bags with some kind of twist, and black trim doesn't just make for a high sense of contrast. Done right, it adds the right amount of urban edge to classic, polished white.
I'm not usually one to go gaga over a minaudière, but Nina Ricci's Ecrin has caught my eye before and in black and white woven grosgrain, it's truly gone in for the kill.
I am so loving Nina Ricci's current bag renaissance. My little baby Marche is so cute and perfect for day and night, and it's quite liberating to being able to pack more than just the basics when going out at night. This shoulder style, which easily converts into an oversized clutch, happens to be just as good.
Yes….more winter white. Or more likely, summer white! Call it whatever you want. All I know is that as soon as I spotted this topstitched woven leather tote, I knew I wanted it. I'm not even sure I can wait for the holidays, so instead of my wish list, this is going straight onto my must-have-right-now list.
Classic elegance never goes out of style, and Nina Ricci's Ecrin clutch exudes just that. But this piece isn't as typically timeless as it might seem at first glance. On the contrary, its brand of classicism is modern and distinctive. Best of all, it feels new, so you won't want to wait on it.