Oscar de la Renta
Wed 11.13
Karlie Kloss is one of my favorite models to see gracing Oscar de la Renta's catwalk, and last night it seemed she mixed business with pleasure by taking one of his dresses off the runway and onto the red carpet. She was out on the town for Glamour's Women of the Year Awards, proving to be quite award-worthy herself in the Pre-Fall '13 gown.
Tue 10.22
While it's not unusual for tots to play dress up, these celeb kids take the game to a whole new level. Suri Cruise leads the pack in a navy bow-embellished dress from Oscar de la Renta (at Oscar de la Renta for $295). She's the picture of a classic schoolgirl, save for her furry bright pink coat, a touch that ODLR probably wouldn't have added, but that any little girl would love.
Mon 10.21
And the butterflies and the spiders…I don't know if it's a certain creepy-crawly holiday coming up or Damien Hirst's buggy Prada bags, but my mind's been stuck on insect-inspired fashion lately, ranging from the pretty to the eight-legged variety and beyond.
Fri 10.04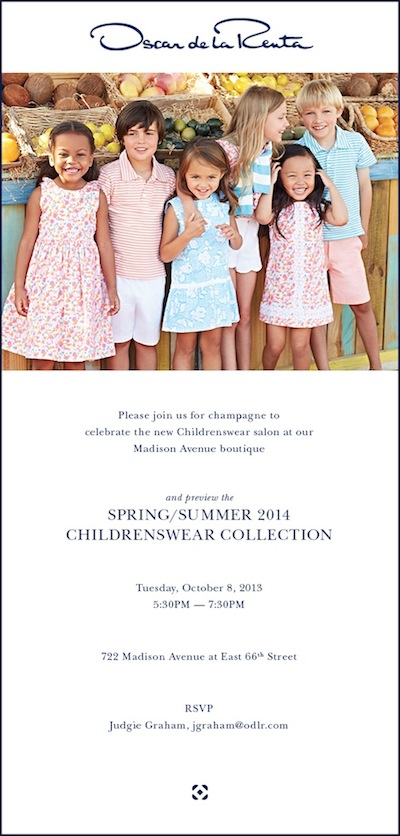 Oscar de la Renta isn't just the master of glittering gowns and sparkly minaudières – he's equally skilled in the children's department! So it only makes sense that his luxe Madison Ave. boutique has a salon for tots. They'll be holding a party there on October 8th to celebrate its opening with champs for the adults and plenty of cute clothes for the little ones.
Tue 09.10
Happily, Oscar enjoys us that way, as well. Last season's sassy leather leggings and flowing capes gave way to something a little more old-fashioned – and decidedly sassier. Welcome to the 1950s, reimagined. Spring 2014 welcomes nipped-in waists, full and femme skirts, and accessories to send the message home – delicate kidskin gloves and embroidered pearl pumps. The lady is back, and she is not a vamp!