Designers
As we head towards the holiday season, extravagance and fantasy begin to occupy our minds. For fun, as research, or for the sole sake of ogling, here are the most expensive bags money can buy, that are, indeed, worthy of their staggering prices.
Featured Items
When it comes to coordinating your bag and shoes, the natural tendency is to go matchy-matchy, but that look is always very safe and lackluster. A little less literal is the route to take. What we want, especially for an occasion like a party, is to punctuate the pairing with personality.
Featured Items
I have three brothers, and I grew up a tomboy, until I discovered boys. But I still loved borrowing their clothes into my teenage years, and now I often steal my 10-year-old son's cute little sweaters (to his dismay).
Featured Items
My sentiments for fur shoes differ greatly from fur bags. Think about it: Your wallet doesn't get cold – but your feet do. That's why fur shoes are a big SNOB for me.
Featured Items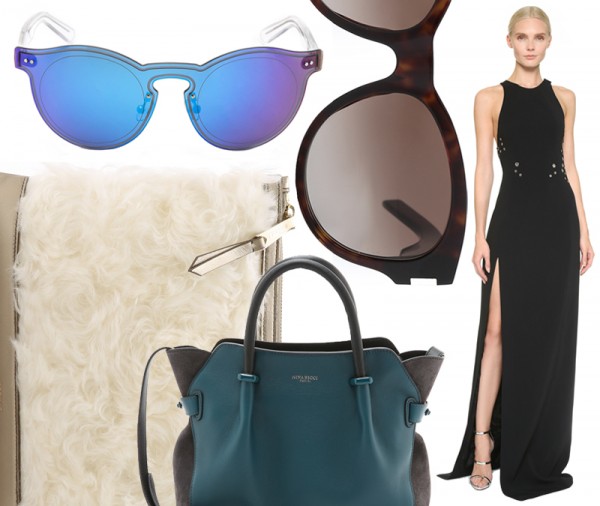 This week, Paris is my office (love my job!), and while there's a lot to see and do, I'll always make time for a good Shopbop sale. There are roughly 2,500 items discounted up to 40% off for the next three days, but in honor of my visit to the City of Light, I've picked out the best of French designers…
Featured Items

Never has a brand gone from blah to bam as quickly as Gucci under the new direction of Alessandro Michele. The departure of Frida Giannini was welcomed by both the industry and consumers, along with longtime Gucci devotees, and it was a brilliant move on the brand's part appointing their Senior Accessories Director, as this is a house known for their accessories. Consider this new phase a welcome return to the brand's strengths.
Featured Items
We all want the real deal, but sometimes a stamped leather will give you the same thrill without the hefty cost. In my experience, croc is the look designers recreate best, but snake is up there too (it's worth noting, though, that snake is often the least expensive exotic if you are wanting to break into authentic exotics at an affordable price point).
Featured Items
For better or worse, we look at our phones, and other gadgets, basically all day long, so don't they deserve something special? And since it's not your main accessory in the spotlight, your iPhone or iPad case is where you can really let loose and opt for something you wouldn't normally carry. Snakes? Sure! Studs? Bring it!
Featured Items