Designers
Tue 04.15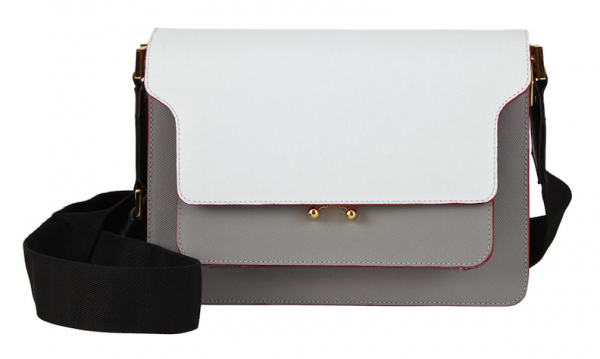 You won't find me sporting ostentatious, logo-laden pieces. My taste is quieter. I opt for bags of the subtle breed à la Valextra and Hermès because with luxury, no gimmicks are required. For an evening out, all you would need to pair this beautifully structured Marni bag with would be an equally muted and neutral dress.
Mon 04.14
If you haven't won one of our four April giveaways, this just might be your lucky week! Third time's the charm, right? Each Monday, we've announced a different bag from pre-owned accessories purveyor LUXE DH, offering four chances to win, and today's prize is a pink Balenciaga First.
Mon 04.14
Fendi loves a good update, and this time they've amped up their highly successful 2Jours tote. The Trois-Jours unifies the elegantly structured, frame-top look of the 2Jours with the easy functionality of an open tote.
Mon 04.14
I went to see the new musical Harmony last week, and fell in love with one of the character's capes – a velvet capelet with long straps that went under the arms and tied in the back. Some costumes can only be pulled off on a stage, but these are pieces you can integrate naturally in everyday life, whether you're on the beach, playing in the rain, or out on a Friday night!
Mon 04.14
The best prize at last night's MTV Movie Awards came from none other than Narciso Rodriguez. In line with Jess' eco-friendly empire, he made this black, crocheted clutch from aluminum soda bottle tops and named the bag after her! It's no wonder why this woman would inspire designers – she's a perpetually stylish muse.
Mon 04.14
I've giving huge props to Lupita Nyong'o this morning (and pretty much every other morning, but this one in particular!). Last night she was the coolest chick at the MTV Movie Awards, proving the actress knows how to dress for a fun event like this just as well as she dressed for the Oscars.
Fri 04.11
You know I love a good pouch. That slim silhouette and slender profile are all I need for my absolute essentials some days, but sometimes you crave a pouch with a little more staying power, so to speak. One that you could technically squeeze a little more into if you needed to, one with a strap. Like Tamara Mellon's Attraction bag.
Fri 04.11
Neon is back and bolder than ever! I remember it first started trending around the time Wham glowed in the dark for their "Wake Me Up Before You Go Go" video, but my son believes the fluorescent hue belongs to his generation. He thinks he's cooler than me because when he begged for a pair of blindingly yellow Nikes, I told him they were a bit bright.
Fri 04.11
Fashion jewelry is where we turn when our outfit feels like it's missing something – an oversized collar, dramatic drop earrings, a cocktail ring…To finish off your look, check out our favorite pieces here! #followitfindit