Designers
Thu 01.15
I am so loving Nina Ricci's current bag renaissance. My little baby Marche is so cute and perfect for day and night, and it's quite liberating to being able to pack more than just the basics when going out at night. This shoulder style, which easily converts into an oversized clutch, happens to be just as good.
Thu 01.15
We are FAR from shorts weather (unless you've booked a fabulous vacation, in which case, take me with you!), but don't get stuck in a skinny jean rut. Switch up your pant game with some high-waisted, well tailored, slacks.
Thu 01.15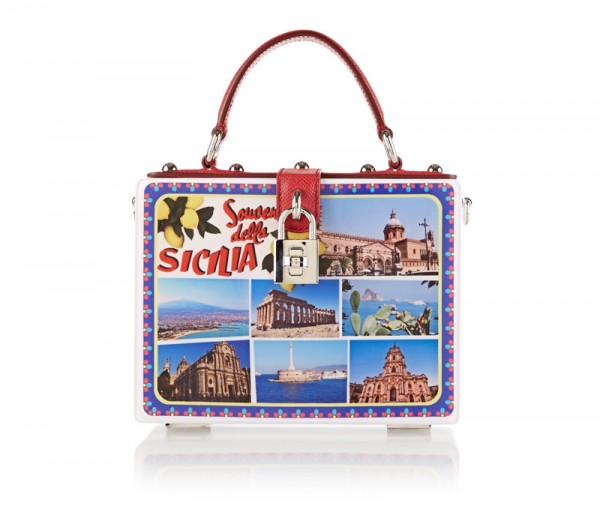 You know when you're going on a trip, and your friend says, "Pick me up a souvenir"? Well, here is the Italian souvenir to trump all others. Coming in at just about $2,800, this is one serious piece of silly, fanciful kitsch. Is it cute? Of course? Worth a smile? For sure. Guaranteed to spur at least a couple conversations each time you to take it for an outing? No doubt about it. But you also need to be a deeply dedicated fan of Stefano and Domenico, as well as an enthusiast of the region of Sicily in order to justify such a purchase.
Wed 01.14
Think louche, think "I don't care (but, of course, I actually do care)" rock 'n' roll attitude. The brand is currently exploring the art of Parisian ease, and in the process, they have perfected it. Leopard spots in a variety of scales and shades, some punchy and others muted, meet up with masculine checks, layers of herringbone, and allover leather.
Wed 01.14
One of my favorite things to do in Florence is shop at uniquely Florentine boutiques like the new Aquazzura store at the Palazzo Corsini. Besides the concept space serving as the brand's headquarters and flagship, it's located in a gorgeous, historical building built by the Medicis in the 15th century that was later bought by Maria Machiavelli.
Wed 01.14
This is the precisely right time of year to usher in perforation. A strategic sprinkling of holes and cutouts gives you a sense of the lighter season, without plunging all the way into spring. Some of these are classic and some are more novel, but they have one thing in common (besides their airiness): they're fresh all the same.
Mon 01.12
Stop everything you're doing (even you, Ms. Multitasker) and pay attention. This will probably be the most frivolous purchase you make this year, but no matter. It will be well worth the pleasure every time you look at it.
Mon 01.12
Decadence abounds on this bag! But don't be fooled by the gleaming brocade fabric. Lanvin has a quirky sense of humor, and it's actually in full effect. They also might have a mysterious new mascot…