Prada
Mon 03.10
And with plenty of embellishments! I must have this stone, stud, and grommet accented Prada. There's a lot going on here for such a small bag, but with the vintage appeal, it works oh so well.
Sun 03.02
See who made the cut on our best and worst dressed lists!
Tue 02.25
Milan Fashion Week Fall 2014 has officially wrapped, and while most designers opted for natural looks both for hair and makeup, there were still plenty of out-of-the-box and inspiring styles. Here's a peek at the four beauty looks we can't get out of our heads!
Mon 02.17
More of a good thing is a great thing, and in this case, that's color! The best combos are the most drastic contrasts, especially when one hue is classic and simple, while the other shocks the senses out of their winter doldrums – black and hot pink, black and metallic gold, etc. Pastel may be the unofficial tone of spring, but that just makes these surprising double acts all the more exciting.
Mon 01.13
If you're going to go the bag-as-art route, always look to Prada. From 2013's insect-glam collaboration with Damien Hirst to their James Jean-illustrated Fairy bag, Prada is simply the best at effortlessly combining high art, hot fashion, and hypnotic design, with never a hint of kitsch in sight.
Thu 12.19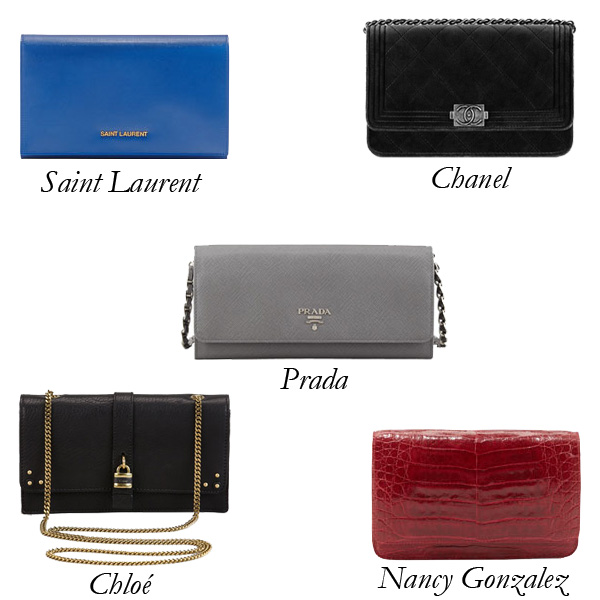 I lost my wallet during NYFW (it was stolen at an event out of my mini bag right in front of me!). My ID, all my credit cards, and not to mention the my entire cash supply for Fashion Week: gone. Kelly gave me one of her company credit cards (we share bank accounts!), but how do you fly home without an ID? Luckily, a good Samaritan found my wallet on a sidewalk, with the ID and cards strewn all over the place (cash gone, natch).
Tue 12.03
At just shy of 6″, Brian Atwood's sexy rendition (at Saks Fifth Avenue for $1,256) of the classic hiking boot will turn heads and heels. Find more options below – just don't expect to do much hiking in them!
Thu 11.21
It may come as a surprise that Prada's 2014 Resort collection is supremely traditional. At least, conceptually speaking, that is. Miuccia is evoking the always-appealing notion (especially during the dead of winter) of an exotic tropical getaway with their upbeat Resort bags.