Prada
Tue 12.03
At just shy of 6″, Brian Atwood's sexy rendition (at Saks Fifth Avenue for $1,256) of the classic hiking boot will turn heads and heels. Find more options below – just don't expect to do much hiking in them!
Thu 11.21
It may come as a surprise that Prada's 2014 Resort collection is supremely traditional. At least, conceptually speaking, that is. Miuccia is evoking the always-appealing notion (especially during the dead of winter) of an exotic tropical getaway with their upbeat Resort bags.
Wed 10.23
Here's an homage to the most quintessential bag, the open, structured black tote that we all should have. Boring? Maybe. But useful? Very. I often find myself going for this most basic style, even though I choose to complicate my life by filling every storage space with such a variety of bags that I don't ever need the black tote.
Wed 10.16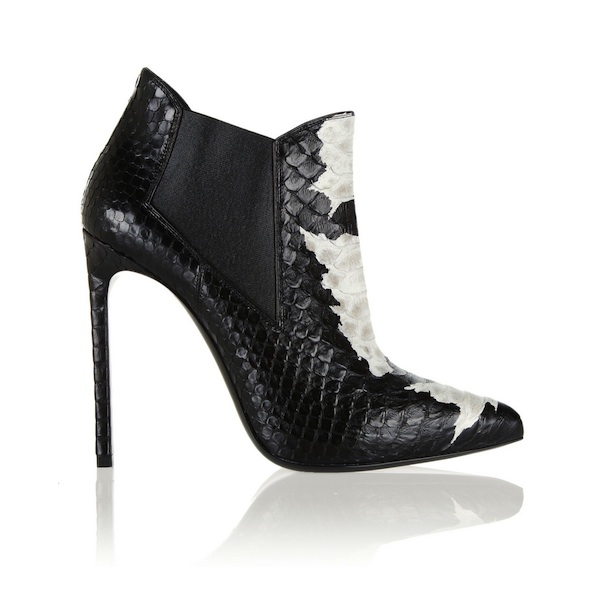 Here we see Hedi Slimane take on the black and white trend with his signature rock and roll aesthetic. Saint Laurent has rolled out a few different hues for the Paris boot, but it's not color that sets this pair apart – it's the scaly texture of python. I'm not going to be able to sleep until I have these! They're the best all-around shoes for the season.
Mon 10.14
Art Snob Maria Brito tells us about Prada's recent collaboration with Damien Hirst. The bug-embellished bags are sure to make you squirm!
Fri 10.11
Prada has a special place in my heart and bag closet. One of the reasons being that Miuccia's always-brilliant designs alternate between traffic-stopping whimsy (the kind street-style photographers will halt you in your tracks for) and the timelessly practical (the kind you'll never really tired of, even if you need to give the bag a break after a full season's worth of rotation).