Prada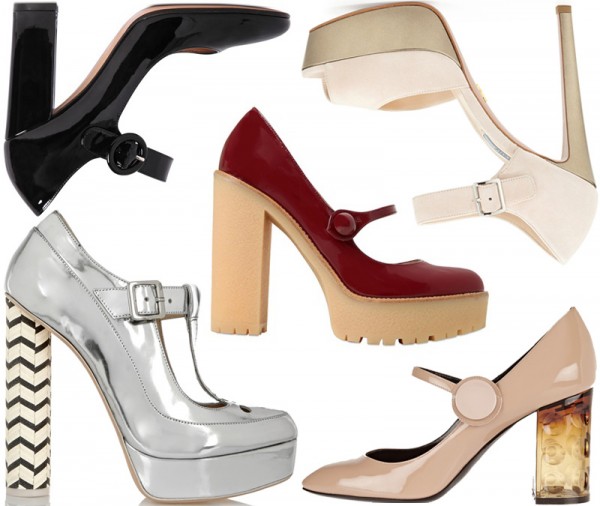 Though it's been the '70s show in fashion lately, definite shades of '90s cool have infiltrated – and no trend from that decade appeals to my sartorial sensibilities more than the chunky Mary Jane. Courtney Love's baby doll look may not be hot right now, but these shoes most certainly are. Today's version is sleeker than its predecessor, suggesting a higher sense of sophistication (grunge, these are not).
I love a good hobo bag, but they're kind of like black holes. If you've ever rifled through one of your adorably soft and slouchy hobos in search of keys or a ringing phone (which is soon to be a missed call), then you'll know what I'm talking about. Prada has the answer with their Daino hobo bag.
Sometimes you've just got to simplify your life, and it all starts with the wallet. Take a close look at what you have in your giant continental wallet, and you will find useless receipts, business cards from people you can't even remember meeting, club cards for random stores, and way too many coins.
Forget beat-up flannels. This isn't the grunge plaid of the '90s we've become so re-familiarized with in recent seasons. Checkered lines have taken a polished turn, so think only chic and elevated for the new season.
Lately, I've been carrying around my wallets-on-chains more than any other bags, especially while traveling. It's so liberating to know you require nothing more on your shoulder than your cell, ID, a bit of cash, and a credit card or two.
Texture is a word that comes up a lot when talking bags. Smooth, grainy, rough, pebbled, furry, plush, soft, rugged…there are endless varieties and almost as many ways to describe them. But some bags out-texture the rest, so to speak.
Exciting news! I've officially introduced my weekly column for Vogue China's Mini app, "BagChat with Tina." Every Saturday morning, I'll share my favorite handbag tips and tricks, along with the latest pieces worth obsessing over. First up? "One Bag, Five Styles."
Prada first introduced the "Bring Your Own Bag" in 2010, and I'm thrilled to see it reintroduced this summer. Five years was almost too long to wait! That's because this is seriously the most useful, versatile bag on the face of the earth – and you know I would not say this lightly.
When we're in our twenties, a lot of us enforce a few life goals to hit by the time we're 30. Whether it's a fast-accelerating career, dream wedding (and a dream husband to go with it), or a baby on the way, 30 is the age when we feel things ought to get "serious" in one way or another.