Prada
Sometimes a kiss is more than a kiss (the best ones are, anyway!). That's certainly the case with my new NH 1300 necklace from Nouvel Heritage. I love the idea that you never own jewelry; you're merely holding it for the next generation. And as one of the most sentimental pieces I've collected, this diamond-encrusted treasure will surely be passed on and cherished. Not only can you engrave a name on the side of the charm, but it also comes engraved with your – or a loved one's – pout.
Featured Items
I don't usually recommend fixing what isn't broken, but the execution of the new Double (pronounced "dooblay") bag is nothing short of pure Prada perfection. Now my go-to daily tote is better than ever with an updated look as sumptuous as it is chic. Thanks to the marshmallow cream and caramel version, I'm salivating as I write this, dreaming of my favorite salted caramel sundae that's totally verboten on my January health kick (I'll be back to eating steak et frites and cupcakes by February). Until then, the bag will satiate my craving.
Here it is, one of the trendiest bag shapes for Spring 2016: the camera case. You're going to be grateful, and not just because the newest ones are mega-cute. Think of the camera case bag as a crossbody upgrade. Is there an easier bag to run around with than this boxy yet surprisingly roomy little silhouette? I recently got this sunny yellow Valentino, and I'm currently in the throes of a serious love affair with the classic style. From the Gucci Soho to Saint Laurent's chevron texture to Céline's Box on strap, the camera bag goes perfectly with '70s-inspired super-flare jeans and a floppy-brimmed hat. Nonchalantly chic and not trying too hard, there are more than a few reasons to make a case for this new-season staple.
Featured Items
I've been loving the ladylike vibe of street style lately. My fingers are crossed that the trend will continue through the upcoming Fashion Month, but I'm sure some clown couture will sneak its way in, as always. Oh well! Until then, let's revel in some sophistication. Whether you're dressed in a pleated mini like Taylor Swift or leather sweats and sneakers like model Irina Shayk, a structured, feminine bag will always look good. Gigi Hadid's sleek Saint Laurent is my favorite…
Featured Items
Who's excited for a new year of fabulous bags? For this special post, we went to a winter ice wonderland. The magic of ice is as fleeting as life itself, as its beauty lasts only as long as it remains freezing cold outside. The healing powers of ice have long been sought after by mankind, most recently for their ability to preserve youth (cryo spas are the rage right now, as standing in extreme-cold conditions for a certain amount of time is said to stimulate circulation and promote healthy skin cells).
Featured Items
Pantone's Spring 2016 color report is in, and rose quartz is the color of the New Year. Leatrice Eiseman, the executive director of the Pantone Color Institute, noted, "Colors this season transport us to a happier, sunnier place where we feel free to express a wittier version of our real selves." Well, no color makes me feel happier than the perfect shade of pink! Get a jump on the rose quartz craze with a variety of essentials that run the gamut from actual stones to pale pink accents to vivid showstoppers.
Featured Items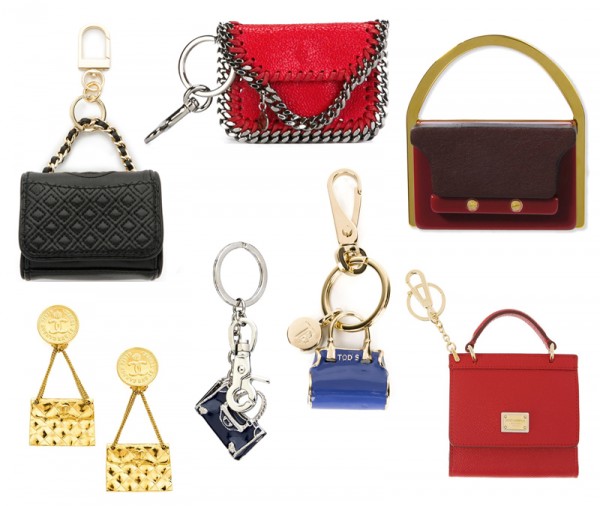 Dangling bag-themed decorations feel perfect for this time of year. They're like tiny ornaments. I mean, how amazing would it be to have an entire tree trimmed with these cuties? Each one of these, from bag charms and key chains to brooches and earrings, is great as a gift, but I've already got my Christmas gifts covered. Which means I'm getting these for myself! Good things do come in small, bag-shaped packages.
Featured Items
Calling all bad girls and rabble-rousers. There's a new bunch of florals on the scene and while they may be fresh-picked, there's nothing sweet about this garden variety. My new favorite floral bags are mysterious, unexpected, and most of all, dark, proving the enduring flower theme shouldn't be strictly reserved for spring.
Featured Items