Prada
Calling all bad girls and rabble-rousers. There's a new bunch of florals on the scene and while they may be fresh-picked, there's nothing sweet about this garden variety. My new favorite floral bags are mysterious, unexpected, and most of all, dark, proving the enduring flower theme shouldn't be strictly reserved for spring.
Featured Items
At first glance, you may not look at these bags and think that they're all tribal-inspired, but there are many kinds of tribes; and by the looks of these, I want to join every last one! Which do you belong to?
Can't keep up with who's designing for which brand? In the high fashion world's ongoing game of musical chairs, it can be overwhelming to keep track of the creative minds behind the brands.
As much as I resist trying to be tempted, whenever a see a celebrity carrying a cute bag, I get serious FOMO and start searching for it online immediately. These are the ones that had me scrambling this week…
If you've had the pleasure of owning a Loewe bag, you will understand the instant addiction to their soft, delicious, luscious leather that comes with it. You will also be obsessed with this petal-accented version of their classic Flamenco bag.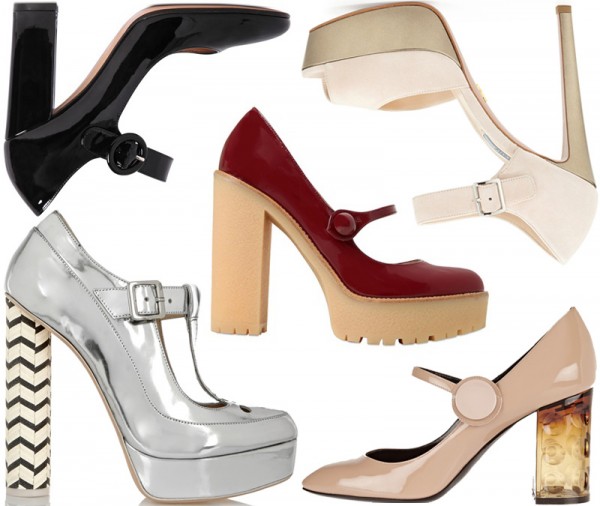 Though it's been the '70s show in fashion lately, definite shades of '90s cool have infiltrated – and no trend from that decade appeals to my sartorial sensibilities more than the chunky Mary Jane. Courtney Love's baby doll look may not be hot right now, but these shoes most certainly are. Today's version is sleeker than its predecessor, suggesting a higher sense of sophistication (grunge, these are not).
I love a good hobo bag, but they're kind of like black holes. If you've ever rifled through one of your adorably soft and slouchy hobos in search of keys or a ringing phone (which is soon to be a missed call), then you'll know what I'm talking about. Prada has the answer with their Daino hobo bag.
Sometimes you've just got to simplify your life, and it all starts with the wallet. Take a close look at what you have in your giant continental wallet, and you will find useless receipts, business cards from people you can't even remember meeting, club cards for random stores, and way too many coins.
Forget beat-up flannels. This isn't the grunge plaid of the '90s we've become so re-familiarized with in recent seasons. Checkered lines have taken a polished turn, so think only chic and elevated for the new season.