Proenza Schouler
Tue 08.06
Sad news – summer's coming to a close (although you wouldn't know it from the sweltering heat I'm in). Now is the time to fill your closet with a new season's worth of accessories, and what better way to transition into fall than with ombré? Choose a subtle barely-there illusion or go dramatic à la the neon degrade on Proenza's dot clutch.
Tue 08.06
The '70s were coined as the "Me Decade," and this emphasis on individuality brought about a wide range of styles from that of groovy hippies to DVF's iconic wrap dress to glam rock David Bowie. One movement defined bag design more than any other, though – feminism.
Thu 07.25
Some people love candy, others fashion, and frankly, most love both! Satisfy your sweet tooth and your Bag/Jewel Snobbery all at the same time with Rauwolf's gemstone bag (at Barneys New York for $1,470). It's like an Astro pop, only it will never melt!
Thu 07.11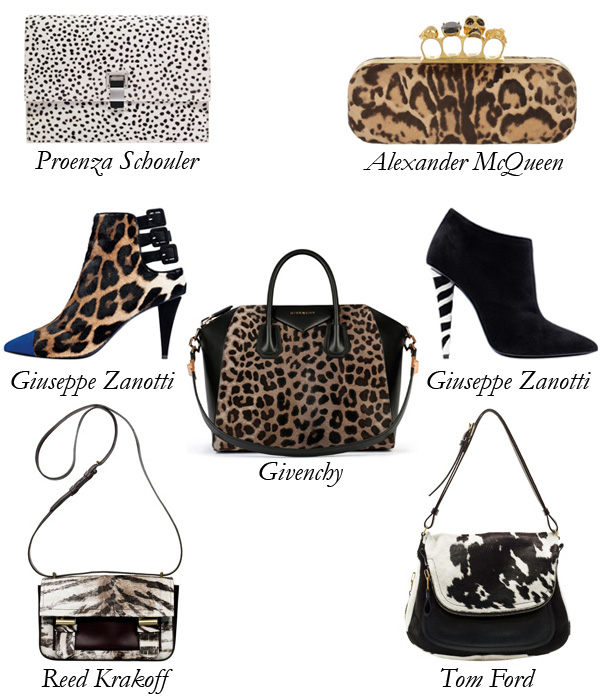 Fall 2013 is the season for big game. Whether it's leopard, tiger, or zebra, you have to get in on the animalia action. Obviously, my adventure into the wild begins with bags. Kelly loves Givenchy's cow-printed Antigona, but I'm all about the leopard ($3,440). For cow, I would have to go with Tom Ford's Jennifer ($4,350) – the addition of solid color relaxes the print.
Tue 07.09
Proenza Schouler's latest and greatest, the PS Courier, is going to a steal a lot of bag-snob hearts. Mine included. The Proenza trademarks remain in tact, so there's no mistaking who created your bag, but streamlined and mostly unadorned leather combined with a laidback attitude makes for a fresh delivery.
Tue 06.18
Proenza Schouler has struck oil yet again! I was just lamenting how Jack and Lazaro have a keen approach to keeping things fresh, and here we are with yet another covetable PS11 (and it's a mini – my favorite!!). Patent leather gets an extra dose of shine thanks to this oil slick sheen. It's reminiscent […]
Thu 06.13
Who says you can't teach an old dog new tricks?! It's time to pay some homage to our contemporary classics. The It-bags on the decade have proven they have genuine staying power. Think about it: anyone who thought the PS11 was a one-season wonder was dead-wrong. It has now become more popular than the original […]
Wed 06.05
It looks like the PS bag has graduated – or at least the girl who carries it has. The Courier reads rather plain for Proenza Schouler, but don't think they've ditched their aesthetic entirely. It still sports some of their trademark details, like that signature hardware closure. Think of the Courier as an inside-out version […]