Proenza Schouler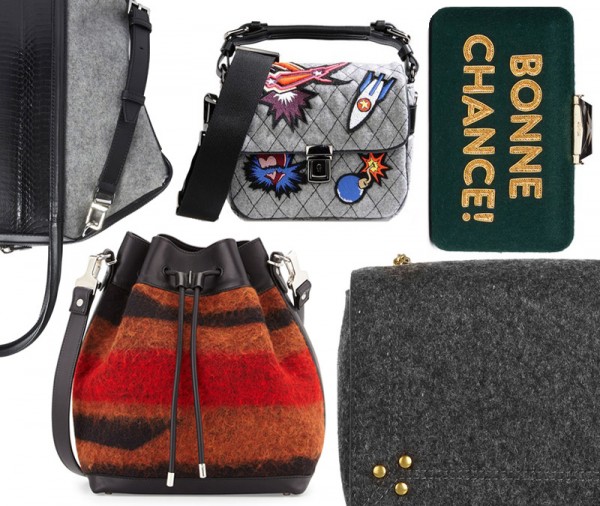 Now is the time to embrace some major texture changes! If fur is too extreme for you as a winter bag, then felt is definitely right. Think of it as the perfect frigid-weather compromise. Soft and not too-in-your face, it's the more practical choice.
What's even better than a sale? When shopping a sale means that you'll get discounts and credit for future purchases! I hope MATCHESFASHION.com is starting a trend with this because it's brilliant.
There's something so timelessly sophisticated about one of fall's favorite fabrics, tweed.
I've always said that ankle straps are like seat belts for your feet (and we could certainly use those – safety first!), but with these shoes, designers are taking that functional feature and tying it up in a pretty bow.
Forget beat-up flannels. This isn't the grunge plaid of the '90s we've become so re-familiarized with in recent seasons. Checkered lines have taken a polished turn, so think only chic and elevated for the new season.
Lately, I've been carrying around my wallets-on-chains more than any other bags, especially while traveling. It's so liberating to know you require nothing more on your shoulder than your cell, ID, a bit of cash, and a credit card or two.
Texture is a word that comes up a lot when talking bags. Smooth, grainy, rough, pebbled, furry, plush, soft, rugged…there are endless varieties and almost as many ways to describe them. But some bags out-texture the rest, so to speak.
Going bold is always something we should all strive to do. Pushing out of your comfort zone, even just when it comes to getting dressed, almost always pays off. If you're squeamish about getting a little too adventurous with your outfit, look to an out-there bag with brash graphics. Wearing a standout bag is much easier for more timid snobs to handle, since there's more of a physical disconnect (read: you're not say, zipped into it).
Now that it's officially summer, the days are longer than ever – and the prices of your favorite spring bags and shoes are lower than ever! In my opinion, it's a winning combination that ought to be milked.