Proenza Schouler
Mon 07.28
A solid bag, there's absolutely nothing wrong with this design – other than the fact that it's somewhat unremarkable. The Bucket lacks the hallmarks of what I've come to consider Proenza-luxe: the striking details and signature "PS" elements. Instead, it's a truly clean and casual bucket style with minimal metal accents and strong structuring…
Thu 07.17
It may be summer, the time when we indulge in shock-and-awe neons and rainbow prints, but who needs color when you've got contrast?
Mon 07.14
Did I say I was on the fence about patchwork? Some new fall styles have me eating my words!
Mon 07.14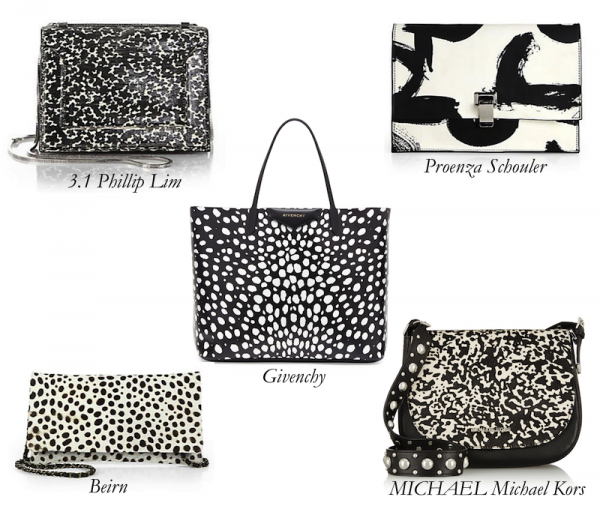 A printed bag in black and white may seem specific, but this is the most versatile color scheme you can ever find…
Fri 07.04
I can't think of a better way to celebrate the ultimate all-American holiday than with a roundup of looks from some of my all-time favorite all-American designers!
Tue 07.01
When it comes to fringe, there's a fine line. Everyone is doing it now, and you can always bet designs run the gamut from good taste to bad form to just plain ugly looks…
Fri 05.23
Memorial Day weekend is the official kickoff of sale season! I know the temptation to run out of the office and out to a great party is strong, but before you take off for a weekend of debaucherous fun, peruse these killer sales…
Thu 05.08
When you think neutral, it's easy to think boring. But that's just not the case! The term encompasses everything from beige to white, black, camo, and if you ask me, even red.
Fri 05.02
Remember when we all gasped at Lupita N'yongo's stunning Golden Globes' gown (and pretty much every other time she appeared anywhere)? The woman behind that look – as well as those of Michelle Dockery – is Micaela Erlanger. She's the stylist to the stars – and the best-dressed ones at that!