Proenza Schouler
Lately, I've been carrying around my wallets-on-chains more than any other bags, especially while traveling. It's so liberating to know you require nothing more on your shoulder than your cell, ID, a bit of cash, and a credit card or two.
Texture is a word that comes up a lot when talking bags. Smooth, grainy, rough, pebbled, furry, plush, soft, rugged…there are endless varieties and almost as many ways to describe them. But some bags out-texture the rest, so to speak.
Going bold is always something we should all strive to do. Pushing out of your comfort zone, even just when it comes to getting dressed, almost always pays off. If you're squeamish about getting a little too adventurous with your outfit, look to an out-there bag with brash graphics. Wearing a standout bag is much easier for more timid snobs to handle, since there's more of a physical disconnect (read: you're not say, zipped into it).
Now that it's officially summer, the days are longer than ever – and the prices of your favorite spring bags and shoes are lower than ever! In my opinion, it's a winning combination that ought to be milked.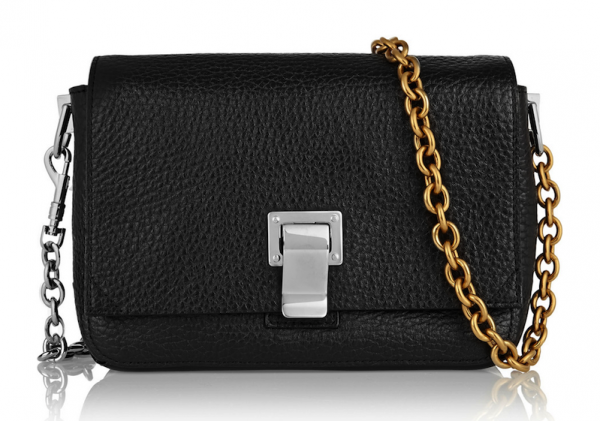 Here's a bag that finally puts that old debate to rest. Many (who are likely of your mother's generation) will argue that mixing up your metals looks sloppy, but Proenza Schouler proves them wrong. A bag with both silver and gold hardware – on the same chain, no less!
There's a lot going on here. Actually, this bag sports almost every trend of the season, from blocked stripes to combined neutrals to mixed textures to bold piping. Yet Proenza Schouler somehow makes it all work.
There is nothing like a crisp white bag for summer. But I tend to like my bags with some kind of twist, and black trim doesn't just make for a high sense of contrast. Done right, it adds the right amount of urban edge to classic, polished white.
For the Spring 2015 collection, Proenza Schouler asked Harley Weir to direct models, actresses, and friends of the brand sharing thoughts with the camera in a Taxi Cab Confessions-style while sporting the season's latest…