Proenza Schouler
Mon 12.02
If you're having a tough time getting up for work this morning, why not stay in bed for a few extra minutes and shop? Cyber Monday has officially kicked off with an additional 10% off all sale items on Luisa via Roma (with the promo code CJ10E). This is the time to load up on all the pieces you've been longing for this season.
Fri 11.29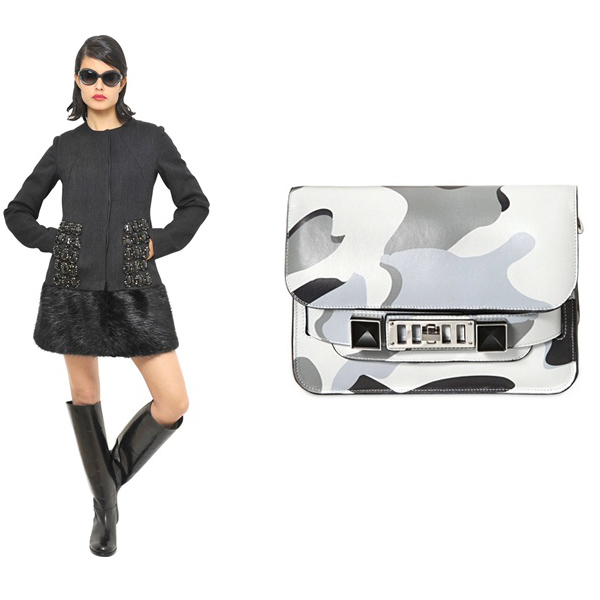 All stuffed with turkey? Time to shop! My first stop is Luisa via Roma. I already have a gift list prepared, and with the launch of the annual winter sale offering up to 50% off (plus an additional 10% off with the promo code CJ10E), the time to buy is now.
Mon 10.21
And the butterflies and the spiders…I don't know if it's a certain creepy-crawly holiday coming up or Damien Hirst's buggy Prada bags, but my mind's been stuck on insect-inspired fashion lately, ranging from the pretty to the eight-legged variety and beyond.
Mon 10.21
Before we get too caught up with the Fall/Winter season's tweeds, wools, knits, dark leathers, and heavy textures, let's take a minute to appreciate the unconventional. There's something to be said for the element of surprise (got to keep 'em on their toes!), and nothing will catch onlookers off-guard like a bright, perky bag right about now.
Thu 10.03
Black and white continues to be on-trend, but that doesn't mean you can get lazy and just throw on anything monochrome. Jack and Lazaro's pointed toe pump comes from their Fall 2013 collection, which was defined by a lack of color and an abundance of sophistication. This is Proenza's kind of sophistication, though – the kind the intrigues, even at its most ladylike.
Wed 09.25
Covering up for fall and winter tends to annoy the fashion crowd. Who wants to conceal a great outfit? The secret is to make your coat the main event, and with outerwear printed and paneled like this, you should have no trouble doing just that. Each coat strikes the balance between sophistication and daily wearability. Which one will you be cozying up in this season?
Mon 09.16
Sensing some déjà vu? You're not wrong! If the runways at New York Fashion Week are any indication, last spring's graphic black and white trend will be continuing on through next year, meaning that you can indulge in monochrome madness all fall and winter long. The combo proves that you need no color at all to make a bold statement – just contrast.
Tue 08.20
Just because I don't like long and fuzzy fur on my bag, that doesn't mean I'm opposed to the whole concept. I've warmed up slightly after seeing the latest crop of shearling bags.
Tue 08.06
Sad news – summer's coming to a close (although you wouldn't know it from the sweltering heat I'm in). Now is the time to fill your closet with a new season's worth of accessories, and what better way to transition into fall than with ombré? Choose a subtle barely-there illusion or go dramatic à la the neon degrade on Proenza's dot clutch.