Ralph Lauren
Leave it to Heidi Klum to add a unique touch to even the most common of styles: the all-black outfit. Now when I say common, I don't mean it offensively. There is nothing chicer than wearing the shade from head-to-toe…
School may be out for summer, but the schoolgirl look most certainly is not and the number one student in the style is the lovely Emmy Rossum. As is always the case with these kinds of outfits, a sense of grown-up sophistication is required…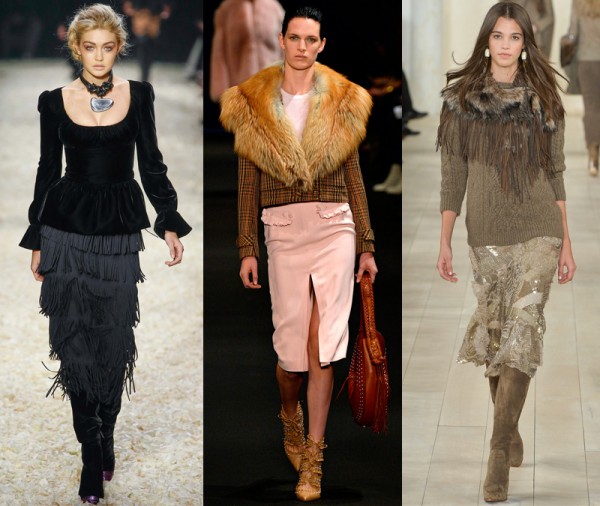 From flourishes with swingy movement to unapologetically tactile fluff to out-of-the-bedroom silhouettes, these are the most major elements of style we'll be wearing come fall, fresh off the New York runways…
Judging by the ice and slush coating the streets, I think it's safe to say we're not in Dallas anymore. Some may say these freezing NYC temps make dressing for Fashion Week difficult, but I prefer to think of it as a challenge (mostly because that allows me feel better about the fact that it's freezing!).
Not all dots are created equal. Harsh as it may sound, some polka dots are simply way better than others. I always love a good spotty-dotty print, but when the pattern is elevated thanks to some artistic abstraction, a harmonious blending of multiple prints, or an altogether unexpected feel, it's enough to make me crave the classic motif all over again.
We may want every new bag that hits the market, but the fact of the matter is that we couldn't (or at least shouldn't) actually buy every single one. It's all about picking and choosing. While the occasional trendy piece is a justified indulgence, what you really want to invest in are the classics.
What's more fun than playing dress up? I can't think of a single thing, especially after I partnered with Ralph Lauren to fulfill my holiday wish list.
Don't underestimate the bare looks of this saddle bag. Its streamlined simplicity is most deceiving. I have a Ralph Lauren Collection saddle bag and while I love it, this updated, improved version includes all the details mine lacks, keeping it from reaching perfection.
Fur bags are an inevitability this time of year. And although it makes no physiological sense to provide your bags with warmth, especially fuzzy, furry, luxurious warmth, the look certainly does feel right for the season.