Rochas
There is something to be said about a bag for all times, one that fits all your snob criteria. This is the bag made for busy woman who refuses to sacrifice elegance. Timeless and not trendy, Rochas' large leather handbag is a basic, beautiful classic.
Rochas gives minimalism a twist with secret details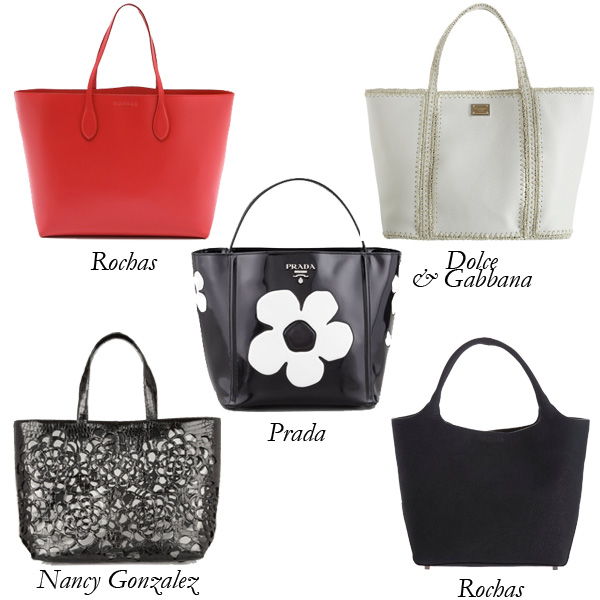 When you're one the move, there's nothing better to carry than an open bucket tote. I bring them out for serious shopping trips to avoid wasting store bags. It's eco-friendly and chic – just imagine the envy you'll inspire with a bright bouquet of flowers or a freshly baked baguette sticking above the bag's edges. … Continue reading Best Open Bucket Tote Bags: Weekend Warriors
Nothing makes a statement like the combination of pristine white and glittering gold. A powerful pairing (especially when the white is bold and the gold comes in refrained doses), it speaks of jet-set living, leisurely days, and heated-up nights. And what's not to like about that? Here, the most glamorous 24-karat-accented white beauties of the … Continue reading Top 5 White-with-Gold Bags: Power Couples
After you've taken in the preciousness that is January Jones' adorable dancing toddler, I'd like to draw your attention to her gorgeous white Rochas bag. In a slouchy green top, jeans, and boots, the actress is far more casual than her perpetually dressed to the nines Mad Men character Betty. But the Spring/Summer 2013 Leti … Continue reading January Jones x Rochas Leti Bag: Let It Out
I arrived in Paris on Wednesday to gloom and chill. But the shivers quickly evaporated, as the first show I attended was Rochas. Read more on Couture Snob.