Roger Vivier
Not only is Roger Vivier running the streets, it's taking charge of the red carpet too! Scarlett's intricately-beaded clutch is a work of art in its own right, but what has me reeling is the mix of hues.
Dakota Johnson kept her outfit simple while out and about running errands in NYC. Perhaps she knows the golden rule about bags: that a good bag can make even the most mundane of outfits work.
Okay, Taylor Swift's bags have been especially on-point this week. First we had the preppy Cambridge Satchel, and now a ladylike Roger Vivier Ines!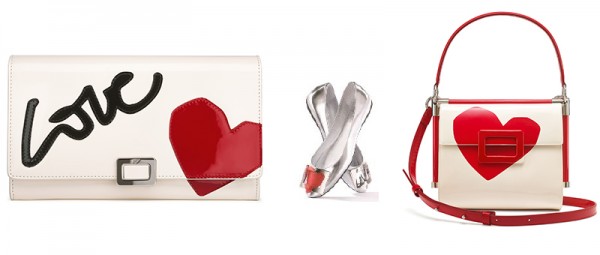 At once playful and painterly, this offbeat, asymmetric heart and delightfully haphazard scrawl proves a great makeover for the French house's signature Miss Viv' shoulder bag (I especially like the way the trademark buckle is obscured in the symbol of passion), slender Mini Buckle clutch, and metallic silver Gommette T-Shirt Love flats.
Think high shine, hedonistic exotics, and unadulterated embellishments, all enough to inspire you to partake in some late-night decadence.
You know when something's a no-brainer? Like when a sale gets so good, like doubly-discounted good, that it would just be dumb to pass up? Today marks one of those happy situations. Our exclusive code gives you an extra 20% off all already-reduced sale items on Luisa via Roma.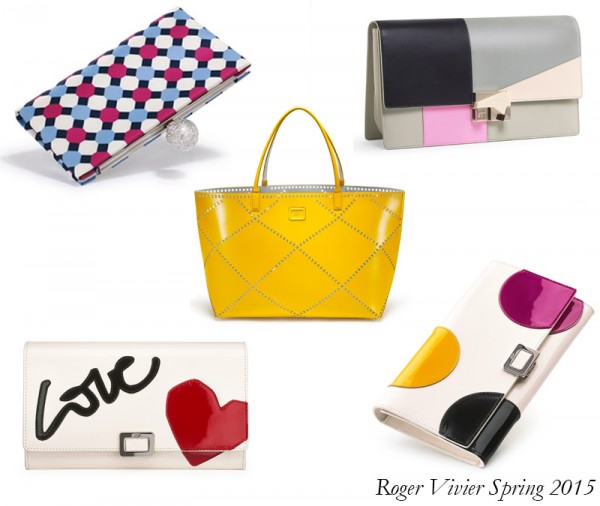 Next spring, Roger Vivier is taking us on a "stroll through the heat of summer," and I couldn't be happier to oblige early. Inspiration from the hot sun and cool evening breeze translates to pop art-heavy pieces that snap, crackle, and yes, pop.