Roger Vivier
Thu 06.26
A beautiful white bag is on every Snob's wish list, and it seems Jessica Alba just might have found the best one out there.
Fri 02.21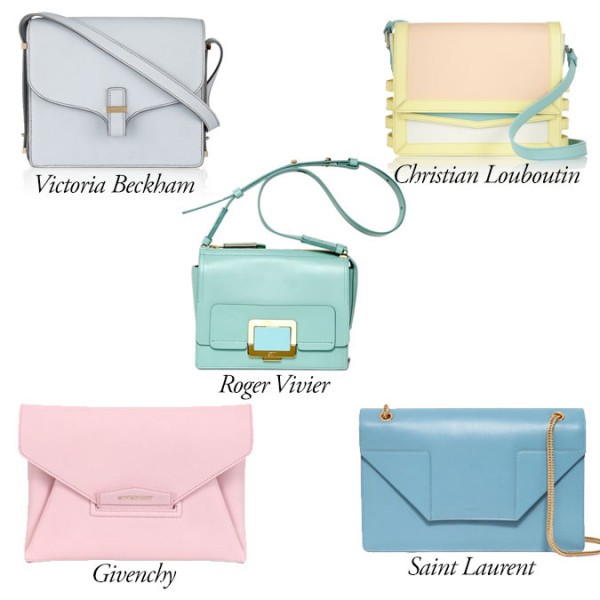 There's no need to wait for Easter to get a basket-worth of sugar-sweet confections. Pastels are where it's at this season, even for girls whose daily uniforms consist of black, gray, and more black.
Thu 01.30
As we start shopping – and getting earnestly excited to wear – the Spring 2014 collections, you can't ignore Roger Vivier. But can you ever?! Thanks to effortless geometry, the unified contrast of strong lines and sweet delicacy, and a pastel-perfect palette, the Prismick feels very on-trend this season. But Roger Vivier's quintessential bag is actually far ahead of the current trends. The elite Vivier has been doing this for years.
Thu 12.12
Fashion phenom Mira Duma stars as the face of Roger Vivier's Spring/Summer 2014 collection "Vivier's Codes," which includes Prismicks, Virgule heels, and buckle-embellished accessories.
Mon 10.07
On Monday night, an eye-opening, mind-blowing Roger Vivier exhibit came to life at the Palais de Tokyo in Paris. Like many people, I assumed Vivier's brand launched in the late '60s, with the buckled Pilgrim shoe Catherine Deneuve made famous in Belle de Jour. On the contrary…
Tue 08.27
Stop what you're doing right now and take a look at your new favorite accessories! I'll give you a minute to gawk. I certainly needed one. Combining calf hair with houndstooth (or to be more specific, the Prince of Wales check) is the most inventive use of the pattern ever. We can always count on Roger Vivier to offer up a fresh take on luxury.
Wed 07.24
Roger Vivier's Prismick Zig Zag shoulder bag is one of the best pairings of black and white I have ever seen. Asymmetric and geometric, it delights with expertly stitched lines for a multi-dimensional effect.