Roger Vivier
Is imitation really the highest form of flattery? Or is it just plain annoying. When I happened upon Lanvin's Sugar version of the Roger Vivier Prismick bag, I thought to myself, "Oh, Roger Vivier is reissuing my Prismick shoulder bag in the exact same color. How odd and unoriginal."
I'm on a quick vacation this weekend, but even when I'm away, I can always make time for online sale shopping – especially when the bags are as gorgeous as these!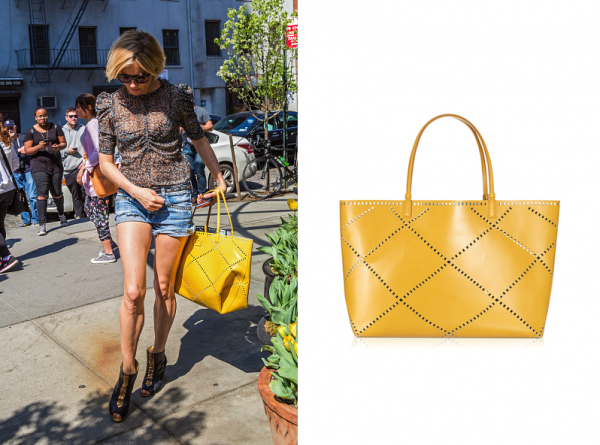 Sienna Miller was walking on sunshine on May 3rd in New York City. Of course, her sun-streaked blonde bob, naturally warm disposition, and Manhattan's gorgeous weather had something to do with it, but most specifically, it's Sienna's big, bright Roger Vivier tote.
Not only is Roger Vivier running the streets, it's taking charge of the red carpet too! Scarlett's intricately-beaded clutch is a work of art in its own right, but what has me reeling is the mix of hues.
Dakota Johnson kept her outfit simple while out and about running errands in NYC. Perhaps she knows the golden rule about bags: that a good bag can make even the most mundane of outfits work.
Okay, Taylor Swift's bags have been especially on-point this week. First we had the preppy Cambridge Satchel, and now a ladylike Roger Vivier Ines!
At once playful and painterly, this offbeat, asymmetric heart and delightfully haphazard scrawl proves a great makeover for the French house's signature Miss Viv' shoulder bag (I especially like the way the trademark buckle is obscured in the symbol of passion), slender Mini Buckle clutch, and metallic silver Gommette T-Shirt Love flats.