Victoria Beckham
Is your bag taste aligned with the art that inspires you? Let's put that to the test with a fun game. Pick the art that inspires you the most and see if its corresponding bag also touches you at the core. Your feelings towards art are so personal and emotional – just like how you feel about your bags! I can't wait to see everybody's results. Make sure to comment here or on Facebook.
The warm weather months are just around the corner, meaning it's time to stock up on summery totes, the kind you can only truly indulge in when the heat is on – or when you're on a tropical vacation. While shopping for these, though, it's good to know what you're looking at. Burlap and canvas are two common materials used in the construction of beachy bags, but they aren't the same…
Featured Items
I started our national day of love with the highest of highs: An exclusive video chat with Victoria Beckhamicon about her second store…in HONG KONG! But first, despite below-freezing temperatures, I slipped into my newest VB acquisition, a short-sleeved dress in sunny yellow (thinking warm thoughts) and skipped off to the shows.
Right now, the overarching trend in bags is everything optimistic and fun. It's not the shape that makes a bag a must-have anymore. Instead of specific silhouettes, it's all about the vivacious and expressive. Think details that catch the eye for bags that are personality-driven and tell a story – so you can tell your own story with your bag. What's not to love about that?!
Featured Items
What do Rihanna and Madonna have in common other an affinity for French kissing their BFFs? Cutler and Gross! The British eyewear brand has quickly become a celebrity favorite, and with their sophisticated, lightweight glasses, it's no big surprise.
Featured Items
We all want the real deal, but sometimes a stamped leather will give you the same thrill without the hefty cost. In my experience, croc is the look designers recreate best, but snake is up there too (it's worth noting, though, that snake is often the least expensive exotic if you are wanting to break into authentic exotics at an affordable price point).
Featured Items
Still on the fence about mini bags that hold nothing and are perhaps better suited for fourth graders? Not to fret. We are headed without hesitation back to bigger bag territory, if Victoria Beckham has anything to do with it. But don't think larger means more somber and serious.
Here we are again! Back in New York City and the energy is palpable, from the searing late-summer sun to the mad dash between Lincoln Center and Milk Studios (and everywhere in between). But it's what's going on inside that's really stirring up our spirits…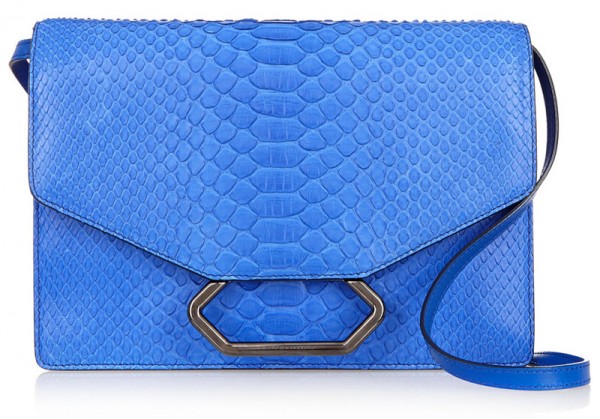 We know Victoria Beckham for one thing, first and foremost. (No, it's not for her RBF, of which I'm thoroughly simpatico. Nor is it for her hot husband. And of course it's not for her spicy past.) It's for her understatedly chic sensibility, which comes through in her own line as much as it does her personal style.