Victoria Beckham
Mon 10.13
I love green in all its many incarnations, from forest to moss to lime to mint, but it's military that's perhaps the most versatile of them all. On the tomboyish side of the spectrum, it eliminates the prissiness from any ensemble, but don't think the army-inspired shade can't feel fresh and alluring.
Wed 10.01
From demure blush tones to innocent garden hues to quintessential Barbie pinks to searing fuchsias and bold magentas to the perfect shade of lipstick pink: October is the best month to show off your best pinks, in support of Breast Cancer Awareness.
Sun 09.07
Working with Victoria Beckham for so many years, you come to realize one thing: There is absolutely nothing this determined and capable woman cannot do. Four children? No problem, whilst running an ever-expanding global empire, no less.
Fri 08.08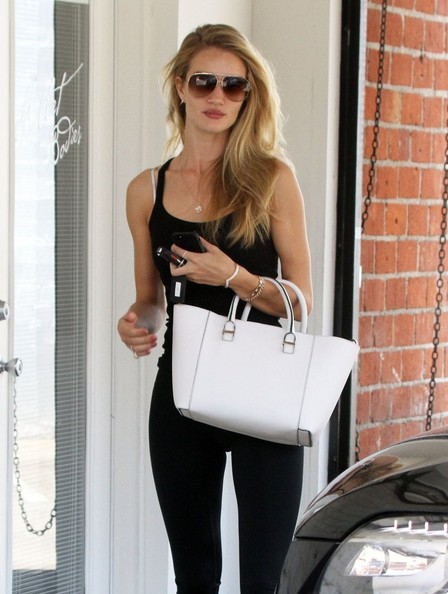 Suddenly, canvas totes and water-resistant nylon sacks aren't looking so hot for accompanying you to your next sweat session. Rosie Huntington-Whiteley showed us how to look super-posh for the gym on August 6th with her Victoria Beckham Quincy tote in tow. All it takes is a luxurious bag to upgrade standard monochrome-black exercise apparel.
Wed 07.30
Right now, I am all about simplifying my life with small pouches. I no longer need to carry baby supplies, so it recently hit me: I myself don't even understand why I still run around daily with large bags. If there's a designer who understands the work/kids/leisure balance, it's Victoria Beckham, so it's no wonder I'm obsessed with her small zip pouches.
Tue 06.10
Some things just get better and better with time. Like Victoria Beckham's bag line. What started off solid has evolved into something seriously impressive. The same applies to Victoria's Quincy tote. I have the larger version of this tote in black, and it is such a great bag.
Tue 05.27
Whether you're the pretty-in-pink type or you prefer the sharp contrast of simple black and white, Victoria Beckham has you covered for Pre-Fall. This season, it's all about textures. While she stays close to her clean, elegant, and deceptively uncomplicated vision, Victoria is upping the ante on details.
Wed 05.07
Spring pastels? Not for VB! The perfectly-coiffed designer graced the Met Gala red carpet in crisp white, but she's got a dark side too. All black is the uniform of the perennially chic, and as we know, Victoria is one of the chicest out there. If you need further proof, just check the label on her gorgeous tote…she designed it herself!
Wed 04.30
Yesterday I got the tiniest, most adorable micro bag from Tod's, and since then, my mini obsession has gone off the charts. In that way, bags are like cats. Sure, you love them when they're fully-grown, but they're even cuter when they're tiny enough to fit in the palm of your hand!