Jewel Snob
Tue 02.25
As someone who can't wear earrings (even platinum studs irritate me), I'm completely on board for the ear cuff trend. Sure, you could say it's my only option, but really, there's no compromise involved. If anything, the cool factor goes way up when a piece encompasses the entire ear, rather than just the lobe.
Wed 02.19
I had my first mammogram at 31 to create a baseline for comparison against the one I would have when I turned 40. Just last month I visited the doctor again and was told this time to return due to an "area of concern." Note to self – don't open letters from a hospital on Saturday morning.
Mon 02.17
Statement pieces often require you to break a piggy bank or two, but it's hard to maintain the pow factor of a statement jewel when you wear it over and over again. To keep the momentum going, you really need to change your jewelry up, which is why I love CUCHARA. The line offers a mix of edgy, alt-rocker pieces at affordable price points.
Thu 01.30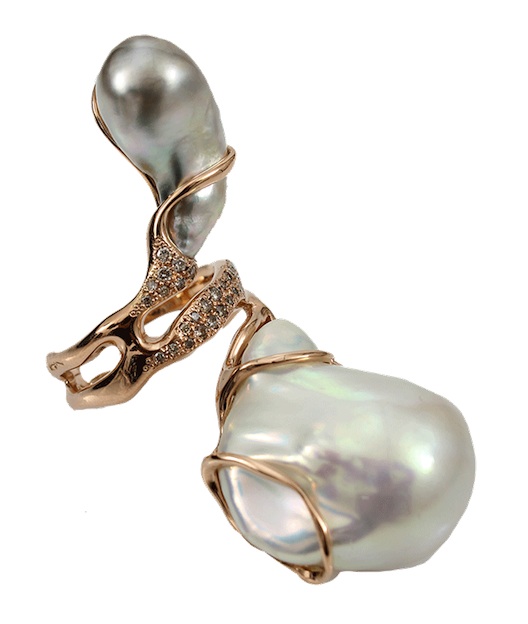 Perfection is not only overrated, it's boring, which is why I gravitate towards unique pieces like Federica Rettore's double baroque (a.k.a. non-spherical) pearl diamond ring. In fact, unique is not the right word – this is one-of-a-kind. The Italian jeweler uses rare gems like Paraiba tourmaline to create her masterpieces, and I love this deep sea beauty best of all.
Tue 01.21
In my twenties I got my belly button pierced. I know, I know – what a cliché! There was just something rebellious about having it done that attracted me. When I got pregnant, I figured it was time to take it out, and there's been a little scar there ever since, a memento of my carefree days. I'm not thinking of having it redone, but I have been thinking about a double piercing for my ears.
Tue 01.07
This is not the first time we've featured Eddera, but now we're switching focus from French jeweler Camille Vizzavona's gorgeous, celebrity-adored headbands to her equally stunning gems. Camille studied at the Louvre's jewelry school under Adalbert Smoliar, the head designer for Van Cleef and Arpels, making jewels her first love.
Mon 12.23
Now this is hot. From multi-finger pieces to minis worn by the dozen, it seems our ring game has really elevated this year. In fact, I wouldn't even call this a ring – it's a hand jewel. The three-finger accessory comes from Greek designer Nikos Koulis, a man known to tackle fine jewelry with a touch of shockingly elegant whimsy (Bejeweled pineapples? Why not?!).
Thu 12.19
Last week I shared what I want for the holidays (fingers crossed the hubby was reading!). This week my focus is on what to give. Christmas is just six days away, but don't panic. I've rounded up jewels for every woman on your list from the wife to the Mom Snob to the bestie and sisters, all at different price points.