Jewel Snob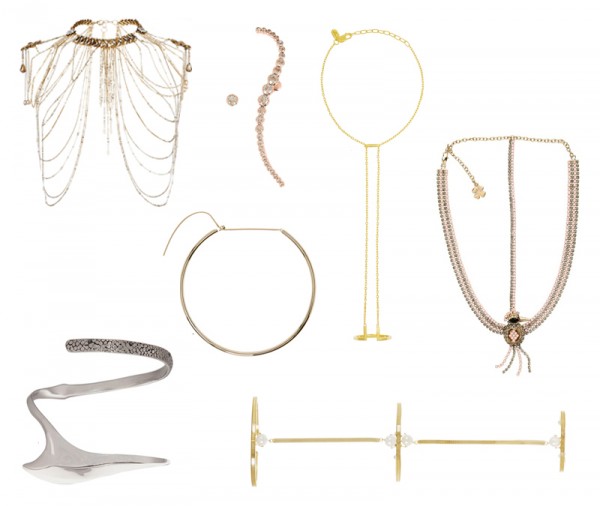 Rings that just sit on one finger are so passé. A plain, dainty anklet is old news. And what's a stud earring without an accompanying cuff?! Okay, I'm kidding, but the point is: There's a genuinely new shift in motion. Jewels have gone the way of the unconventional…
Some like Grace Coddington treat the hoop earring as a style staple, but the classic gold design has gone bohemian this year thanks to the resurgence of '70s trends – and these are just a few of its boldly embellished, strikingly oversized, and brightly decorated ranks…
Lapis, sapphire, turquoise and topaz are all lovely shades of blue, showcasing Mother Nature's spectrum. Tanzanite is a unique blue, like midnight sky on a deep blue sea with purple glints that make you want to look deeper and longer.
Ana Khouriicon takes personal expression to another level…another stratosphere, really! Both Tina and I have fawned over the Brazilian designer's hand cuffs before (they're not what you'd think), and with each new piece I discover, I find myself more and more intrigued.
One of fashion's most exciting aspects is the creative spirit of turning the ordinary into something much more, like the everyday, mundane safety pin. It's not hard to see how they would inspire designers, especially clothing designers who use safety pins daily to drape, cinch and perfect.
We often think of jewels as accessories, pieces to put on after our outfit is, for the most part, already planned out. This oxidized gold-tone Rosantica body chain, however, is no mere accessory. The bronze, silver, and black beaded topper is what you plan a look around.
Though I'm an avid jewelry collector, the pieces I cherish most are always the sentimental ones, so on the occasions when sentimentality and incredible quality coincide, I'm a very happy woman; and that's just what I got from Jamie Wolf!
There seems to be a relatively consistent image of what a successful woman should wear, from hair and makeup to clothes and shoes. While fitting this mold isn't a bad thing, sometimes a girl just wants to branch out, toughen things up a little bit.
It's a perfect symphony when Derek Lam joined forces with former NYCB ballerina and current jewelry designer Jamie Wolf for a collection honoring the New York City Ballet, inspired by famed choreographer George Balanchine.