Jewel Snob
Thu 10.23
I've come to love Dallas since moving here over ten years ago, but I have to admit, I miss the energy and people of my beloved LA. Luckily for me, Brian Bolke of Forty Five Tenicon is bringing one of my favorite Cali-based designer to Texas – the lovely Anita Ko.
Tue 10.07
Geometry was my favorite math subject in school. I'm a visual person (I ended up in fashion, after all). Shapes and angles? That I understood, but formulas and theories? Not so much. And nothing has changed since then!
Thu 09.18
By Kilian just launched a new collection, The Jewels & Leathers of L'Oeurve Noire, inspired by the tradition, centuries ago, when perfumers would infuse men's gloves with fragrance.
Mon 08.25
Every season I'm bowled over by the creations of Vita Fede designer Cynthia Sakai, and Fall 14's offerings are no exception.
Fri 08.22
I talk a lot about layering cuffs and bracelets, but Joyo cuffs need no accompaniment. The laser cut jewelry is handmade by designer Jenn Liddiard from walnut and birchwood, layered over either silver or black aluminum, depending on your tastes.
Wed 08.20
On Fendi's silver-tone palladium ring, this mother-of-pearl looks like a milky, little galaxy and the crystal, its brightest star.
Tue 08.19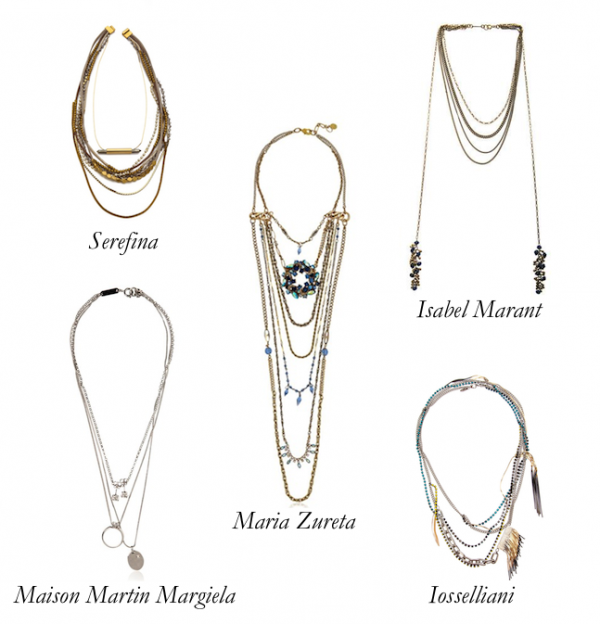 Sometimes I like jewelry to be delicate and simple, but most of the time, I'm looking to indulge in the bold, oversized variety. Pieces like these can turn even the most dressed-down of outfits into looks bursting with personality – and all with the mere clip of a clasp.
Mon 08.18
I love working with Love Gold, seeking gorgeous jewels from across the globe. The best discoveries tend to be the ones you wouldn't see in the average boutique, so when I spent a few weeks in LA this summer, I went hunting…
Wed 08.13
How do I love thee? Let me count the ways…I fell hard and fast for this pet the moment I walked into the Fendi boutique at Crystals in Las Vegas (aka the most opulent mall anywhere – and no, that's not an oxymoron), where a replica of Rome's Trevi Fountain greets you.