Bracelets
Wed 08.13
How do I love thee? Let me count the ways…I fell hard and fast for this pet the moment I walked into the Fendi boutique at Crystals in Las Vegas (aka the most opulent mall anywhere – and no, that's not an oxymoron), where a replica of Rome's Trevi Fountain greets you.
Tue 08.12
When I sat down to dinner with my dear friend and Who What Wear co-founder Hillary Kerr, I was immediately taken with her gorgeous pendant necklace. It turns out it was a Fitbit tracker that monitored her every step!
Fri 07.25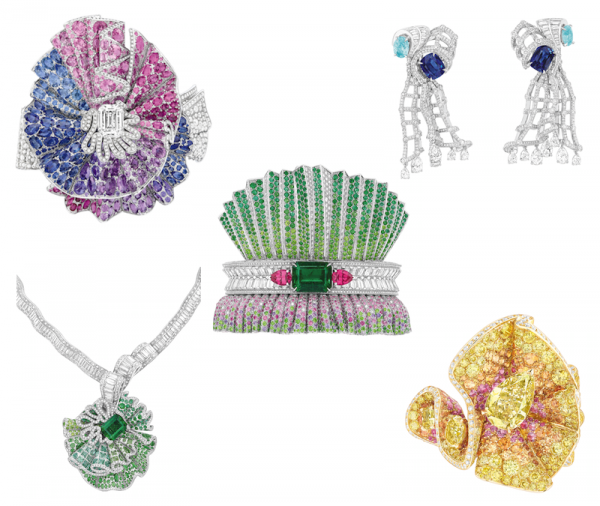 On September 11th, the exquisite Archi Dior fine jewelry collection will be unveiled at the Biennale des Antiquaires in Paris. Creative Director Victoire de Castellane "wanted to create each piece just like the dresses Christian Dior designed with an architect's eye, as if the jewels were sculpted, flounced, pleated, belted, or draped fabrics."
Wed 07.09
If diamonds are a girl's best friend, then gold must be the cousin she loves to play with. And it's no accident that all things good are considered "golden." The element transcends currencies and languages and is considered the single best investment by the most savvy of investors…
Thu 06.12
Jadie Kadletz may have just launched her namesake line, but I know for certain that she has a least one fan already – me! While the look of her jewelry is clean and minimal, the style is cool girl chic all the way, with shapes and forms like animal tusks, horns, talons, sabers, and even teeth serving as inspiration.
Fri 05.02
Are you ready for the Met Ball? Miriam Haskell is! The costume jewelry brand has crafted a collection inspired by this year's theme – designer Charles James, or as Cristobal Balenciaga once called him, "the world's best and only dressmaker" (What a shift from punk to elegant ball gowns!).
Tue 01.07
This is not the first time we've featured Eddera, but now we're switching focus from French jeweler Camille Vizzavona's gorgeous, celebrity-adored headbands to her equally stunning gems. Camille studied at the Louvre's jewelry school under Adalbert Smoliar, the head designer for Van Cleef and Arpels, making jewels her first love.
Thu 12.19
Last week I shared what I want for the holidays (fingers crossed the hubby was reading!). This week my focus is on what to give. Christmas is just six days away, but don't panic. I've rounded up jewels for every woman on your list from the wife to the Mom Snob to the bestie and sisters, all at different price points.