Brooch/Pin
Lapis, sapphire, turquoise and topaz are all lovely shades of blue, showcasing Mother Nature's spectrum. Tanzanite is a unique blue, like midnight sky on a deep blue sea with purple glints that make you want to look deeper and longer.
One of fashion's most exciting aspects is the creative spirit of turning the ordinary into something much more, like the everyday, mundane safety pin. It's not hard to see how they would inspire designers, especially clothing designers who use safety pins daily to drape, cinch and perfect.
Feather jewelry tends to fall in the boho category, but more and more, we're seeing the look with added polish – and at all price points. The style was big on the Fall runways, so prepare your jewel box for next season with one of these unapologetically bold accessories…
Last week I shared what I want for the holidays (fingers crossed the hubby was reading!). This week my focus is on what to give. Christmas is just six days away, but don't panic. I've rounded up jewels for every woman on your list from the wife to the Mom Snob to the bestie and sisters, all at different price points.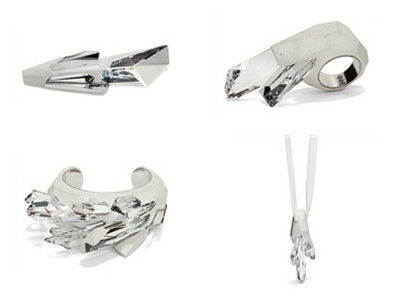 Most jewelers try to design something original using the same old techniques they have always worked with, but Atelier Swarovski and Maison Martin Margiela know that to be truly innovative, you have to break the mold.
And the butterflies and the spiders…I don't know if it's a certain creepy-crawly holiday coming up or Damien Hirst's buggy Prada bags, but my mind's been stuck on insect-inspired fashion lately, ranging from the pretty to the eight-legged variety and beyond.
Subtlety? What's that? For Fall 2013, Lanvin is making the message clear – and that message is go big or go home. Accessories emblazoned with single words like "cool," "love," and "help" are the kind of pieces you'd expect to see Rihanna wear with aplomb. They sound a little kitschy, yet in pewter and faux pearls, Alber Elbaz makes them as sophisticated as can be.
When Elizabeth Taylor's jewelry collection went up for auction at Christie's in late 2011, Bulgari bought up $20 million worth of their creations. Smart move – the value of pieces rapidly appreciated in the actress' keeping. This summer they will exhibit several of these special gems in honor of the 50th anniversary of Taylor's film … Continue reading Elizabeth Taylor's Bulgari Jewels: Cleopatra's Collection
One of my dearest friends, Cindy Chao, has made history by becoming the first Taiwanese artist to enter the permanent collection of the Smithsonian. Pretty impressive considering her company, The Art Jewel, has only been around since 2004! The piece she generously donated to the lauded museum? Her Masterpiece Royal Butterfly brooch, which is valued … Continue reading Cindy Chao Royal Butterfly Brooch: Smithsonian Spotlight