Choker
For the 85th Annual Academy Awards, Salma Hayek turned to the best – my dear friend Cindy Chao. The actress donned the Maple Leaves choker from Cindy's Four Seasons Masterpiece Collection, this piece of course representing the fall season. It was the perfect attention-grabbing embellishment to finish off her rhinestone-collared Alexander McQueen gown, making Salma … Continue reading Salma Hayek x Cindy Chao: And the Oscar Goes to…
Boughs of holly are nice, but jewels are what make me jolly. You've decorated your tree, mantle, front door…it's your turn now! There's definitely a tacky and gaudy way to wear ornament jewels, but as long as you choose fun and festive (yet still tasteful and sophisticated) options, you're set to shine. You won't find … Continue reading Holiday Ornament Jewels: Deck the Halls!
I cannot get enough of ModeWalk.com! I met the founder this week at an event at Goss Gallery in Dallas, and I was completely taken with the unique items they have. I see a lot of bags, shoes, clothes and jewels in my job on a daily basis, so the special stuff really stands out. … Continue reading The Best of ModeWalk: Walk the Walk, Wear the Jewels
Alkemie's jewels are unique – and not just because of their mysterious origins. For designers Dara Gerson and Ashley Lowengrub, their sense of whimsy is strong, and so is their love for the earth. The duo's goal is "to do no harm," so it's no surprise animals and nature are a big theme in their … Continue reading Alkemie Jewelry: Riveting Reincarnations
Aurélie Bidermann's well-traveled life is reflected in her jewels. Remnants of her adventures in India, Japan, and Brazil (just look to her famed braided Do Brazil bracelet) are all abounding from the Parisian's organic, hand-touched pieces. A lover of vintage clothing, she revels in mixing the past with the present – and it comes across … Continue reading Aurélie Bidermann Pre-Fall 2012 Collection: The City Meets the Sea
Put away the glitz! Grunge-inspired gear is suddenly showing up everywhere for the coming seasons, from slipdresses to chunky boots to flashes of plaid flannel. Now, I'm not saying going all Courtney Love on me (I was there the first time, and it wasn't always pretty!), but a jewel with a hardened, "Who me? I … Continue reading Top 5 Grunge-Goddess Jewels: Come As You Are
Find yourself spurned, embittered, or in a lover's quarrel this Valentine's Day? (Hey, it's not always a bed of roses, especially when holiday pressures are involved!) I see my accessories as armor, and while I hope for the best, a self-respecting snob is wise enough to be prepared for the worst. Ready yourself for making … Continue reading Delfina Delettrez Addolorata Necklace: Love is a Battlefield
The Luisa via Roma Firenze4Ever Style Lab was the most fun ever! Our shoot was seriously so good, I think we might have to switch careers and become stylists instead =) The Luisa store in Florence, the only one in the world, is seriously awesome. The have the most unique collection you can imagine, especially … Continue reading Jewel Heaven and Delight at Luisa via Roma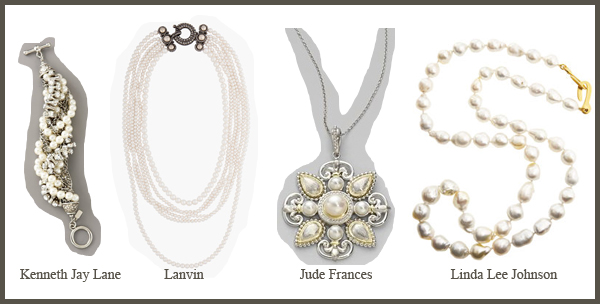 Pearls are back in a big way! Not that they ever went away, if we're talking about that certain Barbara Bush crowd, but now they are genuinely hip.