Costume
I love working with Love Gold, seeking gorgeous jewels from across the globe. The best discoveries tend to be the ones you wouldn't see in the average boutique, so when I spent a few weeks in LA this summer, I went hunting…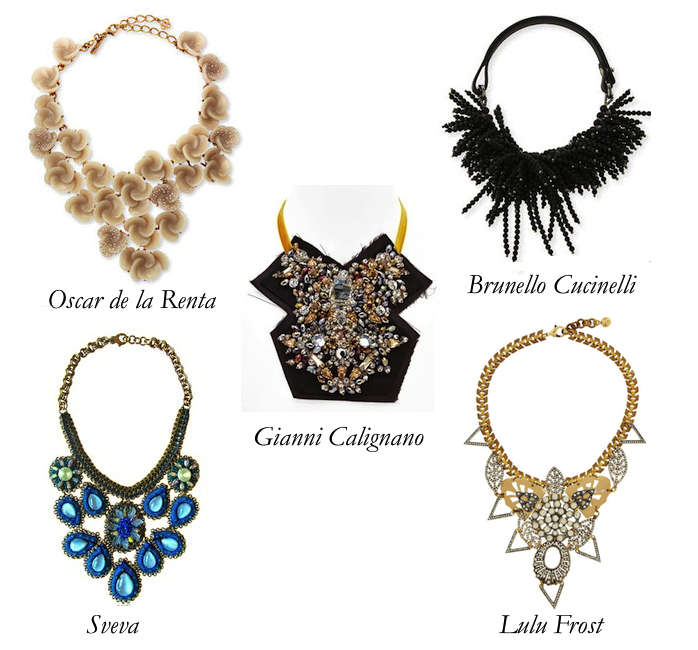 With jeweled bibs as extravagant as these, the time it takes you to get ready each morning will diminish noticeably. One accessory and your outfit is made!
Are you ready for the Met Ball? Miriam Haskell is! The costume jewelry brand has crafted a collection inspired by this year's theme – designer Charles James, or as Cristobal Balenciaga once called him, "the world's best and only dressmaker" (What a shift from punk to elegant ball gowns!).
Halloween and costumes go hand-in-hand, but that doesn't mean your jewelry has to follow suit. Have fun with the holiday's themes – just do it with pieces that you can also wear outside the month of October! Orange and black, skulls (of the McQueen variety), and creepy crawlies are all on the table. Which will you be sporting for the witching hour?
As summer cools down we start to bundle up, and our jewels are no different! Woven cotton adds a boho feel to even the most elegant pieces, relaxing them to optimal wearability without losing any of the chic style. Which artisanal jewel will you be wrapping yourself in this fall?
Seeing costume jewelry priced at nearly $2,000 definitely makes you take a pause, but let's examine the facts. First of all, it's Lanvin, so the cost will be high. Yet with the variety of colored stones mismatched on each side, these are versatile pieces that are bound to match at least one hue in your ensemble.
What better time than the sparkly holiday season to give away this glamorous Gerard Yosca necklace?? A true trendsetter (his butterfly pin is what sparked the hair clip frenzy of the '90s), Gerard is a designer whose talent has been recognized by his peers (he sat on the CFDA board for 12 years) and celebs … Continue reading Gerard Yosca Interview and Giveaway: Tweet Us!
Miriam Haskell has often been touted as the American Coco Chanel. She came from humble beginnings in Indiana, only to emerge as the foremother of costume jewelry in the U.S. Right now, the 83-year-old brand is having a moment with pretty young things like Annasophia Robb. The starlet wore the Art Deco fan button earrings … Continue reading Miriam Haskell Art Deco Fan Button Earrings: Fangirl
Lately, I'm finding myself wearing my friend Dana Lorenz's Fallon jewels more than my diamonds. No doubt, it takes pieces that pack a major it-factor to lure me away from my ice, and Dana's have "it" in spades! With a knack for brilliant juxtapositions and an innate sense of dangerous glamour, Fallon's mixed-material accessories always … Continue reading Fallon Collections: I've Fallen for Fallon!