Crystal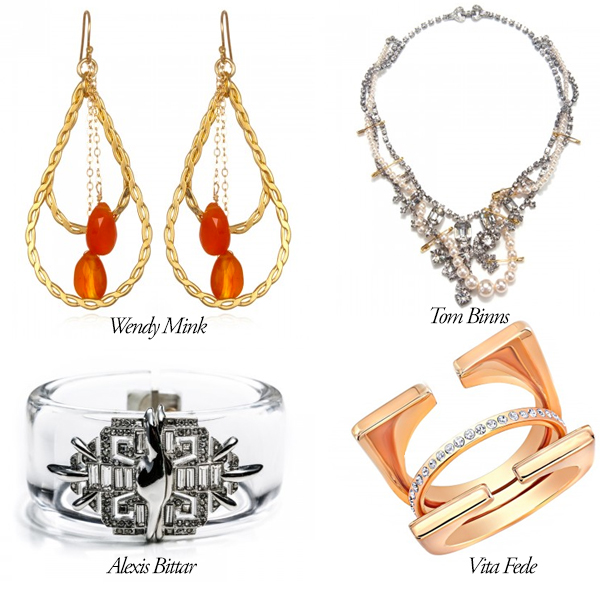 While we've just about made it to the most wonderful time of the year, there's still one hurdle left to clear – holiday shopping. I love shopping and I love picking out special gifts for family and friends, but between a long list to buy for and an even longer line of people at the register, it can be a serious challenge, especially for Snobs on a budget.
The design of most earrings focuses solely on the way they appear on the front of your lobes. This is a little lazy, no? If your hair is up, then the back is almost as visible as the front, a fact that Vita Fede's Cynthia Sakai acknowledges and designs with in mind!
And the butterflies and the spiders…I don't know if it's a certain creepy-crawly holiday coming up or Damien Hirst's buggy Prada bags, but my mind's been stuck on insect-inspired fashion lately, ranging from the pretty to the eight-legged variety and beyond.
Earrings, bracelets, necklaces, rings – these are our daily jewels. When you're craving a change, a decadent headpiece is the way to go. I've saved the best for first – London-based jewelry designer Sabine G.'s silver-plated gold headpiece. It's part of the Relic collection, an assembly of pieces inspired by the engravings on a 12th century medieval box.
Halloween and costumes go hand-in-hand, but that doesn't mean your jewelry has to follow suit. Have fun with the holiday's themes – just do it with pieces that you can also wear outside the month of October! Orange and black, skulls (of the McQueen variety), and creepy crawlies are all on the table. Which will you be sporting for the witching hour?
Subtlety? What's that? For Fall 2013, Lanvin is making the message clear – and that message is go big or go home. Accessories emblazoned with single words like "cool," "love," and "help" are the kind of pieces you'd expect to see Rihanna wear with aplomb. They sound a little kitschy, yet in pewter and faux pearls, Alber Elbaz makes them as sophisticated as can be.
I've found your next obsession – Paire! The new site sells runway pieces that you can't find anywhere else, and what better to wear as you're watching the latest hit the NYFW runways than runway jewelry? I just had to bring a few pieces to NYC. First up was Rodarte's snake collar ($595) – it's exclusive to Paire and somehow also on sale.
High impact jewels with a low impact on your wallet – what's not to love? With Lyralovestar's pieces, you could wear something as simple as a white tee or LBD and still make a splashy statement. The brand was started up by celebrity stylist Crystal Streets who dresses the likes of Rihanna and Mariah Carey.
A simple cocktail ring is no longer enough to start up a conversation. But a full-finger ring? Well, that's something no one can miss. The trouble is that not all of these are articulated, limiting your basic movement and turning day-to-day tasks into serious challenges. Enter hinged rings!