Cuff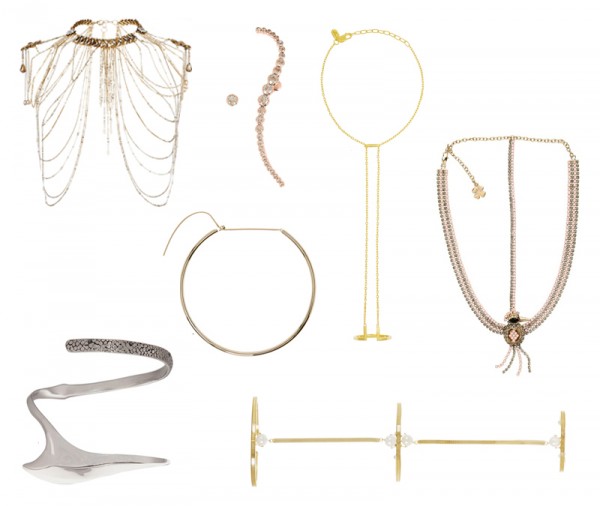 Rings that just sit on one finger are so passé. A plain, dainty anklet is old news. And what's a stud earring without an accompanying cuff?! Okay, I'm kidding, but the point is: There's a genuinely new shift in motion. Jewels have gone the way of the unconventional…
One of fashion's most exciting aspects is the creative spirit of turning the ordinary into something much more, like the everyday, mundane safety pin. It's not hard to see how they would inspire designers, especially clothing designers who use safety pins daily to drape, cinch and perfect.
It's a perfect symphony when Derek Lam joined forces with former NYCB ballerina and current jewelry designer Jamie Wolf for a collection honoring the New York City Ballet, inspired by famed choreographer George Balanchine.
Whether you're a plexi kind of girl or leather, look no further! Valentino has you covered – or cuffed, really. This is the easiest way to update your summer wardrobe without spending a fortune. Just throw on one of these, and every outfit will seem new…
Have you entered to win our Lele Sadoughi giveaway yet?
When it comes to holiday dressing, nothing is more fun than piling on jewels, so in honor of the season of giving, we'll be giving away five special pieces, courtesy of the lovely Lele Sadoughi!
I talk a lot about layering cuffs and bracelets, but Joyo cuffs need no accompaniment. The laser cut jewelry is handmade by designer Jenn Liddiard from walnut and birchwood, layered over either silver or black aluminum, depending on your tastes.
How do I love thee? Let me count the ways…I fell hard and fast for this pet the moment I walked into the Fendi boutique at Crystals in Las Vegas (aka the most opulent mall anywhere – and no, that's not an oxymoron), where a replica of Rome's Trevi Fountain greets you.
Never wait for a man to buy you what you can buy yourself. Don't get me wrong – I love to receive thoughtful and sentimental jewelry from my hubby, but if there's something that I just must have, I go ahead and get it. That way there's no need to subtly drop hints and heighten your expectations, only to find that your hints we in fact too subtle. Show yourself some love come February 14th with this Valentine's Day jewelry!