Cuff
Wed 08.13
How do I love thee? Let me count the ways…I fell hard and fast for this pet the moment I walked into the Fendi boutique at Crystals in Las Vegas (aka the most opulent mall anywhere – and no, that's not an oxymoron), where a replica of Rome's Trevi Fountain greets you.
Tue 02.04
Never wait for a man to buy you what you can buy yourself. Don't get me wrong – I love to receive thoughtful and sentimental jewelry from my hubby, but if there's something that I just must have, I go ahead and get it. That way there's no need to subtly drop hints and heighten your expectations, only to find that your hints we in fact too subtle. Show yourself some love come February 14th with this Valentine's Day jewelry!
Fri 11.22
Most jewelers try to design something original using the same old techniques they have always worked with, but Atelier Swarovski and Maison Martin Margiela know that to be truly innovative, you have to break the mold.
Thu 11.14
While we've just about made it to the most wonderful time of the year, there's still one hurdle left to clear – holiday shopping. I love shopping and I love picking out special gifts for family and friends, but between a long list to buy for and an even longer line of people at the register, it can be a serious challenge, especially for Snobs on a budget.
Fri 09.06
When you think of statement jewelry, some of the first things that come to mind are large pieces, bright color combos, and unusual shapes. Bibi van der Velden knows that it's what jewels are made of that sends the true statement, though. The NYC born, London and Netherlands bred designer crafts her pieces with rare materials like Chinese jade, Italian coral, and oh yeah – 40,000-year-old Mammoth tooth dug up from the Siberian tundra!
Wed 08.14
As summer cools down we start to bundle up, and our jewels are no different! Woven cotton adds a boho feel to even the most elegant pieces, relaxing them to optimal wearability without losing any of the chic style. Which artisanal jewel will you be wrapping yourself in this fall?
Thu 07.11
Not the kind of hand cuff you'd expect – far better! Ana Khouri's creation wraps gently around your hand like a sophisticated snake (it's handmade from 18k rose gold and 1.5 carats of diamonds!). This is for the Jewel Snob who has everything because frankly, it's pricey. Considering a hand cuff is such a novelty, I'm not sure it's worth the investment…
Thu 06.27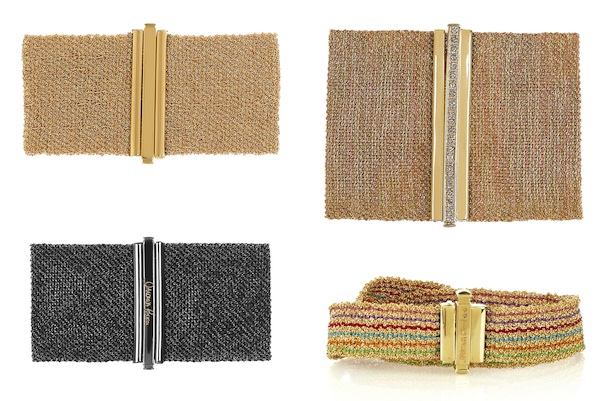 It's always nice to find pieces that are both unique and wearable like Carolina Bucci's woven gold cuffs. They're great for summer when you want to make a big statement with minimal effort. Weaving delicate precious metal pieces together requires a level of craftsmanship that makes this investment worthwhile.