Designer Profiles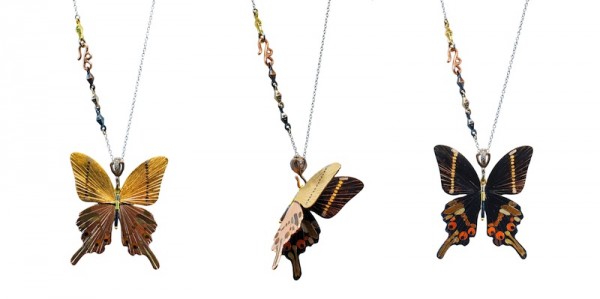 I look at jewelry all day long (for work!), and I have to say that James Banks is one of the most unique lines I've come across in a long time. The antique-style pieces are made by Alice in Wonderland jewelry and prop designer Heidi Nahser Fink and Adam Shulman, Anne Hathaway's hubby.
The designers of the K/llr Collection met at Parsons when they were studying…furniture design. After Katie borrowed a bracelet from Michael to hide a new tattoo from her mom, they discovered a shared passion that would turn into a global business. After just over two years on the market, their line is now being sold … Continue reading K/ller Collection: V Marks the Spot
What better time than the sparkly holiday season to give away this glamorous Gerard Yosca necklace?? A true trendsetter (his butterfly pin is what sparked the hair clip frenzy of the '90s), Gerard is a designer whose talent has been recognized by his peers (he sat on the CFDA board for 12 years) and celebs … Continue reading Gerard Yosca Interview and Giveaway: Tweet Us!
A CFDA/Vogue Fashion Fund award winner in 2009, Monique Péan was a finance exec who was once obviously out of her element. Her talents clearly lie in jewelry design, and she excels in her industry by creating organic designs using only eco-sustaining materials, such as mammoth bones and the like. Sound contradictory? Here's how she … Continue reading Monique Péan: Organically Graphic
After experimenting in sculpting, drawing, and painting, Steven Lagos developed more than an appreciation for fine art. The now-master jeweler started his Lagos line in 1977. He cites the wearer of his jewels as "elegant, timeless, and classic." Isn't that what we all aspire to? The enticingly titled Caviar collection nails it. Tiny, decadent fish … Continue reading LAGOS Caviar Collection: Order Your Caviar to Wear
At a luncheon last week, I met the lovely Lita Asscher, granddaughter of Joseph, and part of the sixth generation of the esteemed Asscher family. She shared the fascinating heritage of the renowned brand with us during lunch. I never knew my favorite cut, the Asscher stone, comes from such a long and rich history. … Continue reading Royal Asscher: Fit for a Queen
Guest Blogger: The Bag Hag Wynn Wynn Ong is a Burmese- born accessories designer who calls the Philippines her home. Wynn Wynn's foray into accessories design began years ago when she started making pieces as Christmas gifts for her friends and family. Fast forward to February 2010, one of her creations get the front page … Continue reading Wynn Wynn Ong
Loren Ridinger, creator of the uber-luxurious Loren Jewels, announced that she and close friend, Kim Kardashian, are partnering to design an exclusive line of earrings to be called the "Kim Kollection."