Earrings
Fri 05.02
Are you ready for the Met Ball? Miriam Haskell is! The costume jewelry brand has crafted a collection inspired by this year's theme – designer Charles James, or as Cristobal Balenciaga once called him, "the world's best and only dressmaker" (What a shift from punk to elegant ball gowns!).
Thu 05.01
Marissa Collections always has the best selection of unique fine jewelry, which is the kind of fine jewelry I tend to seek out. If you're going to invest big, doesn't it just make sense for the piece to be one-of-a-kind? Bochic is a go-to brand for these standout jewels, namely because it was inspired by a standout woman…
Wed 04.23
Now that spring has finally arrived and we can enjoy some real life blooms, my son has been in our garden picking them for me everyday (how can I bring myself to tell his beaming little face that they're planted there for a reason?)! And while nothing beats those flowers, they have inspired me to make even more room for florals in my closet…
Mon 04.14
I've giving huge props to Lupita Nyong'o this morning (and pretty much every other morning, but this one in particular!). Last night she was the coolest chick at the MTV Movie Awards, proving the actress knows how to dress for a fun event like this just as well as she dressed for the Oscars.
Fri 04.11
Fashion jewelry is where we turn when our outfit feels like it's missing something – an oversized collar, dramatic drop earrings, a cocktail ring…To finish off your look, check out our favorite pieces here! #followitfindit
Tue 04.01
As a protégé of both Giorgio Armani and Andy Warhol, fine jewelry designer Wilfredo Rosado knows a thing or two about "transforming street style into high fashion." Look no further than the Metropolis earrings below, a classic teardrop shape outfitted with a multitude of diamonds, rubies, and pink and yellow sapphires.
Fri 03.28
For the Lanvin Spring 2014 collection, it was all about hearts and stars, but these are not the petite kinds of hearts and stars you see on so many dainty jewels today. They're mega oversized (though believe it or not, these are smaller than the pieces that initially went down the Parisian runway!).
Mon 03.24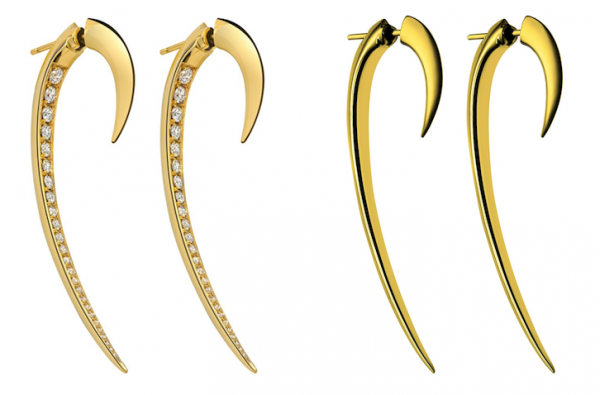 I'm all about adorning the ear this season! Next to flawless makeup, there's no better way to brighten your face, and the latest way I plan to do this is with the help of the House of Shaun Leane. The goldsmith has apprenticed in traditional craftsmanship since the age of 15, perfecting the art of creating high-end fine jewelry.
Thu 03.20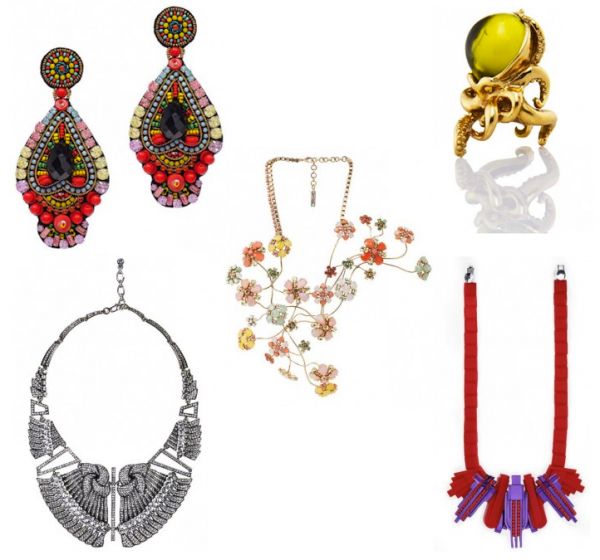 Every season, you should buy a few key pieces that will be your new statement jewels. For me, there's no other place to look than Paire.US. The online boutique carries runway pieces that you cannot find anywhere else – and trust me when I make that statement, I mean it. Once you've acquired your major jewels, you can gradually fill in the blanks with other fun pieces that aren't so striking.