Gold
Geometry was my favorite math subject in school. I'm a visual person (I ended up in fashion, after all). Shapes and angles? That I understood, but formulas and theories? Not so much. And nothing has changed since then!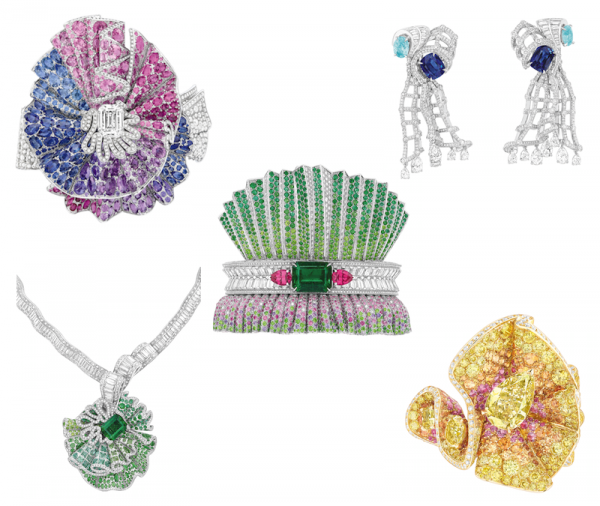 On September 11th, the exquisite Archi Dior fine jewelry collection will be unveiled at the Biennale des Antiquaires in Paris. Creative Director Victoire de Castellane "wanted to create each piece just like the dresses Christian Dior designed with an architect's eye, as if the jewels were sculpted, flounced, pleated, belted, or draped fabrics."
If diamonds are a girl's best friend, then gold must be the cousin she loves to play with. And it's no accident that all things good are considered "golden." The element transcends currencies and languages and is considered the single best investment by the most savvy of investors…
After making a name for herself as the designer of statement-making jewels at J. Crew, Lele Sadoughi started her own line in 2011. Her 14k gold-plated pieces are just as wearable and versatile as her Crew designs were bold.
While the new Elodie K. storefront on Melrose stocks everything from clothes to bags to shoes, some of the best pieces are from the Parisian designer's own fine jewelry line…
With jeweled bibs as extravagant as these, the time it takes you to get ready each morning will diminish noticeably. One accessory and your outfit is made!
Nikos is creative in his design, but also offers clients the opportunity to be creative in their styling of the piece. He takes inspiration for these ethereal jewels from dreams, turning his dreams into your sparkly, little realities!
"Amulette: A small object worn to protect the person wearing it against bad things (such as illness, bad luck, etc.)." I don't know about you, but that's more than what any of my other jewels do! First came Love, then came Juste un Clou, and now one of the most iconic luxury maisons has captured me yet again with the release of the Amulette de Cartier.
Nothing screams summer on the Greek Isles louder than gold and turquoise jewels (except for me, when I scream, "gold and turquoise jewels!"). Even if you won't be retreating to Mykonos over the next few months, and will only be lounging by the backyard pool, you can still look like you're sunning on a yacht in the French Riviera.