Gold
Mon 11.11
Our friend Wendy Nguyen is one of the sweetest and most inspiring women we know, and her recent collaboration with Tacori perfectly encapsulates her spirit! She and the jeweler struck up a friendship at Lucky FABB, and it was a toggle bracelet they gifted to her that birthed the idea of the Promise bracelet.
Mon 11.04
The abundant and impeccable detailing of the Émotion collection is nothing short of a masterpiece worthy of any art collection. Each ring is adorned with 300 gems spilling around all sides in an organic yet decadent cascade.
Mon 10.28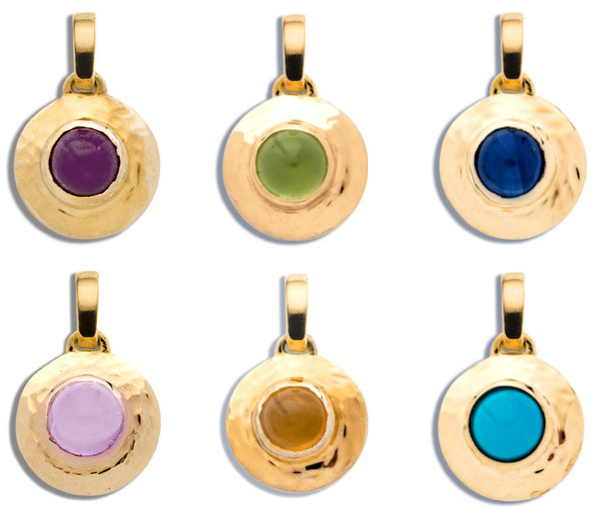 The older I get, the pickier I am about my jewelry. Sure there are some pieces too beautiful to pass up, but I would take a jewel with sentimental meaning over that any day! My grandmother gave me a few heirlooms when I graduated from high school, and though I didn't fully appreciate them at the time, they're now some of my most prized pieces.
Fri 10.25
It's wonderful to see brands and designers donate any of their sales to charity, but it's a rare sight to see one donate 100% of the sales. Yet that's exactly what Harry Winston is doing with the Hope collection bracelet, a delicate white gold pendant accented with a mother-of-pearl dial and a single signature diamond.
Thu 09.19
If there's one thing I love as much as bags, it's jewelry. I'm always excited to discover different designers, and on a recent shoot in NYC for LifestyleMirror.com, I was introduced to Fragments, an insanely cool jewelry store that stocks incredible and unusual fine jewelry. The first pieces to catch my eye were Mizuki's icicle diamond earrings ($3,130).
Fri 09.06
When you think of statement jewelry, some of the first things that come to mind are large pieces, bright color combos, and unusual shapes. Bibi van der Velden knows that it's what jewels are made of that sends the true statement, though. The NYC born, London and Netherlands bred designer crafts her pieces with rare materials like Chinese jade, Italian coral, and oh yeah – 40,000-year-old Mammoth tooth dug up from the Siberian tundra!
Wed 08.28
A simple cocktail ring is no longer enough to start up a conversation. But a full-finger ring? Well, that's something no one can miss. The trouble is that not all of these are articulated, limiting your basic movement and turning day-to-day tasks into serious challenges. Enter hinged rings!
Wed 08.14
As summer cools down we start to bundle up, and our jewels are no different! Woven cotton adds a boho feel to even the most elegant pieces, relaxing them to optimal wearability without losing any of the chic style. Which artisanal jewel will you be wrapping yourself in this fall?
Thu 08.01
There are hand cuffs that you don't want to find yourself in and then there are Ana Khouri's. The responsibly sourced gold jewels are for the Snob who has everything and now requires a new kind of accessory to make a statement. Cue Khouri.