Mother of Pearl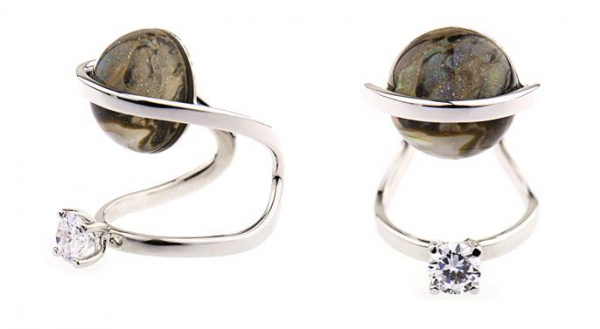 On Fendi's silver-tone palladium ring, this mother-of-pearl looks like a milky, little galaxy and the crystal, its brightest star.
"Amulette: A small object worn to protect the person wearing it against bad things (such as illness, bad luck, etc.)." I don't know about you, but that's more than what any of my other jewels do! First came Love, then came Juste un Clou, and now one of the most iconic luxury maisons has captured me yet again with the release of the Amulette de Cartier.
This peacock feather fan is for the Snob who has everything. The bright and delicate plumes make for an over the top accessory that is just as functional (feeling a little hot?) as it is fun. Duvelleroy has been handcrafting fans in Paris since 1827, so you're dealing with the best of the best here. … Continue reading Duvelleroy Peacock Feather Fan: Ooh La Love
Mom is always sitting on the sidelines cheering us on. It's high time we let her shine, and what better way than in the season's must-have gold jewels?? I always have my Vita Fede close at hand (or more likely, on hand!). Right now my favorite of piece is Cubo Eclipse Bracelet (on Vita Fede … Continue reading Mother's Day Gift Guide: The Gold Rush
Just in time for Mother's Day shopping, Loren Ridinger's perfectly priced little sister line, Yours by Loren, is going live on HSN. I love the timeless, sparkly glamour of Loren's pieces and now there's no reason not to pick up a goody for your mom…or yourself, heck– jewelry makes the best gift for anyone! (My … Continue reading Yours by Loren on HSN Today!
With a name like Khazzam, this designer has instant cool credibility, but Sharon actually backs up her unforgettable surname with designs that are out-of-this-world amazing. To call her wildly creative is an understatement – this is thoroughly beyond-the-box thinking that confidently maintains an elevated taste level fit for the snobbiest of jewel snobs. Everyone has … Continue reading Sharon Khazzam: Unforgettable Name, Indelible Jewels
Paola Pacheco's earthy and uplifting jewels have been a snob favorite since our friend Adriana Castro gave us two beaded necklaces last year. Both colorful strands have the eye for good luck and protection from evil; the Colombian designer bases much of her designs on the positive potency of symbols and stones. With a nature-inspired … Continue reading Jewel Snob Paola Pacheco Jewelry: Positively Charming
I love the look of this watch from Brera Orologi's Frederica Collection (the co-founder named the women's watches after names she would give to a daughter someday…how cute!). It's sporty, but still stylish so it's perfect for a gym-to-lunch look, not to mention a way more affordable and original version of the white ceramic Chanel … Continue reading Brera Orologi Frederica Collection