Necklaces
Thu 05.22
Nothing screams summer on the Greek Isles louder than gold and turquoise jewels (except for me, when I scream, "gold and turquoise jewels!"). Even if you won't be retreating to Mykonos over the next few months, and will only be lounging by the backyard pool, you can still look like you're sunning on a yacht in the French Riviera.
Fri 05.09
You don't need to be a classically trained fine artist with a Master's degree in Contemporary Art to design jewelry, but one look at Aurora Diaz Bailey's creations and there's no denying her background certainly helps!
Fri 05.02
Are you ready for the Met Ball? Miriam Haskell is! The costume jewelry brand has crafted a collection inspired by this year's theme – designer Charles James, or as Cristobal Balenciaga once called him, "the world's best and only dressmaker" (What a shift from punk to elegant ball gowns!).
Wed 04.23
Now that spring has finally arrived and we can enjoy some real life blooms, my son has been in our garden picking them for me everyday (how can I bring myself to tell his beaming little face that they're planted there for a reason?)! And while nothing beats those flowers, they have inspired me to make even more room for florals in my closet…
Fri 04.11
Fashion jewelry is where we turn when our outfit feels like it's missing something – an oversized collar, dramatic drop earrings, a cocktail ring…To finish off your look, check out our favorite pieces here! #followitfindit
Fri 03.28
For the Lanvin Spring 2014 collection, it was all about hearts and stars, but these are not the petite kinds of hearts and stars you see on so many dainty jewels today. They're mega oversized (though believe it or not, these are smaller than the pieces that initially went down the Parisian runway!).
Thu 03.20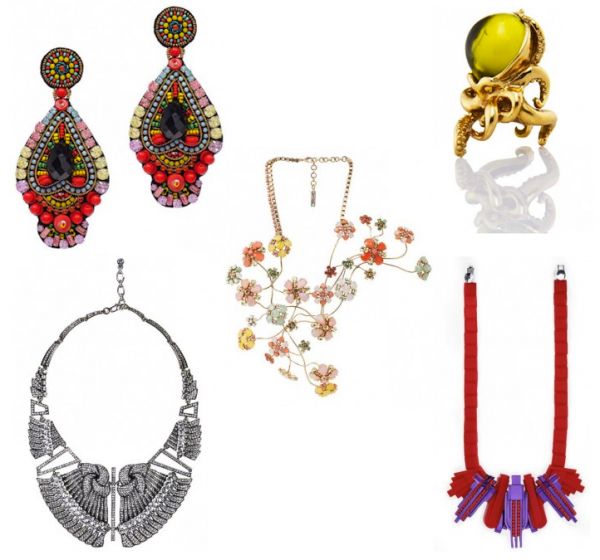 Every season, you should buy a few key pieces that will be your new statement jewels. For me, there's no other place to look than Paire.US. The online boutique carries runway pieces that you cannot find anywhere else – and trust me when I make that statement, I mean it. Once you've acquired your major jewels, you can gradually fill in the blanks with other fun pieces that aren't so striking.
Wed 02.19
I had my first mammogram at 31 to create a baseline for comparison against the one I would have when I turned 40. Just last month I visited the doctor again and was told this time to return due to an "area of concern." Note to self – don't open letters from a hospital on Saturday morning.
Mon 02.17
Statement pieces often require you to break a piggy bank or two, but it's hard to maintain the pow factor of a statement jewel when you wear it over and over again. To keep the momentum going, you really need to change your jewelry up, which is why I love CUCHARA. The line offers a mix of edgy, alt-rocker pieces at affordable price points.