Necklaces
Mon 10.28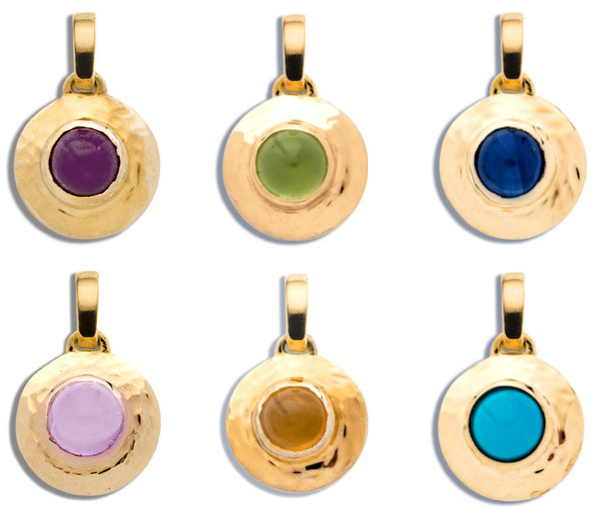 The older I get, the pickier I am about my jewelry. Sure there are some pieces too beautiful to pass up, but I would take a jewel with sentimental meaning over that any day! My grandmother gave me a few heirlooms when I graduated from high school, and though I didn't fully appreciate them at the time, they're now some of my most prized pieces.
Mon 10.14
Earrings, bracelets, necklaces, rings – these are our daily jewels. When you're craving a change, a decadent headpiece is the way to go. I've saved the best for first – London-based jewelry designer Sabine G.'s silver-plated gold headpiece. It's part of the Relic collection, an assembly of pieces inspired by the engravings on a 12th century medieval box.
Fri 09.27
Halloween and costumes go hand-in-hand, but that doesn't mean your jewelry has to follow suit. Have fun with the holiday's themes – just do it with pieces that you can also wear outside the month of October! Orange and black, skulls (of the McQueen variety), and creepy crawlies are all on the table. Which will you be sporting for the witching hour?
Mon 09.16
Subtlety? What's that? For Fall 2013, Lanvin is making the message clear – and that message is go big or go home. Accessories emblazoned with single words like "cool," "love," and "help" are the kind of pieces you'd expect to see Rihanna wear with aplomb. They sound a little kitschy, yet in pewter and faux pearls, Alber Elbaz makes them as sophisticated as can be.
Wed 09.11
I've found your next obsession – Paire! The new site sells runway pieces that you can't find anywhere else, and what better to wear as you're watching the latest hit the NYFW runways than runway jewelry? I just had to bring a few pieces to NYC. First up was Rodarte's snake collar ($595) – it's exclusive to Paire and somehow also on sale.
Tue 09.10
High impact jewels with a low impact on your wallet – what's not to love? With Lyralovestar's pieces, you could wear something as simple as a white tee or LBD and still make a splashy statement. The brand was started up by celebrity stylist Crystal Streets who dresses the likes of Rihanna and Mariah Carey.
Fri 09.06
When you think of statement jewelry, some of the first things that come to mind are large pieces, bright color combos, and unusual shapes. Bibi van der Velden knows that it's what jewels are made of that sends the true statement, though. The NYC born, London and Netherlands bred designer crafts her pieces with rare materials like Chinese jade, Italian coral, and oh yeah – 40,000-year-old Mammoth tooth dug up from the Siberian tundra!
Wed 08.14
As summer cools down we start to bundle up, and our jewels are no different! Woven cotton adds a boho feel to even the most elegant pieces, relaxing them to optimal wearability without losing any of the chic style. Which artisanal jewel will you be wrapping yourself in this fall?
Tue 07.23
Tassels have a long and versatile history. Think about it – the same accessory that hangs from your mortarboard at graduation is worn on stage by burlesque performers. Somewhat ironically, the first mention of the tassel came in the Bible when God claimed that wearing one would help you remember the 10 Commandments.