Necklaces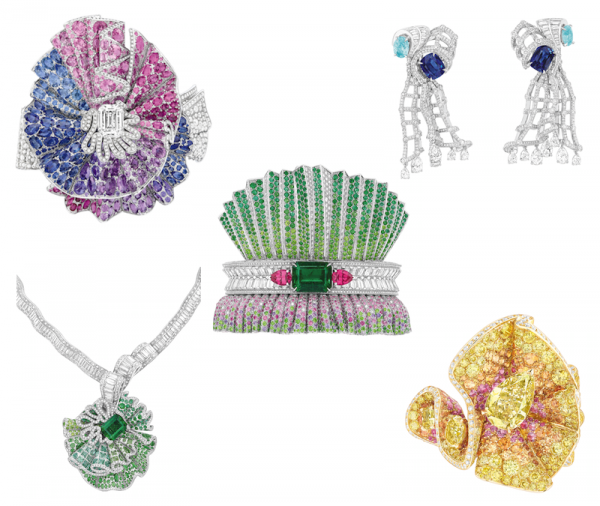 On September 11th, the exquisite Archi Dior fine jewelry collection will be unveiled at the Biennale des Antiquaires in Paris. Creative Director Victoire de Castellane "wanted to create each piece just like the dresses Christian Dior designed with an architect's eye, as if the jewels were sculpted, flounced, pleated, belted, or draped fabrics."
Body chain? Necklace? When the piece in question looks this good, titles don't really matter!
Feather jewelry tends to fall in the boho category, but more and more, we're seeing the look with added polish – and at all price points. The style was big on the Fall runways, so prepare your jewel box for next season with one of these unapologetically bold accessories…
Fringe bags are having a moment, but that's too much of a commitment for me (not to mention, they're rarely done well). I prefer to approach the look from a different angle – through jewelry!
If diamonds are a girl's best friend, then gold must be the cousin she loves to play with. And it's no accident that all things good are considered "golden." The element transcends currencies and languages and is considered the single best investment by the most savvy of investors…
After making a name for herself as the designer of statement-making jewels at J. Crew, Lele Sadoughi started her own line in 2011. Her 14k gold-plated pieces are just as wearable and versatile as her Crew designs were bold.
I'm of the belief that your astrological sign says a lot about your personality. Show me a shy Leo, and I'll show you one who's on the cusp of Cancer or has a Pisces rising! Since each of our signs is significant, they're worth celebrating, and how better to do that than with jewelry?
With jeweled bibs as extravagant as these, the time it takes you to get ready each morning will diminish noticeably. One accessory and your outfit is made!
"Amulette: A small object worn to protect the person wearing it against bad things (such as illness, bad luck, etc.)." I don't know about you, but that's more than what any of my other jewels do! First came Love, then came Juste un Clou, and now one of the most iconic luxury maisons has captured me yet again with the release of the Amulette de Cartier.