Pendant
Mon 10.28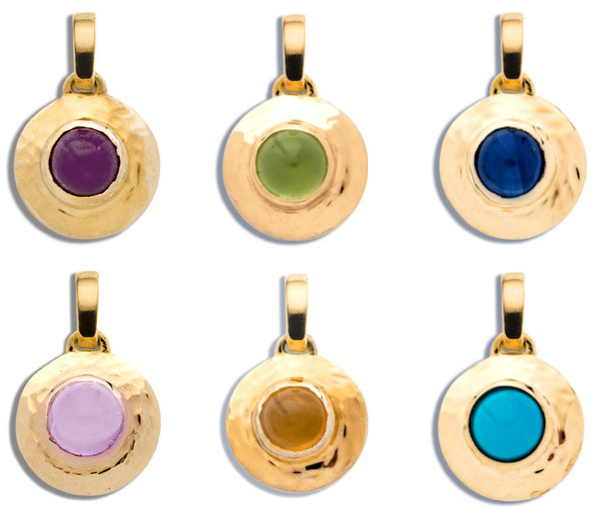 The older I get, the pickier I am about my jewelry. Sure there are some pieces too beautiful to pass up, but I would take a jewel with sentimental meaning over that any day! My grandmother gave me a few heirlooms when I graduated from high school, and though I didn't fully appreciate them at the time, they're now some of my most prized pieces.
Wed 07.17
I'd like to make a toast – to the champagne-fueled fashion streak designers have been on lately. Yesterday's Charlotte Olympia x Veuve Clicquot collab had me craving bubbly and cupcakes, and now Stephen Webster (rock royalty's favorite jeweler) has given us even more reason to celebrate!
Mon 07.01
…well, it depends on where you are, I guess! Aminimal Studio founders John and Svetlana Blum Briscella cite urban chaos as one of their inspirations – maybe designing these gorgeous gold-plated necklaces is their way of controlling it.
Fri 05.24
In 1902, Joseph Asscher invented the now famous Asscher cut, a stepped square style with cropped corners. While this remains one of the jewelry industry's most beloved designs, his family didn't stop there – they developed the Royal Asscher cut in 2001, naming it after their thriving diamond empire. The style plays off of the […]
Mon 04.08
I flew out of L.A. a couple of days ago after spending the last week at the fun and fabulous Lucky FABB conference. It was a blast meeting everyone and as sad as I was to go, I had to jet! With high-flying fun in mind, winged jewels only seem natural. They're very symbolic pieces […]
Thu 02.21
The best jewelry is personal, and Monica Vinader really encourages this belief by allowing you to not only engrave some of their pieces but to actually create your own necklace with a wide variety of pendant options. The attention to detail is truly stunning, and yet the prices are still so great. Even the quality […]