Rings
With a Master's degree in Jewelry Design from Central St. Martins, Brazilian born Fernando Jorge's pedigree and training are indisputable. His sense of edge is what separates him from the rest of the fine jewelry pack, though. Just one quick look at this Crown ring, and you know the man has vision.
Are you ready for the Met Ball? Miriam Haskell is! The costume jewelry brand has crafted a collection inspired by this year's theme – designer Charles James, or as Cristobal Balenciaga once called him, "the world's best and only dressmaker" (What a shift from punk to elegant ball gowns!).
Fashion jewelry is where we turn when our outfit feels like it's missing something – an oversized collar, dramatic drop earrings, a cocktail ring…To finish off your look, check out our favorite pieces here! #followitfindit
From nail to midi rings, it's clear that excess is in when it comes to decorating your digits. Rather than throwing on all of your favorite pieces and hoping for the best, get the job done right in one fell swoop. Multi-band rings create a put-together look without requiring you to actually spend time putting together your accessories.
For the Lanvin Spring 2014 collection, it was all about hearts and stars, but these are not the petite kinds of hearts and stars you see on so many dainty jewels today. They're mega oversized (though believe it or not, these are smaller than the pieces that initially went down the Parisian runway!).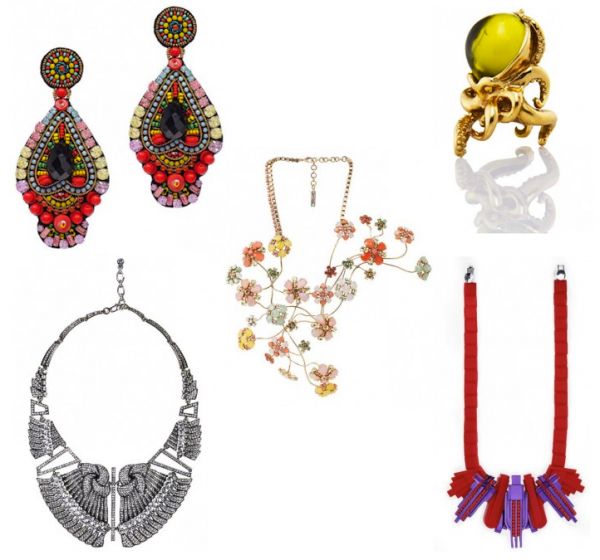 Every season, you should buy a few key pieces that will be your new statement jewels. For me, there's no other place to look than Paire.US. The online boutique carries runway pieces that you cannot find anywhere else – and trust me when I make that statement, I mean it. Once you've acquired your major jewels, you can gradually fill in the blanks with other fun pieces that aren't so striking.
Never wait for a man to buy you what you can buy yourself. Don't get me wrong – I love to receive thoughtful and sentimental jewelry from my hubby, but if there's something that I just must have, I go ahead and get it. That way there's no need to subtly drop hints and heighten your expectations, only to find that your hints we in fact too subtle. Show yourself some love come February 14th with this Valentine's Day jewelry!
Now this is hot. From multi-finger pieces to minis worn by the dozen, it seems our ring game has really elevated this year. In fact, I wouldn't even call this a ring – it's a hand jewel. The three-finger accessory comes from Greek designer Nikos Koulis, a man known to tackle fine jewelry with a touch of shockingly elegant whimsy (Bejeweled pineapples? Why not?!).
Last week I shared what I want for the holidays (fingers crossed the hubby was reading!). This week my focus is on what to give. Christmas is just six days away, but don't panic. I've rounded up jewels for every woman on your list from the wife to the Mom Snob to the bestie and sisters, all at different price points.