Rose Gold
Mon 08.18
I love working with Love Gold, seeking gorgeous jewels from across the globe. The best discoveries tend to be the ones you wouldn't see in the average boutique, so when I spent a few weeks in LA this summer, I went hunting…
Tue 06.17
While the new Elodie K. storefront on Melrose stocks everything from clothes to bags to shoes, some of the best pieces are from the Parisian designer's own fine jewelry line…
Mon 04.07
From nail to midi rings, it's clear that excess is in when it comes to decorating your digits. Rather than throwing on all of your favorite pieces and hoping for the best, get the job done right in one fell swoop. Multi-band rings create a put-together look without requiring you to actually spend time putting together your accessories.
Thu 01.30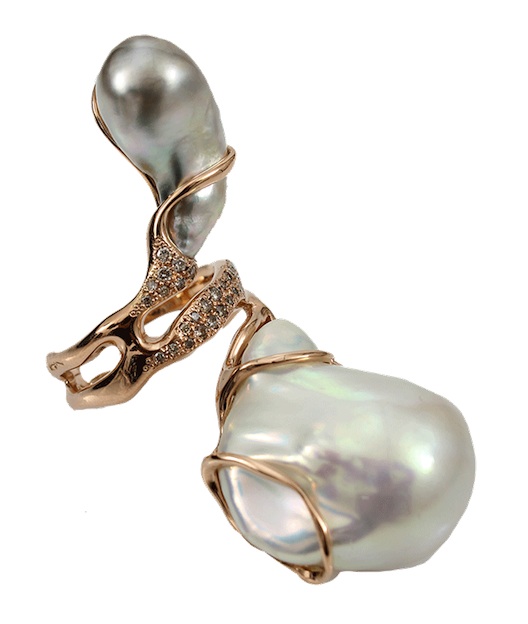 Perfection is not only overrated, it's boring, which is why I gravitate towards unique pieces like Federica Rettore's double baroque (a.k.a. non-spherical) pearl diamond ring. In fact, unique is not the right word – this is one-of-a-kind. The Italian jeweler uses rare gems like Paraiba tourmaline to create her masterpieces, and I love this deep sea beauty best of all.
Thu 12.19
Last week I shared what I want for the holidays (fingers crossed the hubby was reading!). This week my focus is on what to give. Christmas is just six days away, but don't panic. I've rounded up jewels for every woman on your list from the wife to the Mom Snob to the bestie and sisters, all at different price points.
Thu 11.14
The design of most earrings focuses solely on the way they appear on the front of your lobes. This is a little lazy, no? If your hair is up, then the back is almost as visible as the front, a fact that Vita Fede's Cynthia Sakai acknowledges and designs with in mind!
Mon 11.04
The abundant and impeccable detailing of the Émotion collection is nothing short of a masterpiece worthy of any art collection. Each ring is adorned with 300 gems spilling around all sides in an organic yet decadent cascade.
Wed 08.28
A simple cocktail ring is no longer enough to start up a conversation. But a full-finger ring? Well, that's something no one can miss. The trouble is that not all of these are articulated, limiting your basic movement and turning day-to-day tasks into serious challenges. Enter hinged rings!
Thu 07.11
Not the kind of hand cuff you'd expect – far better! Ana Khouri's creation wraps gently around your hand like a sophisticated snake (it's handmade from 18k rose gold and 1.5 carats of diamonds!). This is for the Jewel Snob who has everything because frankly, it's pricey. Considering a hand cuff is such a novelty, I'm not sure it's worth the investment…