Rose Gold
The design of most earrings focuses solely on the way they appear on the front of your lobes. This is a little lazy, no? If your hair is up, then the back is almost as visible as the front, a fact that Vita Fede's Cynthia Sakai acknowledges and designs with in mind!
The abundant and impeccable detailing of the Émotion collection is nothing short of a masterpiece worthy of any art collection. Each ring is adorned with 300 gems spilling around all sides in an organic yet decadent cascade.
A simple cocktail ring is no longer enough to start up a conversation. But a full-finger ring? Well, that's something no one can miss. The trouble is that not all of these are articulated, limiting your basic movement and turning day-to-day tasks into serious challenges. Enter hinged rings!
Not the kind of hand cuff you'd expect – far better! Ana Khouri's creation wraps gently around your hand like a sophisticated snake (it's handmade from 18k rose gold and 1.5 carats of diamonds!). This is for the Jewel Snob who has everything because frankly, it's pricey. Considering a hand cuff is such a novelty, I'm not sure it's worth the investment…
NYC artist Eva Zuckerman (Fehren is her middle name) makes fine jewelry, but she doesn't rely on the high-quality gems and metals to impress you (although those are pretty breathtaking!). These pieces are all about delicate, yet impactful design. After earning a degree in fine art from Cooper Union and working with Snob favorite Monique Péan, Eva started her own line in 2011 and quickly won rave reviews with the X Collection.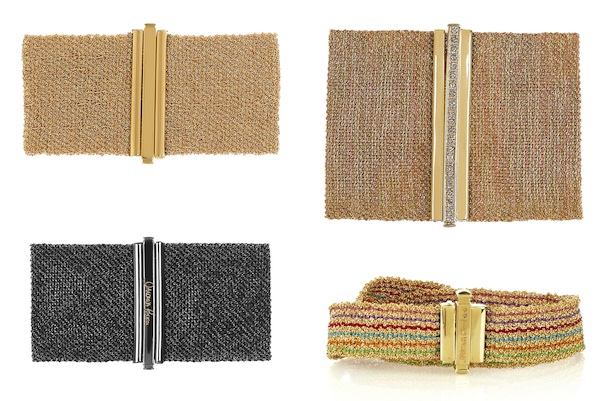 It's always nice to find pieces that are both unique and wearable like Carolina Bucci's woven gold cuffs. They're great for summer when you want to make a big statement with minimal effort. Weaving delicate precious metal pieces together requires a level of craftsmanship that makes this investment worthwhile.
…but mostly to wear! June is the unofficial month of weddings. The weather's gorgeous, the birds are singing – all you need is a ring beautiful enough to match your love! And you don't necessarily need to spend a million to get it. Sometimes a simple band is enough – the minimalist style will coordinate … Continue reading Weddings Rings: To Have and to Hold…