Sterling Silver
It's a perfect symphony when Derek Lam joined forces with former NYCB ballerina and current jewelry designer Jamie Wolf for a collection honoring the New York City Ballet, inspired by famed choreographer George Balanchine.
The recent resurgence of an obsession with Old Pawn turquoise has caused a wild scramble to pick up cuffs, necklaces and earrings in shiny sterling silver. Rather than grabbing some cheap knockoffs that'll wear and tear in a few months…
Jadie Kadletz may have just launched her namesake line, but I know for certain that she has a least one fan already – me! While the look of her jewelry is clean and minimal, the style is cool girl chic all the way, with shapes and forms like animal tusks, horns, talons, sabers, and even teeth serving as inspiration.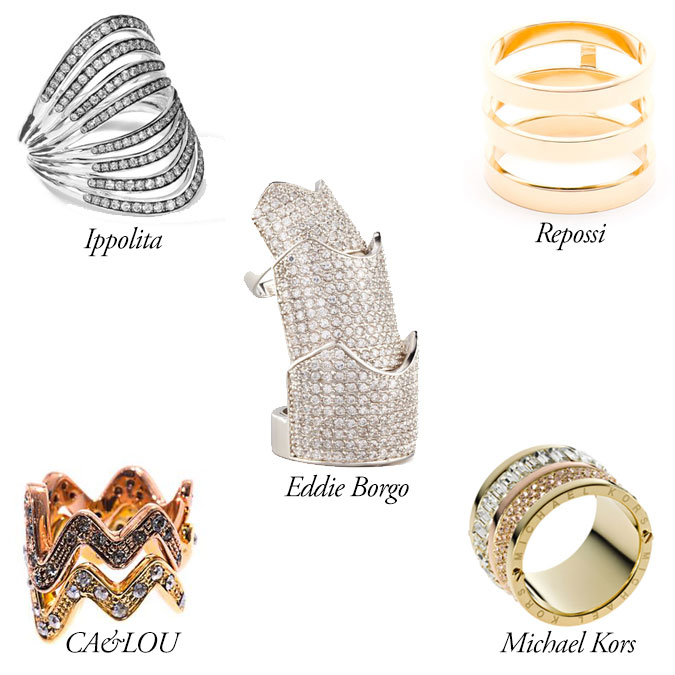 From nail to midi rings, it's clear that excess is in when it comes to decorating your digits. Rather than throwing on all of your favorite pieces and hoping for the best, get the job done right in one fell swoop. Multi-band rings create a put-together look without requiring you to actually spend time putting together your accessories.
Father's Day is less than a month away! That may sound like there's still tons of time to shop, but when you're looking to get something really nice for dad (or your hubby!), you need that extra time to make it good. To ease the process, I've put together a list of the best cuff … Continue reading Father's Day Gift Guide: Cuff Links
Without departing too much from the classic Bottega Veneta style, Tomas Maier always seems to push the design boundaries just far enough, which is ironic considering how these jewels cage you in! The sterling silver ring ($620) wraps around your finger like a chic sheet of armor, blackened from years of heavy battle. The shape … Continue reading Bottega Veneta Multi-Dimension Jewels: Cage Match
It's interesting – if you were to wear four rings on one hand, it would probably look like overkill. But Maison Martin Margiela's rose-tone four-finger ring (on NET-A-PORTER for $420)? Perfectly chic. The bar extends over your hand with such a clean and polished design that it actually seems understated (and with only one actual … Continue reading Countdown Jewels: Four, Three, Two, One-Finger Rings
Valentine's Day always creeps up quickly on you. Who's your date? Where will you go? What will you wear? It can be a lot to plan, but Monica Vinader has the last bit covered with a new diamond Fiji bracelet launched for the holiday! Each Fiji friendship bracelet comes with a symbolically colored cord. In … Continue reading Monica Vinader Fiji Diamond Pave Bracelet: Striking a Chord
A single leaf is the ancient heraldic symbol for happiness. The leaves of the oak tree are religious emblems of faith and endurance. Ivy leaves symbolize a strong and lasting friendship. For me, they just signify the promise of better, brighter days (and in this case, shinier ones, too!). No matter what you think of … Continue reading Best of the Season's Symbolic Jewels: Back to Nature