White Gold
If diamonds are a girl's best friend, then gold must be the cousin she loves to play with. And it's no accident that all things good are considered "golden." The element transcends currencies and languages and is considered the single best investment by the most savvy of investors…
While the new Elodie K. storefront on Melrose stocks everything from clothes to bags to shoes, some of the best pieces are from the Parisian designer's own fine jewelry line…
As a protégé of both Giorgio Armani and Andy Warhol, fine jewelry designer Wilfredo Rosado knows a thing or two about "transforming street style into high fashion." Look no further than the Metropolis earrings below, a classic teardrop shape outfitted with a multitude of diamonds, rubies, and pink and yellow sapphires.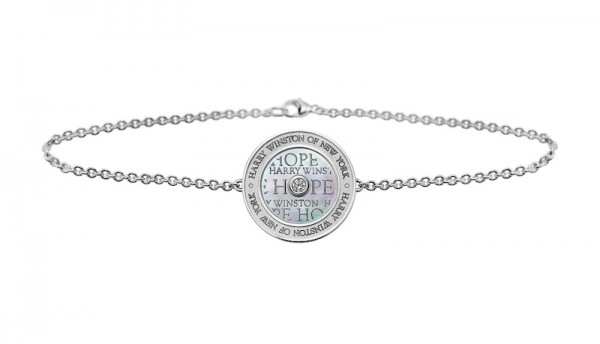 It's wonderful to see brands and designers donate any of their sales to charity, but it's a rare sight to see one donate 100% of the sales. Yet that's exactly what Harry Winston is doing with the Hope collection bracelet, a delicate white gold pendant accented with a mother-of-pearl dial and a single signature diamond.
Chalk it up to me being in Asia (and a Game of Thrones addict), but I'm suddenly drawn to all things dragon. If I can't have a real one to turn my enemies to ash, I'll just have to get my ice and fire from Elise Dray's articulated full finger ring. Even though the French designer's collection is only four years old, the fantastical scope is far from small.
I'd like to make a toast – to the champagne-fueled fashion streak designers have been on lately. Yesterday's Charlotte Olympia x Veuve Clicquot collab had me craving bubbly and cupcakes, and now Stephen Webster (rock royalty's favorite jeweler) has given us even more reason to celebrate!
NYC artist Eva Zuckerman (Fehren is her middle name) makes fine jewelry, but she doesn't rely on the high-quality gems and metals to impress you (although those are pretty breathtaking!). These pieces are all about delicate, yet impactful design. After earning a degree in fine art from Cooper Union and working with Snob favorite Monique Péan, Eva started her own line in 2011 and quickly won rave reviews with the X Collection.
I've been enamored with mini rings lately, so the mid finger ring trend just feels like the next step. Since the jewels sit higher up on your digits, they're smaller, giving you the perfect excuse to pile them on one after the other. Elise Dray's diamond and white gold ring (on Luisa via Roma for … Continue reading Trend Alert: Mid Finger Rings
…but mostly to wear! June is the unofficial month of weddings. The weather's gorgeous, the birds are singing – all you need is a ring beautiful enough to match your love! And you don't necessarily need to spend a million to get it. Sometimes a simple band is enough – the minimalist style will coordinate … Continue reading Weddings Rings: To Have and to Hold…