Shoe Snob
Thu 07.31
Seasons seem to meld together these days. Florals in fall? Why not? Burberry blooms in delicate shades of violet and blue along these off-white booties with the hand painting creating an almost watercolor effect.
Thu 07.31
Do cowgirls wear stilettos? They will if Gianvito Rossi has his way!
Thu 07.24
Pierre Hardy's latest sandals may give new meaning to the phrase, "I've got my eyes on you," but do you like what you see?
Tue 07.22
Few shoes are sexier than the d'Orsay pump…
Mon 07.21
My size varies depending on which type of shoe I'm wearing. Add the fact that my left foot is a bit smaller than my right, and you can imagine the fun I have shopping – and that's just in the store! Online shopping is a whole other ball game. I refuse to miss out on all the gorgeous shoes I see perusing the sites, though…
Thu 07.17
It may be summer, the time when we indulge in shock-and-awe neons and rainbow prints, but who needs color when you've got contrast?
Tue 07.08
Robert Clergerie has been my guilty pleasure for years. By that I mean I've been guilty of wearing what most would consider "sensible" shoes, and in the process, have sacrificed a bit of sexiness. What can I say? The leather is always baby soft, the ergonomic form hugs your feet, and the soles feel like clouds.
Fri 06.27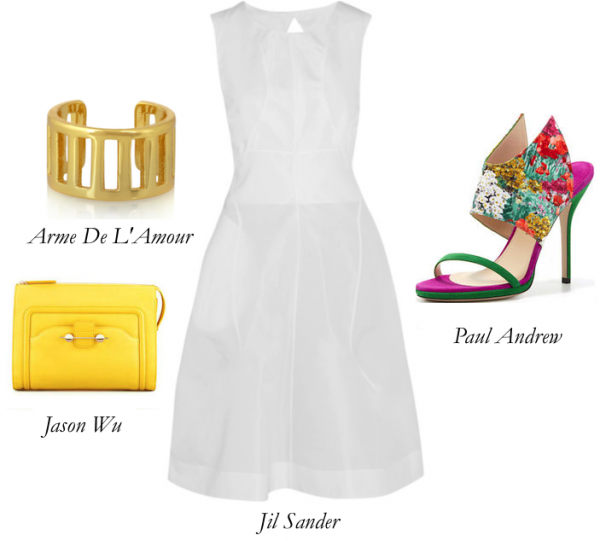 Where are you headed this weekend? Whether you're getting ready for brunch with a potential future mother-in-law (yes, I actually think and talk like this) or a dinner date with the hot guy from the gym, there's one brilliant place to start: with a killer pair of shoes from Paul Andrew.
Thu 06.26
I got my first pair of pointed toe pumps in college and proceeded to wear them almost daily – even to class. I loved those white heels (Yes, white! It was the '90s – don't judge), but with my abnormally narrow feet, they were always slipping off. To remedy the problem, I tried every solution imaginable – heel pads, going down a size…nothing would make them fit.