Shoe Snob
The best is here now, don't wait! This is what went in my shopping bag but it's probably selling out as we speak. But do not fear, there are still a ton of really great bags on sale.
Say what you will about UGG boots, such as "They're too chunky", "You've got no style" or "Thanks for announcing your inner slobbishness to the world". I just got back from a River Cruise (the "mature" version of a booze cruise) and I brought my UGG boots for trekking around the ship, going to and from … Continue reading UGG Boots: Function Over Fashion? or Who Cares, I'm COLD!!
When you are ready to shop, as in, have the allotted money burning a hole in your wallet, inspiration comes like a lightening storm. I walked in a gallery and this wall of ceramic cubes actually made that heaven sound effect, speaking to me, telling me that it was all the important colors and prints … Continue reading Your Fall Wardrobe Inspiration Is Written on the Wall
Featured Items
The best of what summer has to offer is on SALE! Crazy steals you won't believe and just in time for your summer travels or better yet, looking as carefree and relaxed in your home town because it's the season to be joyous.
Featured Items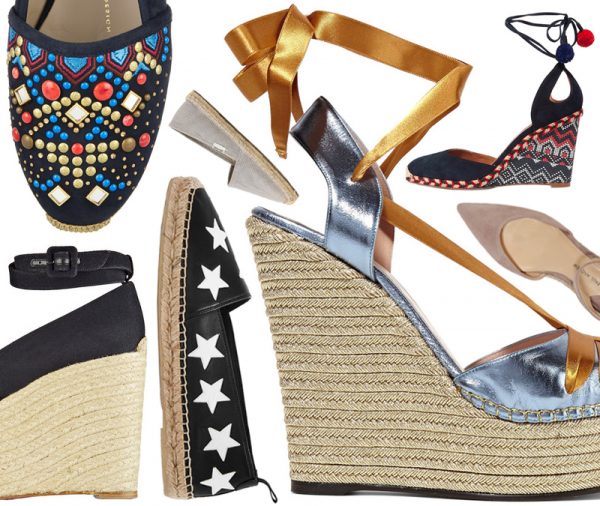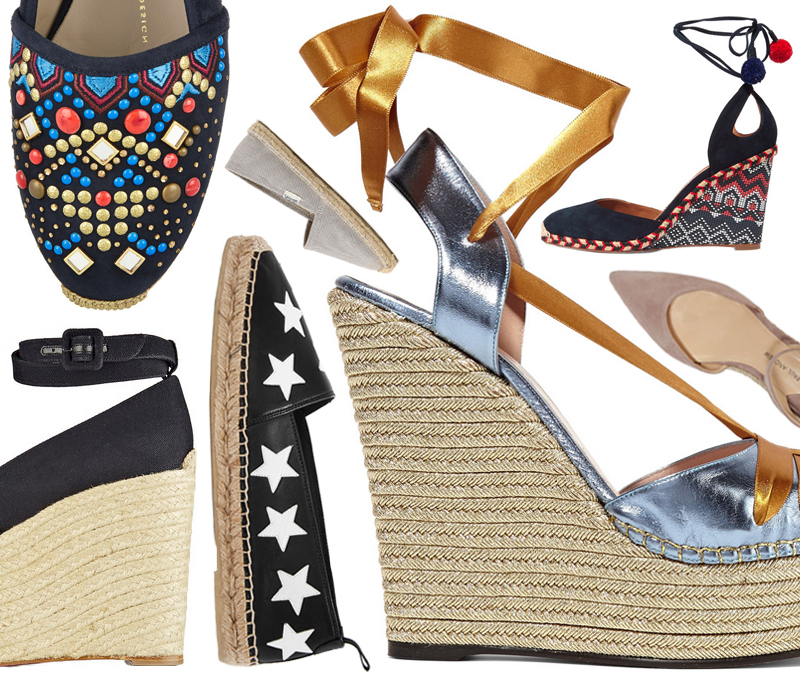 'Tis the season of the espadrille! With acutely-modern metallic leather Guccis and pompom-accented Aquazzuras, it's easy to forget just how long this shoe has been around. The style dates back 4,000 years. Some of its best iterations come from Pyrenean Catalonia (Spain – France) and the Occitania region, where the footwear has been made since the 14th century. While the term "espadrille" is French, it has roots in the Catalan language, deriving its meaning from espart, a tough Mediterranean grass used to make rope. Clearly, today's designers have a rich history to draw upon, and they've immersed themselves in it to create some of the most gorgeous espadrilles yet. Whether you like yours embroidered or crafted from classic canvas, flat or towering, inexpensive or investment-worthy, there's no shortage of shoes to pick up for summer!
Featured Items
If you haven't used post-spring cleaning closet restocking as an excuse to buy new shoes yet, then I have another reason for you: the latest trends. Block heels from the likes of Mansur Gavriel, metallics via laser-cut Alaïas, and most prominently, lace-up shoes that climb like vines along your ankles are the styles at the top of every fashion girl's shopping list this season, and NET-A-PORTER has them all. Put those winter boots away until next year and indulge in my new favorite shoes below…
Featured Items
The legendary Zaha Hadid passed away on March 31st, at only 65. The Iraqi-born British architect, who made history as the first Muslim to receive the Pritzker Architecture Prize (not to mention as a beacon of hope for fellow women in a male-dominated industry), is known for her soaring spectacles featuring bold curves and strong geometry. What she's less known for are her shoe designs.
There is no other color as polarizing as pink. While many women love it (Barbie, Elle Woods, and myself included!), others prefer more neutral hues. Even the women who wear LBDs every day, never thinking of slipping on frilly pink dresses, find themselves longing for a flash of the tint here and there, though. And whether in pastel patent, fuchsia PVC, or blush glitter, these girly shoes are just the right amount of pink to feed that craving.
Featured Items
It's the end of Fashion Month, and after weeks of the mad dash between shows, shoots, and everything else in between, I'm still reaching for my Gucci platform pumps. If that's not an endorsement for comfortable heels, I don't know what is. They're shockingly easy to walk in (just stay away from NYC's Meatpacking District and most Parisian streets, aka the locations of pretty much every show I went to), and with the wide variety of color and hardware options, are even easier to incorporate into your wardrobe.
Featured Items