Shoe Snob
Wed 10.22
Sometimes, pumps are just too much; especially when you want to relax in something warm and casual for the fall season. If boots are too heavy for a look, try on a pair of sneakers for size!
Wed 10.22
So why would you wear head-to-toe leopard?! Pick one of these great pieces, the staples I'm choosing to invest in myself, to wear at a time, and you will have them begging for more.
Mon 10.20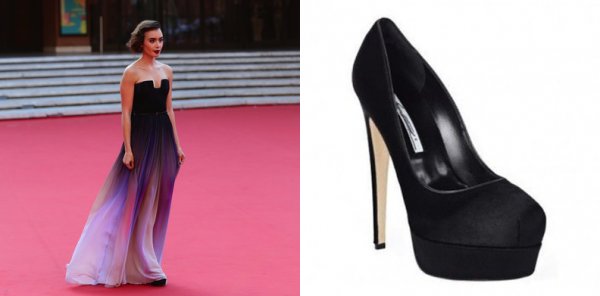 Lily Collins stunned at the Rome Film Festival in an ombre Elie Saab Spring/Summer '14 couture gown, but I was more taken by the understated pieces worn to complement the look.
Mon 10.13
With darker hues and bulkier, structured coats, autumn tends to bring out our more masculine sides, but after looking at these girly Dolce & Gabbanas, I'm ready to take my fall wardrobe in the opposite direction!
Wed 10.08
The sensible wedge gets a stylish update for fall. Sure, these aren't all that attention-grabbing, but they're flattering, easy for any occasion, and best of all, incredibly comfortable. As in, house slippers comfortable. As much as I'd love to wear my most seductive stiletto from sunup to sundown, it's just not feasible…
Tue 09.30
When you think of feathers and shoes, you think of boudoir house slippers like these frilly Sophia Webster mules. There are so many more options than those, though. Feathers had a big showing at couture (most memorably at Chanel) so you can expect the trend to trickle down.
Mon 09.29
Each season, I try to prioritize essentials for the upcoming months (so as not to go wild and get five of each!). For fall, it's all about flash and function – a burst of metallic via party-ready sandals, as well as flats and galoshes for those cold, rainy days when a black and white calf hair pump wouldn't be able to hack it.
Fri 09.26
I developed my first neuroma three years ago when single sole heels came back into fashion (unfortunately for my feet, it doesn't look like they're going anywhere, anytime soon). The podiatrist told me that the growth of nerve tissue was brought on by an overuse of pumps…
Mon 09.22
Spring 2015 brought my favorite Oscar de la Renta collection ever, and that was due in part to the work of his new footwear designer, Daniel Lawler.