Boots
Tue 12.03
At just shy of 6″, Brian Atwood's sexy rendition (at Saks Fifth Avenue for $1,256) of the classic hiking boot will turn heads and heels. Find more options below – just don't expect to do much hiking in them!
Wed 10.16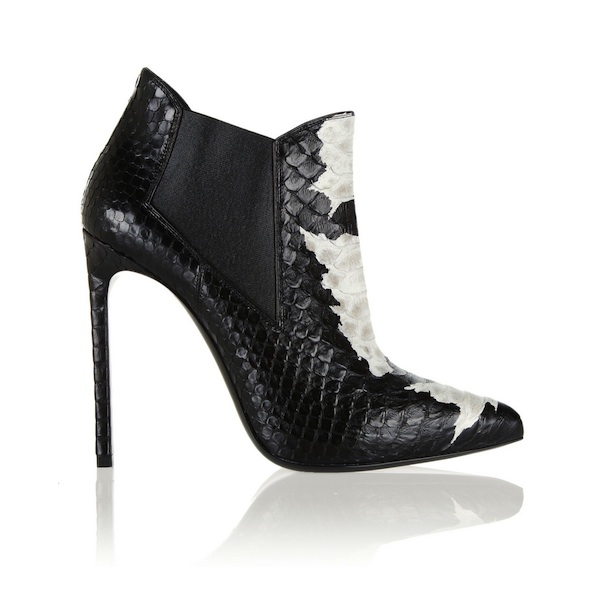 Here we see Hedi Slimane take on the black and white trend with his signature rock and roll aesthetic. Saint Laurent has rolled out a few different hues for the Paris boot, but it's not color that sets this pair apart – it's the scaly texture of python. I'm not going to be able to sleep until I have these! They're the best all-around shoes for the season.
Tue 10.15
We're on the fence about fur bags. Your wallet doesn't get cold, so what purpose do they really serve? Feet, on the other hand, need as much help staying warm as they can get, which is why I say bring on the (tasteful) fur shoes! Tasteful is an important modifier here because fur can go wrong so quickly.
Thu 10.03
From long to short, flat to high, celebs have been sporting all kinds of boots this fall. From the uber trendy over-the-knee statement-makers to understated ankle boots, there's something for everyone. For those looking for something, trendy, yet versatile, ankle boots are the way to go.
Tue 09.24
Okay, we're not even halfway through the decade, so there are certainly more trends to come! But we already spotted quite a few, ranging from vampy cutout shoes to simple ballet flats. It seems that we've finally learned to mix style and comfort. There's a little something for everyone, whether you like a bird's eye view atop skyscraper heels or prefer to stay grounded.
Mon 09.23
I may have survived fashion week, but my feet didn't. I do like to complain about shoe discomfort. Like my husband has said again and again, "You are at the comfort stage of life." Fine, I accept that. At least I know that about myself and can plan out my life accordingly, but Fashion Week is the exception. The heels had to come out, and I had to prepare to be in them for 14 hours a day.