Boots
Mon 09.29
Each season, I try to prioritize essentials for the upcoming months (so as not to go wild and get five of each!). For fall, it's all about flash and function – a burst of metallic via party-ready sandals, as well as flats and galoshes for those cold, rainy days when a black and white calf hair pump wouldn't be able to hack it.
Thu 09.18
Now through the 21st, Forzieri is offering 20% off shoes, and not just any shoes – the new Fall '14 collections. It's hard enough to resist a sale to begin with, but when the pieces are from the current season, I click over in double time.
Tue 09.02
Each fall designers present us with a huge new selection of boots to line our closets with – Chelsea style, knee-highs, stiletto booties in suede, calf hair, moto-quilting…Since it's easy to go overboard with your credit card in hand, I've narrowed the list down from lusts to musts.
Wed 08.27
As soon as I saw these unapologetically gold boots, my first thought was, buy now! Every season I get a new pair of booties, and it's not the first time that Saint Laurent's Paris have been the ones…
Thu 07.31
Seasons seem to meld together these days. Florals in fall? Why not? Burberry blooms in delicate shades of violet and blue along these off-white booties with the hand painting creating an almost watercolor effect.
Mon 07.21
My size varies depending on which type of shoe I'm wearing. Add the fact that my left foot is a bit smaller than my right, and you can imagine the fun I have shopping – and that's just in the store! Online shopping is a whole other ball game. I refuse to miss out on all the gorgeous shoes I see perusing the sites, though…
Fri 04.04
We've maybe finally left the snow behind, but that just means that it's time for April showers. No worries! With these boots, you'll be singing in the rain. I woke up to a downpour in NYC this morning, and honestly, I'm kind of excited about it. See? Shopping really does make things better. Here are the best boots at every price point…
Wed 03.19
The boogie sandal is not only the perfect transitional shoe (be it from winter to spring, or day to night), but also the most striking way to stay stable on your toes. Though dainty little ankle straps are nice and pretty, most days you want something more supportive, and with the cool factor these chunkier options provide, there's just no reason to say no.
Thu 03.06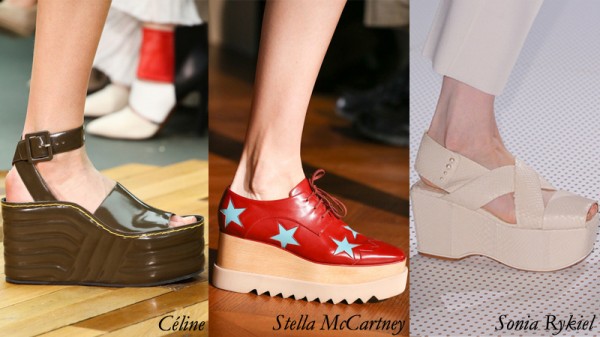 Which is your favorite shoe trend from Paris Fashion Week?