Designers
Thu 04.24
Put under house arrest? I don't think so! When it comes to Charlotte Olympia's Handcuff clutch, think hot gold cuff, not plastic ankle bracelet. While many designers toy with the concept of handcuffs as handles and closures, from Jimmy Choo to Louis Vuitton to Reece Hudson, none have been as bold and blatant about it as Olympia.
Thu 04.24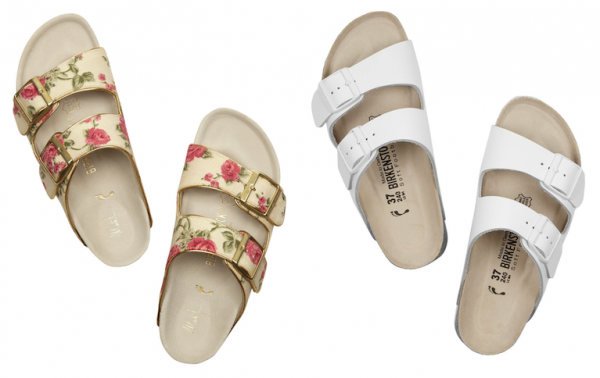 I've been wearing Birkenstocks' Gizeh thong-style sandals for years, suffering ridicule from many friends including Kelly (who came around once she felt how incredibly comfortable they are!). Now that the fashion set has embraced the look, though, it seems the company also wants us to suffer higher prices.
Thu 04.24
There is nothing like a double dose of Hermès to get the pulse revved up. Before I buy a bag, any bag, I turn it completely inside-out to inspect the lining because to me, the interior is just as important as the exterior (it's kind of like choosing men!). I have always maintained that I could turn my Hermès bags inside-out and use them; they're that good.
Thu 04.24
We love when a designer donates a portion of proceeds to charity, but when a campaign like Born Free Africa rounds up 22 major designers to collaborate on a collection that promises to give 100% of its profits, that's nothing short of a movement.
Wed 04.23
Whether you love loud colors and prints or muted pastel hues, click on over to the Saks Fifth Avenue Friends and Family event to get 25% off your spring shopping!
Wed 04.23
Now that spring has finally arrived and we can enjoy some real life blooms, my son has been in our garden picking them for me everyday (how can I bring myself to tell his beaming little face that they're planted there for a reason?)! And while nothing beats those flowers, they have inspired me to make even more room for florals in my closet…
Wed 04.23
Is it just me or is Tod's really turning up the heat? They've reinvented themselves right in time for the better part of the spring season, and I'm feeling their casual, low-key take on everyday elegance.
Tue 04.22
Opening Ceremony is expanding and Jay-Z is getting blackmailed. This and more on Web Snob!
Tue 04.22
Move over BB! There's a new cream in the beauty department – CC. It makes faking flawless skin easier than ever. No Photoshop or complexion perfecting apps required! In 25 years we'll probably have ZZ, but for now this is getting the job done well.